Experimental Aircraft Association

Chapter 455 Newsletter Enid, Oklahoma
| | | |
| --- | --- | --- |
| Vol. 03, No. 11 | Fall is in the air! Don't miss some of the year's best flying! | November, 2003 Edition |
Home Newsletters Chapter Officers Member List Photo Album Links Membership Form For Sale Calendar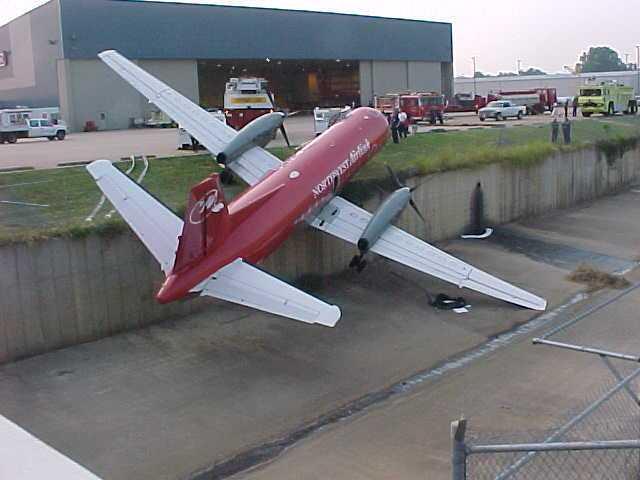 Bad day at the airport! Thanks to Robb Gessert (for the picture, not the bad day)!
November, 2003 EAA 455 Meeting Notice
The November EAA Chapter 455 Meeting will be held on Sunday, November 16, 2003, at the Woodring Regional Airport terminal building. We'll get started at 2:30 p.m. Fly-in or drive in and see what you've been missing! We'll discuss elections for next year and the upcoming Christmas party. Come on out NOW for some of the best flying of the year!
October, 2003 EAA 455 Meeting Minutes
During the October Meeting we discussed Officer nominations for the coming year. Gene Martin has agreed to be President, Roy Camp, Vice President, Syd Nelson will retain Secretary/Treasurer, Mica Doane remains the Young Eagles Leader, Diann Nelson remains Web Editor. We need someone to volunteer for the Newsletter Editor. Dave Chael has had it for 3 years and would really appreciate someone to take it over. (oh, please ed)
Visitors included Mike Newman (Medford Airport Manager), who flew in a Cessna 172 with Dwayne Lee. John Clap was also present and joined our Chapter. Welcome to all!
Treasurer's Report: $379.95. The 2004 membership dues for can be paid, $15.
The annual Fairview fly-in scheduled for Saturday, November 8th was discussed (what a bust due to weather) L
The December meeting/Christmas Party will be on Sunday evening, December the 21st, and we'll eat at 6 pm. It will be in the Woodring Terminal. Syd and Diann Nelson will prepare turkey and also turkey and noodles. They will bring the plates, cups, eating utensils and the drinks. Doc Camp-salad, Dwayne Lee-pecan pie, Gene Martin-potato salad. Members need to bring beans (baked and green), stuffing, mashed potatoes, gravy, and desserts. At our November meeting we will take names (kickin' anything first? ed) and what they'd like to bring for the supper. At the meeting also we need to decide if we want to have the "Dirty Santa" gift exchange. (Remember who has the big prize from last year?)
The Fairview Fly-in was slow, with low ceilings and very poor visibility. There were only 3 planes and they came in Friday. E.L. Metcalf flew in Saturday, stayed awhile and left. Maybe next year will be better! Submitted by Syd Nelson EAA Chapter 455 Secretary
e-mail from Marty Lochman: I have been so busy. I flew the Cessna in late August after returning from "the desert" in June. I then flew it to Tinker AFB for family day and parked it near a KC-135 for a photo shoot. (For those who do not remember, Chapter member SMSgt Marty Lochman is a USAF boom operator for the KC-135 at Tinker AFB in Oklahoma City, and is the proud owner of a very pristine C-140 pictured below ed)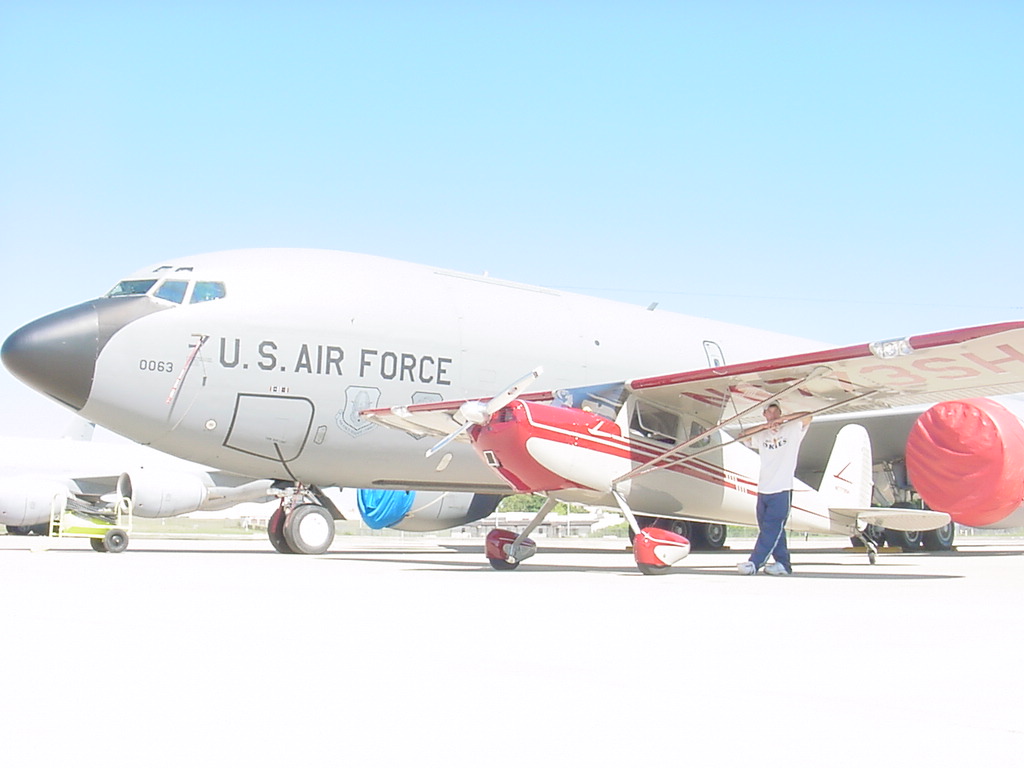 Wonder which airplane he likes best? I know!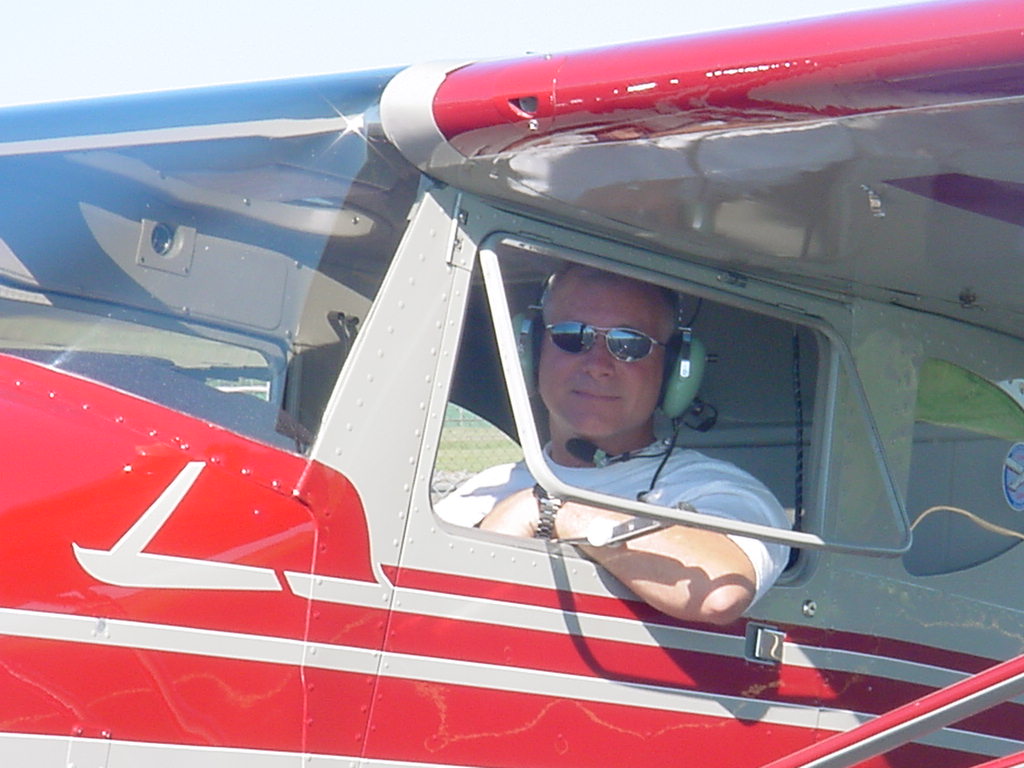 Great photos – Thanks Marty!
Have meant to try and make a meeting but alert commitments or weather have always stood in the way. The last meeting I attended was Mica's last year ...at least that is what I am thinking...but you know how that is when it comes to getting old.
Dave Chael: As most of you know, I've been busy the past few months on an intensive installation project for the EDM-800 engine analyzer from JP Instruments. WOW! It's in, and it works!!! Last month, I was taxi-testing the installation, and tweaking a few of the data senders. Well, the jury is in, and it was worth it. The EDM-800 is unquestionably one of the most technically marvelous instruments I've ever had the privilege of using, and is a quantum leap in information capture and display for the Banana! On a recent test-hop to Bolivar, Missouri, I recorded the data for download and analysis. Charted and graphed in Microsoft Excel, one can very easily tell what's going on at intervals of every six-seconds with the following: EGT, CHT, Oil Temp, Fuel-Flow, OAT, temperature differential between cylinders, MAP, rate of cooling change, etc. (Graph planned but not included in this newsletter due to huge data size. Ask me if you're interested in seeing it – pretty amazing). The graph shows the entire flight, where one can easily "see" the runup, takeoff, climb, cruise, descent, and landing. The amazing thing to me was how incredibly close my CHT/EGT temperatures were to each other! (I've done a lot of TLC and tweaking on baffling, and did a very "retentive" job during the installation.) The GAMI-jectors (from GAMI in Ada, OK) have a lot to do with even fuel-flow to individual cylinders. This EDM installation even talks with the GPS and can with extreme accuracy, calculate fuel burn per hour, miles-per-gallon, fuel required to destination, and fuel REMAINING at the destination. These numbers simply were not available prior to the EDM installation, and I was "guessing" how much fuel I was burning (like most of us do). I love it! Come by, better yet, let's hop in the Banana and go flying so you can see it in action for yourself!
Bill Blunk: The Aero Club of Enid, Inc (ACE) has a new web site. www.flyenid.com. Lance Nitschke is our webmaster and we are improving it everyday. The Aero Club of Enid, Inc. (ACE) has tripled its inventory of pilot supplies and gifts. We would like all our EAA friends to come by and check us out. Our store hours are: Monday 1630 to 2030; Tuesday 1300 to 1700; Closed on Wednesday; Thursday 1630 to 2030; Friday 1300 to 1700; Saturday 1200 to 1700; Sunday closed. We do accept appointments for after hour shopping. Just call us at 234-7466. Most of the time my wife Tina or I can be there in short amount of time.
One of our EAA members John Cottle passed his Private Pilot Written with a great score! He attended one of ACE's ground schools. Our weekend ground schools are the best deal around. For the low price of $389.00 - the student gets books, CD, FAA exam, and up to 64 hours of classroom instruction (weekends 16 hours per weekend - student can repeat the course up to 4 times). There is no minimum classroom attendance. If there is only one student in the class, we will have a class. We have our presentations on Power Point and follow the Gleim syllabus. The classes are small and the students get the most attention for their dollar. ACE still has FAA approved Flight Training devices that can be used for 20 hours towards an instrument rating. This type of training could save a person $1200 on their instrument training. Example: If you rented an airplane for $80 per hour plus instructor for another $25 to $30, compare that to the simulator (FTD or PCATD) at $45 per hour including the instructor. Remind Mike Porter he has a couple of free simulator refresher lessons waiting for him.
ACE is still working on getting it's first airplane. The board of directors have been meeting 2 times a week for the last 6 weeks working over changes to our Standard Operating Procedures to satisfy the insurance companies.
Civil Air Patrol News - The Oklahoma Wing was unofficially ranked 5th in the country for the most flight hours per aircraft. The Enid squadron pilots unofficially flew the most hours of any other Oklahoma squadron this last year. The Oklahoma Wing has 8 airplanes that consist of: One - 1977 C182; Five 1986 C172P's with a 180HP engine; One 2000 C172S; One 2001 C172S. Enid has a C172P usually, but occasionally we will have either a C172S or the C182 for a few weeks at a time. The C172's rent for $20 per hour on the tach, plus the gas (even cheaper than a Bonanza ed). About 50% of our flying is funded by the Air Force in the form of Training Exercises we call SAREX's or Pilot Clinics, or Cadet Orientation rides, or ROTC orientation rides, low level surveys and Homeland Security missions. An eager and qualified pilot could fly over a 100 hours per year on the Air Force's dime. Pilots do not get paid, this is a volunteer organization. Rumor has it, Oklahoma CAP may get one or two more airplanes, one of them could be a 2003 or 2004 C182, which could be based at Enid. CAP Cadets can learn to fly with CAP aircraft. Oklahoma hosts an 8-day National Flight Academy in Muskogee each June. The costs for the cadets is $800, some scholarships are available. They get about 10 to 12 hours of flight time, ground school, food and lodging. Last year we had 21 cadets and 15 soloed by the end of the week. We have two Oklahoma cadets down in OKC continuing with their private pilot training with our Norman CAP squadron. The Oklahoma Wing is one of the first Wings to have a mounted SAR (search and rescue) squadron. We have members who are horse people that are now part of our ground team search efforts. Unfortunately, we can not teach adult members to fly. But that does not mean a non-pilot adult member can not participate in CAP as extremely valuable flight crew member. Each of our airborne search crews should consist of three people: A mission pilot; observer; and a scanner. A non-pilot member who goes through observer/scanner training, will learn quite a bit about aviation and be an asset to CAP. The next Search and Rescue Exercise (SAREX) will be at Woodring on November 21,22 and 23. Come out and visit and ask questions. You can also visit the CAP national website at www.capnhq.gov.
John Cottle: John has been very busy with his Beech Musketeer rebuilding project. He's had good help from Ron Rush and a bunch of others around the airport. John recently passed his FAA written (congrats!) and will be flying soon working toward his Private Pilot Certificate.
e-mail from Bill Melanson: Hello Dave, Great hearing from you. I'm sure you've heard this before, but since we moved up here (Wichita, Kansas ed), it has been so busy for me and the thing about it is I don't mind. Time goes by so fast and before I know it, it's another year. We are going to Tulsa to see FIFI and Diamond Lil Thursday, they are there for the rest of this week and I just can't miss that opportunity. They visited Great Bend Airport about two months ago and we went on vacation to Boston and missed that great event. I wish I had known about Fairview, I would have made definite plans to come down, maybe the next time. If you ever fly this way let me know and it would be great to see you sometime. Take Care, Bill
So, what have you been up to? We'd love to hear from you and share your goings-on with the Chapter. Please send your news to Dave Chael at the e-mail address on the front of this newsletter.
Neat letter from Paul Poberezny at EAA!
Editor's note: I went to my mailbox last month and received quite a surprise! Mr. Paul Poberezny wrote a personal note to me thanking me for my work as the Chapter newsletter editor. I've reluctantly reprinted this letter (not to exalt myself), but to show how deeply Mr. Poberezny loves the grassroots chapter level of the EAA. "… and just as I thought no one was reading this rag…" ed
October 26, 2003
Dear Dave,
I would like to take this opportunity to thank you for the work you're doing as editor of Chapter 455's newsletter. I think the quality is very good and the newsletter does a great deal to hold aviation together in your area and bring together people who love aviation as much as you and I do. I read thousands of Chapter newsletter each year and I certainly learn a lot about the grassroots of aviation and interests that so many have in all phases of aviation. I well remember Enid, Oklahoma from World War II and after having landed there many times as a military pilot. Please give everyone in the Chapter my very best.
Sincerely, Paul Poberezny
Chairman and Founder
WOW!!! I was really grateful to Mr Poberezny for taking the time to compliment our newsletter and pass on his greetings to the Chapter. The EAA is an incredibly strong organization, unquestionably devoted to everything aviation is. Are you?
Thanks again to Mr. Poberezny!
Reprinted from AOPA – excellent article that I understand better now that the EDM-800 is telling me what's happening in the Banana! ed
UNDERSTANDING EXHAUST GAS TEMPERATURE. When you turn to the chapter on performance in your aircraft's pilot's operating handbook (POH) to look up expected cruise speed or fuel burn at various power settings, the figures you find are based on your having leaned the fuel-air mixture in accordance with the manufacturer's recommendation. For many aircraft, the POH may give two leaning methods. One technique is to lean until peak rpm is achieved, and then enrich the mixture slightly so that a stated setting below peak rpm is established. A more precise method can be used in aircraft outfitted with an exhaust gas temperature gauge (EGT). Sooner or later most pilots will fly an EGT-equipped aircraft. You can familiarize yourself with EGT and leaning techniques in the AOPA Air Safety Foundation's Fuel Awareness Safety Advisor (click here to download it from AOPA Online). Why is an EGT a good measure of power? "As you lean the mixture from the full-rich position, the exhaust gas temperature increases–the exhaust gases get hotter–up to a point, after which they begin to cool. The hottest temperature is called peak EGT. In general, you strive to achieve a fuel-air mixture that produces an EGT 50 to 100 degrees Fahrenheit cooler than peak EGT on the rich side," explains Mark Twombly in "What it Looks Like: When an EGT Probe is Installed" in the November 2000 AOPA Flight Training. Correct leaning provides best-power or best-economy fuel-air mixtures for your flight. Improper leaning can lead to spark-plug fouling if the mixture is too rich, or detonation or overheating
if the mixture is too lean. See Chapter 2 of the Pilot's Handbook of Aeronautical Knowledge (click here to download) for a fuel-system operation review. Leaning is a pretakeoff must for pilots flying from high-elevation airports. Those flying from near sea level should still lean above 3,000 feet, according to many manufacturers. And of course the mixture should be enriched during the descent, as discussed by David Montoya in the July 2000 AOPA Flight Training feature article "Above it All." In flight, don't forget to monitor your engine instruments as explained in the August 2002 AOPA Flight Training feature "Red, Green or In Between: Understanding What Engine Gauges are Telling You." Let these simple techniques help you get optimum performance and, therefore, optimum safety from your aircraft on every flight.
For Sale: 1966 PA-28-140, hangared & pampered. Annual 8/1/02, TT2914, TSMOH 1204, Narco AT50A transponder, Narco ADF, KA134 switch panel, KX155 NavCom, STS Loran C, marker beacon, glideslope, autopilot. $37,500. (580) 446-5601 days (580) 446-5440 genemartin@enid.com
Question: Can you tell me how the maximum elevation figure (MEF) on a sectional chart is calculated?
Answer: Cartographers have a formula for calculating the maximum elevation figure. First, they add a minimum of 100 feet to the highest elevation depicted in the quadrangle. Then, this number is rounded up to the next 100 value. Finally, because only obstacles higher than 200 feet are required to be charted, they add 200 feet in case there's an uncharted obstacle. For example, a quadrangle showing the highest mountain peak (known as the critical elevation figure) at 5,357 feet above mean sea level would gain 100 feet (5,457) and then would be rounded to the next hundred (5,500). Add on 200 more feet for a possible uncharted obstacle on the mountaintop, and the MEF for that quadrangle will be charted at 5,700 feet msl. More information on this subject is available in "Legends: Maximum Elevation Figure" from Flight Training magazine.
AIRSPEED - Speed of an airplane. Deduct 25% when listening to a retired military pilot.
BANK - The folks who hold the lien on most pilots' Corvettes.
CARBURETOR ICING - A phenomenon reported to the FAA by pilots immediately after they run out of gas.
CONE OF CONFUSION - An area about the size of New Jersey located near the final approach beacon at an airport.
CRAB - A VFR Instructor's attitude on an IFR day.
DEAD RECKONING - You reckon correctly, or you are.
DESTINATION - Geographical location 30 minutes beyond the pilot's bladder saturation point.
ENGINE FAILURE - A condition that occurs when all fuel tanks mysteriously become filled with low-octane air. FIREWALL - Section of the aircraft specifically designed to funnel heat and smoke into the cockpit.
FLIGHT FOLLOWING - Formation flying.
GLIDE DISTANCE - Half the distance from an airplane to the nearest emergency landing field. HYDROPLANE - An airplane designed to land long on a short & wet runway IFR - A method of flying by needle and horoscope.
LEAN MIXTURE – Non-alcoholic beer. MINI MAG LITE - Device designed to support the AA battery industry. NANOSECOND - Time delay between the Low Fuel Warning light and fuel not reaching the carburetor.
PARACHUTE - The two 'chutes in a Stearman.
PARASITIC DRAG - A pilot who bums a ride and complains about the service. RANGE - Usually about 3 miles short of the destination.
RICH MIXTURE - What you order at another pilot's promotion party.
ROGER - Used when you're not sure what else to say.
SECTIONAL CHART - Any chart that ends 25 nm short of your destination. SERVICE CEILING - Altitude at which cabin crew can serve drinks.
SPOILERS - FAA Inspectors.
STALL - Technique used to explain to the bank why your car payment is late. STEEP BANK - Banks that charge pilots more than 10% interest.
TURN & BANK INDICATOR - An instrument largely ignored by pilots. USEFUL LOAD - Volumetric capacity of the aircraft, disregarding weight.
VOR - Radio navigation aid, named after the VORtex effect on pilots trying to home in on it.
WAC CHART - Directions to the Army female barracks.
YANKEE - Any pilot who has to ask New Orleans tower to "Say again

A little girl was talking to her teacher about whales. The teacher said it was physically impossible for a whale to swallow a human because even though it was a very large mammal its throat was very small. The little girl stated that Jonah was swallowed by a whale. Irritated, the teacher reiterated that a whale could not swallow a human; it was physically impossible.
The little girl said, "When I get to heaven I will ask Jonah".
The teacher asked, "What if Jonah went to hell?"
The little girl replied, "Then you ask him".
F-100: Ground control, F-100 ready to taxi.
Ground: F-100 clear to taxi to Runway 5 left. Follow the 767 ahead of you.
F-100: Where is the '67 going?
Ground: To Madrid ... but you just follow him till before the runway!!!
Back in the 70's, BOAC (British Airways) flew into O'Hare Chicago and their call sign was "Speedbird"...
O'Hare: Speedbird xxx slow to 200 kts.
Speedbird xxx: Sorry, running late, need to keep the speed up.
O'Hare: OK, turn right 90 degrees and keep your speed up.
Speedbird xxx: Errr, how long would we be on that heading?
O'Hare: 'Till you slow to 200.
Speedbird xxx: Roger, slowing to 200
Fly Safe! Dave
Home Newsletters Chapter Officers Member List Photo Album Links Membership Form For Sale Calendar