Experimental Aircraft Association

Chapter 455 Newsletter Enid, Oklahoma
| | | |
| --- | --- | --- |
| Vol. 03, No. 10 | October EAA 455 Meeting back at Woodring! | October, 2003 Edition |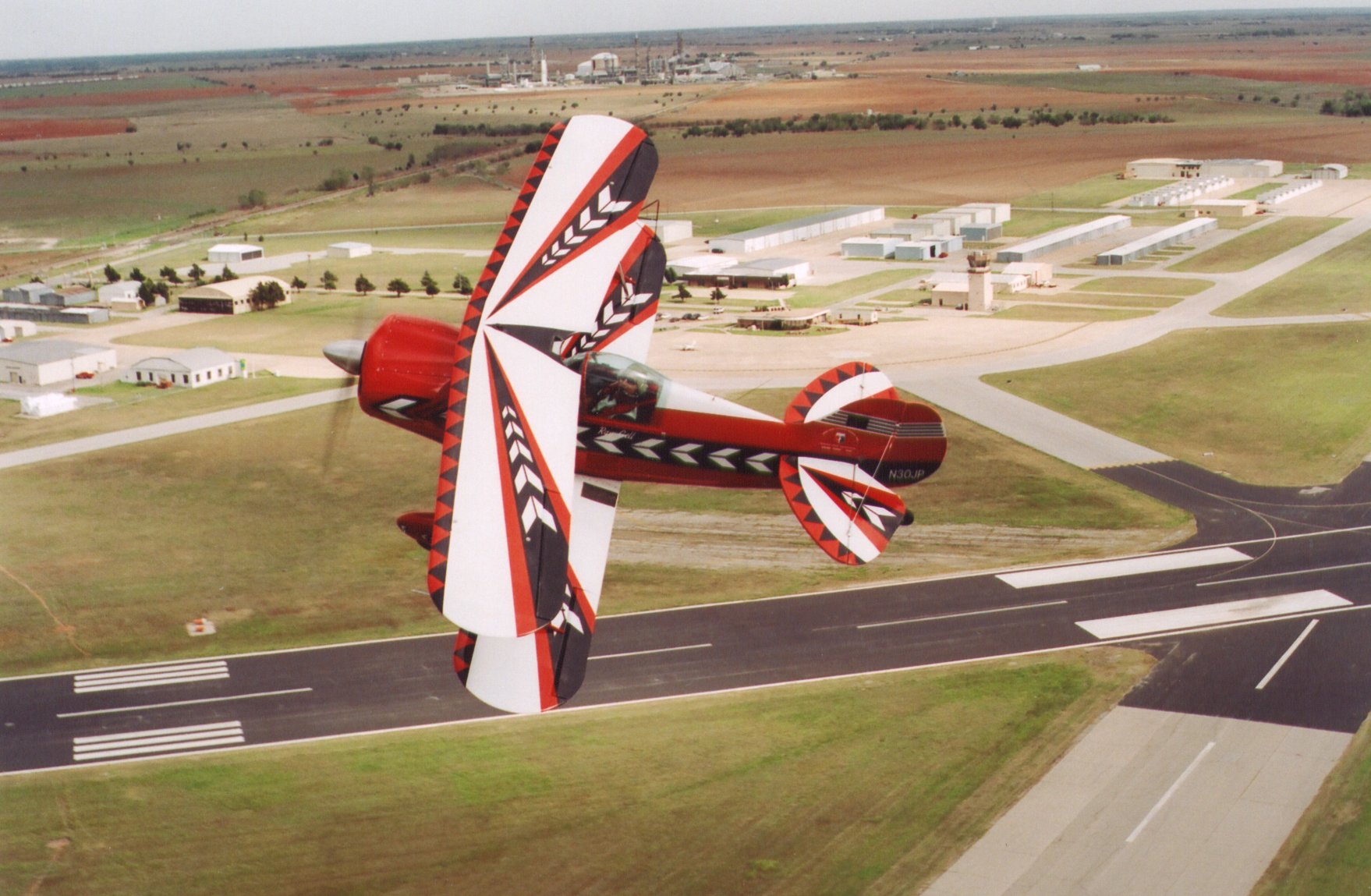 Ray Gill over Woodring in Pitts! Photo by Dave Chael, chase plane (Cessna 182) flown by Roy Camp. What a blast! Thanks Ray!
October, 2003 EAA 455 Meeting Notice
The October EAA Chapter 455 Meeting will be held on Sunday, October 19, 2003, at the Woodring Regional Airport terminal building. We'll get started at 2:30 p.m. Come on out and see what you've been missing during the summer heat! Ron should bring out the remaining books from Glen Wheeler's collection that we carried out to Mica Doane's last month. NOW is some of the best flying of the year!
EAA Chapter 455 President Ron Decker will surely entertain starting to get nominations together for 2004 officers. If you're interested in helping out with our great organization, please let one of the current officers know!
September, 2003 EAA 455 Meeting Minutes
September's fly-in meeting to Doane Field in Meno was a huge success! Sunday's weather on the 21st of September looked VERY menacing, however by around noon, the sun came out and everything was picture perfect for the remainder of the day! We had an outstanding turnout of airplanes and drive-ins as well!
Here's the story as told by Syd Nelson:
The September meeting was at Mica Doane's house. The morning was dark and rainy, but the afternoon turned out perfect. There were 7 planes that flew in. John Jameson-Ercoupe, Charlie Calivas-RV6, Gary Green-T-18, Ken and Dee Ann Hollroh-Kitfox, Ron Hazlett and family-182, E.L. Metcalf-Kitfox, Ron Decker-172. Several flights were given, including some Young Eagles. Ron Hazlett flew Justin McConnell and Brad Brainard along with quite a few others. Mica Doane flew Logan and Jared McConnell, also Jennifer Unruh, Randy Unruh and Warren McConnell in Ron Decker's 172. Ken Hollrah flew Justin McConnell. Charlie Calivas flew Ashley McConnell. We had a fairly good turn out with 28 members present. The visitors were Randy and Jennifer Unruh, Brad Brainard, Gary and Maxine Green, Terry Cox, Warren McConnell and his kids, Justin, Logan and Jared. Richard Hollrah aka "Geezer". Treasurer report: Our balance is $381.35 after paying for the September meeting expenses.
A big thank-you to Mica and Brenda for their ongoing hospitality year after year!
Dave Chael has finally completed the long-awaited EDM-800 engine analyzer installation project! Come on out and have a look at the new (partial) instrument panel. The test ground run was a real treat, seeing all of the temperature measurements come to life! A little tweaking left to do, and a lot of paperwork to file prior to the first flight. I even weighed the airplane to ensure I'm legal in that area. It was a tremendous amount of effort, but I feel it will be worth it in the long run. I will know info about the engine that was simply NOT AVAILABLE in the past. Thanks to a lot of individuals in and out of the EAA who made this possible: Ron Decker, Mike Kitterman, Ken Hollrah, Mike Porter, Mike Wrenn, Charlie Calivas, Gene Martin, Ron Rush, John Cottle, Don Gerbrandt, Dale LeGrand, and a bunch of others way too numerous to mention.
Ray Gill was selected to participate in a fly-in honoring the Wiley Post hangar dedication at Wiley post Airport recently. The neat thing is that each participant was asked to bring a photo of their airplane and the home airport. Dave Chael jumped at the chance to shoot Ray in the Pitts (round two). The photo date weather was not the best, but you be the judge. We decided to shoot the Pitts with Woodring in the background – neat idea in theory, but execution always provides a few stumbling blocks. What and who would fly the chase plane? Airspeed? Maneuvers? The team of Ray, Doc Camp and Dave Chael assembled and strategized. Doc would fly the Cessna, and Dave would direct Ray on where and how to fly with hand signals. We rigged the Cessna window to open in flight, and protected the underside of the wing with foam rubber and duct tape (it really does work well at 100 MPH!). Tower gave us carte blanche to fly a repeating orbit pattern west of the airport runway centerline. We made a dozen passes or so, and got the spacing and shot we wanted. Ray in the attached photo is in a "knife-edge" pass, fairly close to the Cessna. Fun! Thanks to all who participated. Ray presented a copy of the print to the airport, and it's hanging just inside the Terminal Building entry.
Syd and Diann Nelson sent in this neat picture and article for the Newsletter.
"That's a long way to fly to give a ride." You'd think so, 1,533 miles Calvin Reynolds flew from Maine to Enid, OK to let me have my ride in his RV7. The last time we saw it, there was no paint. That was the first part of this year. Now it's painted and has 93 hours, more so now that he's probably back home, via Florida. Calvin had promised me that he would bring it back to it's nesting grounds so I could get my ride. Syd had flown it, but the weather and time never allowed me my flight. Pretty nice ride, IO 360, fuel injected. When Syd and I made a low pass over Woodring, it was 210 mph. Not bad. Calvin had never seen his plane fly by him since it has been painted. He was impressed. Every place he lands, he gets attention. His next flight from Enid was to Florida. He had an interesting time "zig zagging" weather. It took him longer to fly 750 miles than it did from his home to Enid. He made it fine, it's IFR and he had to use it. The man in the RV with Calvin is his friend Steve. They've been buddies since way back. Steve got Calvin started in Ultralights. Two crazy guys. You should've heard the stories they were telling on each other.

Ken and Dee Ann Hollrah sent in a few photos. The first was a photo of Ken landing the Kitfox at Doane Field during the September fly-in.

Ken with the Kitfox at Hinton Municipal Airport. We flew there just to check on soaring opportunities. The Soaring Sooners, Inc., club has their planes based there. They have about 20 members, 2 club planes and 6 or 8 member-owned planes. Tow plane is a Cessna 172. They are also working to set up a 205 jump plane to double as a tow plane. They fly most weekends, weather permitting. Membership fee (one time) $100.00 SSA membership required. Annual Club Dues $250.00 (1/2 yr available at $125) Club Glider Rental (per flight) $15. Block of 10: $100. Unlimited 1 year (with annual dues) $200. Demo rides $50. Tow Fees: 1000 feet $20; 1500 feet $23; 2000 feet $25; (over 2000 feet = $1.00/100 feet) Soaring Sooners - 7700 NW 5th, Oklahoma City, OK 73127; 405-787-3626. We flew to Sedan City, Kansas, on Sunday October 12, and landed on a 3100' grass strip there. Had a nice visit with a couple building their hangar for a 1940's era Interstate Cadet. Also in attendance was a Mini-Max based at Moline, Kansas. The area is really pretty this time of year. The strip is atop a mesa-like hill overlooking the golf course and the town to the south.
Mica Doane writes: Pilots and ground crew needed for Young Eagles rally Saturday, Oct. 25 9:00am till 3:00pm, Doane Field, Meno. Ringwood Grade school students. Contact Mica for more info
For Sale: 1966 PA-28-140, hangared & pampered. Annual 8/1/02, TT2914, TSMOH 1204, Narco AT50A transponder, Narco ADF, KA134 switch panel, KX155 NavCom, STS Loran C, marker beacon, glideslope, autopilot. $37,500. (580) 446-5601 days (580) 446-5440 genemartin@enid.com
I was taking my brother for his first flight in a GA airplane. He was somewhat nervous and a little overwhelmed by what we go through to launch a flight. I picked up the local ATIS on my handheld before engine start and, after we got in the plane and were ready to call for taxi clearance, I briefed him on the kind of radio transmissions he would hear as we taxied out and took off. That education behind us, I called for taxi clearance:
Me: Skylane 12345, West hangers, with MIKE, taxi.
Before I could get a word in edge-wise, my brother, Mike, (with awe in his voice...) said, "You have to even tell them who is with you?"
It took several minutes for me to regain composure and get on with the flight.
Fly Safe! Dave
The Experimental Aircraft Association Chapter 455 Newsletter is published once each month by The Experimental Aircraft Association Chapter 455 Inc, Enid, Oklahoma. This newsletter is sent (electronically where possible) to all EAA Chapter 455 members and to a selected number of other EAA Chapters across the region. Local membership dues are $15.00 per year, payable in January. Editorial and technical submissions for this publication are welcome and encouraged. The deadline for submissions is approximately two weeks before each scheduled Chapter meeting. Our Chapter mail address is: EAA Chapter 455 Route 5 Box 41 Enid, Oklahoma 73702-9698. Chapter newsletter editor: Dave T. Chael, 2126 Maple Leaf Circle, Enid, Oklahoma 73703-2339 (580) 242-3445, contact him by e-mail at: dchael@cox.net