Experimental Aircraft Association

Chapter 455 Newsletter Enid, Oklahoma
| | | |
| --- | --- | --- |
| Vol. 02, No. 11 | November Meeting Ė Sunday the 17th at Woodring | November, 2002 Edition |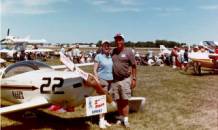 Photo from Bruce Crain of Sam Hoskinís Q-200. Sam won 2nd place in the Sprint category at a recent fly-in with an airspeed of 172.08 mph. Sam has been flying his Q200 for about 15 years and a couple of years ago was featured in June 2000 Kitplanes with an article about his flight across America from California to North Carolina all in one day!
November 2002 EAA 455 Meeting Notice
The November meeting of the EAA Chapter 455 will be held at Woodring Regional Airport on Sunday November 17th 2002, 2:30 p.m. See you there!
October, 2002 EAA 455 Meeting Minutes
The October meeting of EAA Chapter 455 convened at Doane Field in Meno at 2:30 p.m. President Ken Sumpter presided.
What a day for a fly-in! The few days and weeks prior to the fly-in were characterized by cold temperatures and lots of needed rain. However, perfect weather and winds prevailed for one of those rare but spectacular October afternoons. A good turnout form our group and a significant number of Young Eagles were on hand as well. Thanks again to Mica for his hospitality!
A slate of officers was nominated at the October meeting as follows: President: Ron Decker; Vice-President: Gene Martin; Secretary/Treasurer: Syd Nelson; Newsletter Editor: Dave Chael; Young Eagles: Mica Doane; Technical Counselor: Ron Decker; Flight Advisor: Syd Nelson. Elections will be held at the November meeting, and new officers will be installed at the December meeting (Christmas Party) on December 15th, 6:00 p.m.
A dues increase to $15.00 was approved for next year. Weíll begin collecting 2003 Dues at the November meeting. Please, if you can, bring your dues as the treasury is a little short. Weíll owe for EAA insurance and EAA Chapter dues very shortly. Thanks!
Sorry about the short newsletter. Your newsletter editor is in the middle of a very extensive Bonanza annual, and is swamped at work as well. Also, newsletter contribution s are dwindling Ė please consider sending me something soon. By the way, my Air Force training date went away, and Iíll be here for the duration, including next year as your newsletter editor unless someone wants to run against me in the elections. Hey, Brad Henry won, why canít you?
If your news isnít here, itís because we didnít know about it!
Fly Safe! Dave