Experimental Aircraft Association

Chapter 455 Newsletter Enid, Oklahoma
| | | |
| --- | --- | --- |
| Vol. 03, No. 05 | May Meeting at Woodring Terminal on the 18th! | May, 2003 Edition |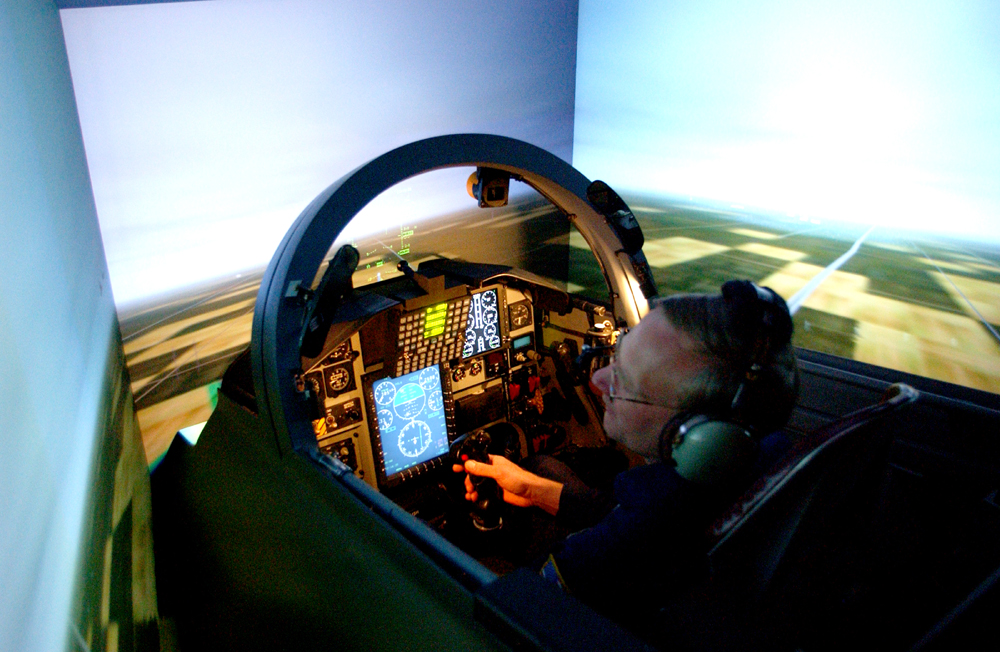 Dave Chael having fun "at work!" New T-38C simulator is pretty awesome!
May, 2003 EAA 455 Meeting Notice
The May, 2003 EAA Chapter 455 Meeting will be held on Sunday, May 18, 2003, Woodring Regional Airport Terminal Building, 2:30 p.m. Ken Sumpter has arranged for Richard Herbst, a representative from Control Vision to demonstrate their Anywhere Map GPS product, and their new high-tech solid-state attitude indicator. See their web-page at:
http://www.controlvision.com
Should be an outstanding meeting you won't want to miss! Hope to see you there!
April, 2003 EAA 455 Meeting Minutes
EAA Chapter 455 met at Doane Field for the April meeting, and what a day it was! Nine aircraft flew-in, in addition to Nelson's RV, for a total of 10! Nay Sayers were expecting only three or four airplanes! If you were not there, where were you? The eats were awesome as usual, and an outstanding afternoon of camaraderie was had by all! Winds were a bit brisk, but right down the runway, making for very manageable short-field takeoffs and landings! The following were in attendance:
Our gracious host and hostess Mica and Brenda Doane and family (Mica giving rides in Decker's Cessna 172), Syd and Diann Nelson (flew RV-8), Bruce Crain and lovely wife Annie, Charlie Calivas (fly-in RV-6, nice arrival show), Dwayne Lee, Ken and Dee Ann Hollrah (fly-in Kitfox), Mike and Sandy Kitterman with John Jameson (fly-in Bonanza), Dave Chael and son Zach (14 going-on 19), (fly-in Bonanza), Karl Siebert, Ken Sumpter (fly-in Cessna 150), Gene Martin (fly-in Piper Cherokee 140), Ron and Donnie Hazlett and daughter Kathryn (Fly-in Cessna 182), Ray and Amber Gill, Scott Hughes and son (fly-in Stearman), James Popham (new member - welcome!), James Sparks, (visitor), Bob Noble, Doug Loheim and
Father Lou with son Taylor. Young Eagles flown by Mica: Jesse Detrick, Justin Chambers, Daili Wedel, Kassey Worley. Also flew, but too young for Young Eagles: Westin Henneke, Maverick Henneke. Adult guests taking rides: Glenna Rusch, Sharla Worley, Kristy Henneke.
This is the kind of day you wish you had a strip like Doane Field in YOUR backyard! Great flying, great airplanes, great weather (albeit windy), and of course great food!
Other notes discussed: Aerospace America is postponed till October. Ken Hollrah said that the Waukomis runway will be used for flying RC's. For more info on that please call Ken.
We were all treated to the fast and slow flying abilities of Ken Sumpter in his amazing Cessna 150. He flew slow enough that the plane had "zero ground speed". He said that he has flown backwards in the past.
The chili supper was as usual very tasty. There were also lots of other goodies such as pies, cookies, cakes, cornbread and many others. A very special THANK YOU to Mica and Brenda Doane for their hospitality and huge efforts of preparing the chili, mowing the runway and other things that we don't see, and allowing all of us to move in on them for the afternoon. There is a lot of work before and after (clean up) to be done for these get-togethers. Thanks again!
New business: Charlie has been contacted about individuals interested in flying-in to the Vance Airshow to be part of the static displays. I'm certain it will require the normal "hold-harmless agreement" paperwork, along with the requirement to be on a "flight plan", but these things are really easy to take care of. More info to follow!
Dave Chael brought-up the fact that September is our 30th Anniversary as a chapter! We need to be recognized by EAA National, and the following ideas were brought forward:
Photo to be published in Sport Aviation, 90-day lead-time required. How about a Chapter photo in May or June, preferably digital.
Poker run! September is a perfect month for a poker run, and the following airports were recommended: Medford, Perry, Ponca City, Alva, Blackwell, Doane Field (grass strip) and perhaps Hollrah International (grass strip) if it is ready in time.
Banquet or eating activity
Treasurer's report: To date there is $349.71 in the account.
Syd Nelson
EAA Chapter 455 Secretary/Treasurer
Ken and Dee Ann Hollrah
Good news from Fairmont Field!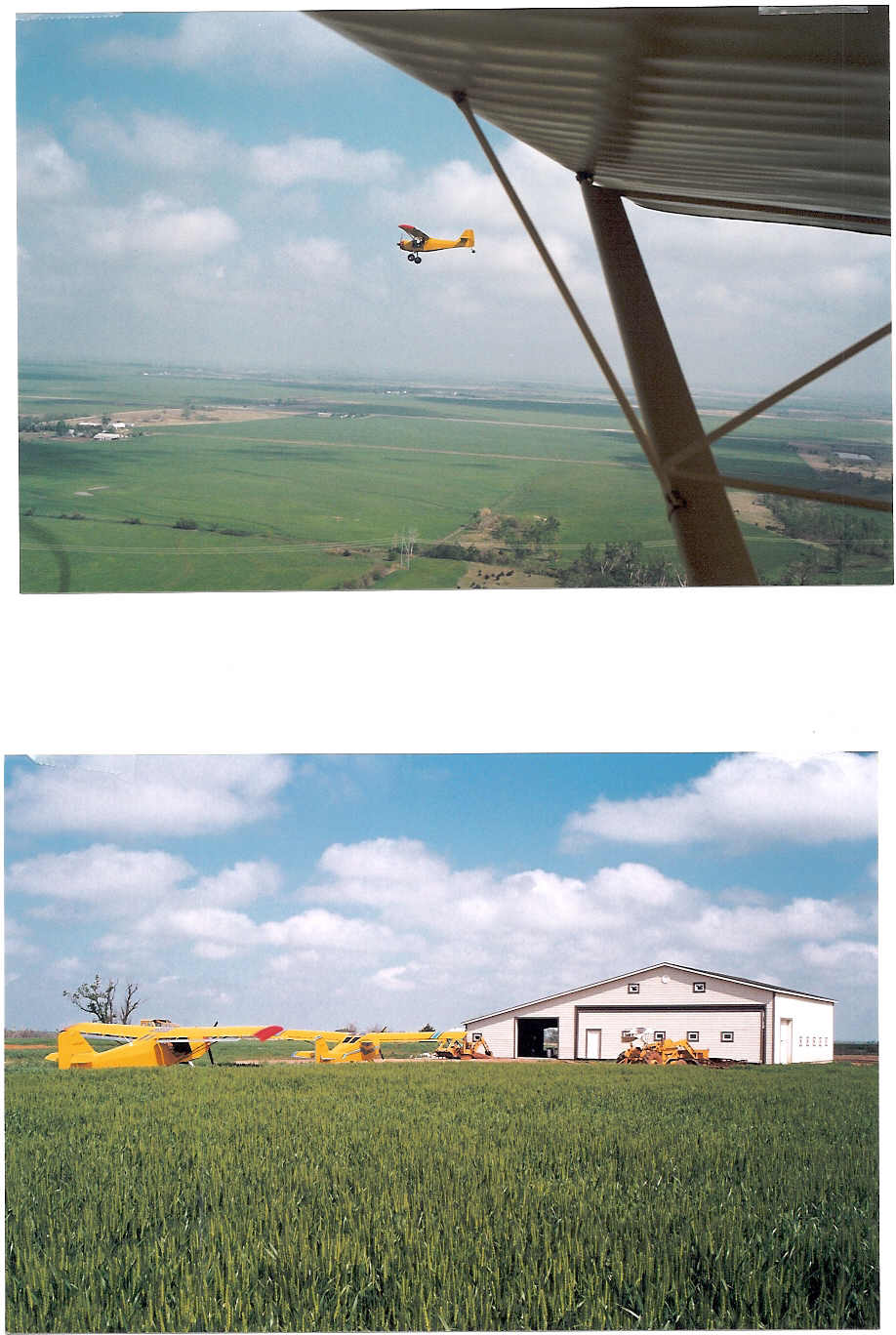 Photos by Dee Ann Ediger-Hollrah

The first photo is an aerial of David Henry's Kitfox as we flew from Perry. He and Ken & I flew from Perry to Ken's new Fairmont Field and hangar for the "first ever official fly-in" at the field two weeks ago. The second picture is a shot of the two Kitfoxes in front of the hangar. Ken has since seeded the 17/35 runway and taxiway with Bermuda and is waiting for a rain and hopefully grass sprouting before any more landings. The 08/26 taxiway is 875 feet long and will be used for east-west takeoffs. Landing to the east on 08 has 50-year old walnut trees at the approach end, so don't hurt the trees if you are trying a low pass or landing. Electrical and plumbing are being installed. The hydraulic door is functional. All the concrete pads have been poured. We'll try to keep you informed on the progress and try to plan for a larger fly-in maybe in the fall. Dee Ann Ediger-Hollrah

Ron Decker Just received flyers in the mail from Chapter 88, Wichita, KS. Saturday, July 5, 2003, 40th annual fly-in. Breakfast at 7:30am. & much more. Flyers will be available at the meeting for anyone interested in attending.

EAA Southwest Regional Fly-In

The EAA Southwest Regional Fly-In is the next event after Sun 'n Fun. It will take place May 16th and 17th in New Braunfels, TX - halfway between Austin and San Antonio. This is our 39th year after being started by Tony Bingelis and we now are at the best location ever. Great airport - 1000 acres of grass, lots of ramp for vendors and heavy aircraft. We will have two days of forums (check the list on the website), workshops, fly-bys and judging - coupled with Texas hospitality and a city that is a family travel destination. We will have on Saturday a full day of ladies' activities. The largest waterpark in the world, Schlitterbahn is giving discounts on Sunday after the fly-in. The banquet will be at the airport on Saturday night and out guest speaker is Charles Duke from Apollo 16. Be sure and reserve your Chapter table(s). We have in excess of 70 aviation vendors. There will be a breakfast on the field on Sunday morning prior to church. This is our HOMECOMING - back home in the Hill Country. We have invited the former Presidents to be our guests as well as many former show winners and several from our first year in Georgetown in 1965. We hope to see you there! See our site for additional information and updates: http://www.swrfi.org
General information can be found at:

http://www.nbcham.org Questions call - 1-800-572-2626

Stan Shannon, SWRFI President


Proper Pattern Procedures

What has five legs, is from 600 to 1,000 feet high, is usually left-handed but can also be right-handed? The answer, of course, is a "standard" nontowered airport traffic pattern. (Some instructors will count "upwind" as a sixth leg, although you won't fly an upwind leg in addition to departure and final approach legs.) But what's standard on paper is not always the traffic pattern flown by pilots, as flight instructors and designated pilot examiners will attest. Traffic patterns vary so widely–from breathtakingly close in to so remote that it is uncertain if the observed aircraft is really landing at all–that a review of the fundamentals is warranted. A good start is the description and illustrations in Section 4-3-3 of the Aeronautical Information Manual.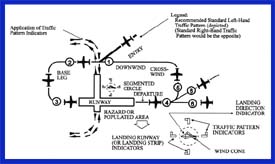 "Safe flight operation begins with knowing the structure of a standard traffic pattern," notes the AOPA Air Safety Foundation's Operations at Nontowered Airports Safety Advisor publication (click here to download), which offers a step-by-step example of entering and flying a traffic pattern at an airport without a control tower–using the Frederick, Maryland, airport as its example. Standard procedures lend predictability to airport operations and make it easier to scan for other traffic. When establishing yourself in the pattern, be sure you can glide safely to the runway in the event of a power loss. Similar procedures and pattern terminology are used at tower-controlled airports, but there, air traffic controllers can make use of partial or non-standard procedures to expedite the flow.
Check your airport's published procedures for any exceptions to standard distances, altitudes, and left-hand-traffic rules. Be prepared to discuss them, and demonstrate your proficiency–especially the requirement to maintain "proper spacing from other aircraft"–to your designated pilot examiner as set out in Task B, Area of Operation III of the Private Pilot Practical Test Standards (click here to download).
If nontowered airports are new to you, see the July 3, 2002, edition of this newsletter and read the Training Tips article, "Taming Nontowered Airports." "Merging into the flow of a traffic pattern requires you to display knowledge and judgment so that you can avoid unexpected maneuvers in the pattern. The ability to consistently do this well marks a milestone in your development as a pilot," counsels Dave Wilkerson in his September 2000 AOPA Flight Training article, "Checkride: Patterns of Safety." Heed his advice and your skill will be recognized by the other pilots at your field.
Further proof that Light Sport/Sport Pilot, which will create a new category of lower-performance aircraft and a new certificate for pilots with lower training and medical requirements, may not be but a dream: The FAA has begun creating the bureaucracy to administer it. The agency announced recently that it is establishing the Light-Sport Aircraft (LSA) Operations Program Office. It will be a branch within the Regulatory Support Division, based in Oklahoma City, Okla. "We have ... approval to start setting up this operation and we are looking at the best ways of doing that," Joseph Tintara, manager of the Regulatory Support Division Aeronautical Center, told EAA. "We intend to meet with the industry people and their FAA counterparts to make sure it's successful." Presumably that's going to be done soon and the FAA has a plan for that, too. More...
For Sale: 1966 PA-28-140, hangared & pampered. Annual 8/1/02, TT2914, TSMOH 1204, Narco AT50A transponder, Narco ADF, KA134 switch panel, KX155 NavCom, STS Loran C, marker beacon, glideslope, autopilot. $37,500. (580) 446-5601 days (580) 446-5440 genemartin@enid.com
Pitot Static Systems Snafu
More than one pilot has taken off after performing what seemed like a careful preflight inspection, only to discover that an undetected blockage in the pitot-static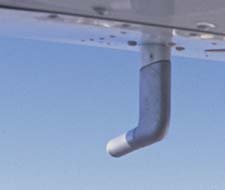 system was causing inaccurate instrument indications. If the pitot tube and outside static vents become clogged, which instruments would be affected? (This is the wording of a question that you might encounter on the Private Pilot Knowledge Test; click here to view a listing of sample questions). "A pitot tube blockage affects the airspeed indicator, which will drop to zero because no air pressure is entering the pitot tube," explained David Montoya in the February 2002 AOPA Flight Training feature "Mastering the Flight Instruments."

"A static port blockage affects the ASI, altimeter, and VSI," he continued. "The ASI will indicate a lower-than-correct airspeed when the airplane is at an altitude above where the blockage occurred, and a higher-than-correct airspeed when the airplane is at an altitude below where blockage occurred.

The altimeter freezes on the altitude where the error occurred, and the VSI settles on zero fpm vertical velocity." (For a comprehensive discussion of the pitot-static system components and instruments, refer to Chapter 3 of the Pilot's Handbook of Aeronautical Knowledge.

Click here to download the chapter.

Many general aviation aircraft are equipped with a pitot heater and/or an alternate static source. It is also possible, if your aircraft is not so equipped, to bypass a blocked static port by breaking the glass on one of the instruments–usually the vertical speed indicator–thus venting the system to the cabin. In either case, slight corrections may be required when interpreting instrument readouts, as noted in the July 1997 Flight Training feature

"Altimetry Basics," by Robert N. Rossier.

While the circumstances depicted above could be startling, they will be no problem for a pilot who can sense aircraft performance and maintain control by feel. This concept was discussed in the February 15, 2002, "Training Tips" article, "Airspeed Awareness." Just remember that whether the potential culprit is ice, mud, or an insect nesting in your pitot-static system, a little prevention goes a long way.

We often have strong winds in Texas. But they usually pick a direction and stay put. This particular night while returning to home base at ADS, the ATIS said the winds were 150 at 15 (right down the runway). Since I was getting a real workout on the controls, I called for a wind check.

Tower: "Variable, 120 to 180, 22 gusting to 32."
Me: (With sarcasm) "Oh, that sounds like fun."
Tower: "We've got the cameras rolling."


Explain THIS to your insurance company: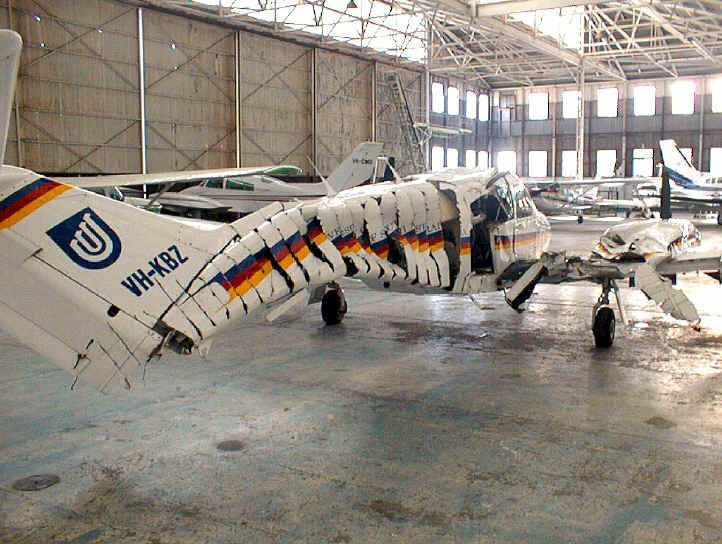 Oops!
Fly Safe!
Dave Chael, EAA 455 Newsletter Editor