Experimental Aircraft Association

Chapter 455 Newsletter Enid, Oklahoma
The Enid, Oklahoma Chapter of the Experimental Aircraft Association normally meets on the third Sunday of each month at 2:30 p.m. in the main Terminal Building at the Enid Regional Airport, Enid Oklahoma. All members and their guests are welcome to attend. The Chapter Web Page is located at:

http://members.tripod.com/eaa455 We encourage you to view this and other items of Chapter interest there!
| | | |
| --- | --- | --- |
| Vol. 02, No. 05 | Donít miss the Pawnee Flyout Ė Saturday 18 May 2002! | May, 2002 Edition |
May, 2002 Meeting Notice

1

April, 2002 Meeting Minutes

1

Pawnee Picnic Flyout!

1

Member News

2

Vance Fly-In

2

Marty Lochmanís Adventures

2

Classifieds

3

M-20 Air-Oil Separator

3

Know your Systems

4

Stupid Fighter Pilot Tricks

4

May, 2002 EAA 455 Meeting Notice
The May Meeting of EAA Chapter 455 will be held on Sunday, May 19, 2002 2:30 p.m. at Woodring Regional Airport! After a two-month absence from the airport, weíre finally coming back to Woodring!
April, 2002 EAA 455 Meeting Minutes
EAA Chapter Picnic, Meno, OK
The April EAA Chapter 455 Meeting was called to order by President Ken Sumpter at Doane Field in Meno, OK. WOW! What a day! The following members were present: Dave Chael and son Zach, Bruce Crain, Doug Lomheim (guest from Oklahoma City, RV-9A project), Bob Noble (guest from Oklahoma City, RV-7 project), Tim Gamble (guest from Oklahoma City, RV-4 project), Jerry Calvert, Ron and Donnie Hazlett with daughter Katheryn, Mike and Sandy Kitterman, Mike Porter and daughter Keli, Ken Sumpter, Tom Nicholas, Ken and Mrs. Cook, Marty Lochman, E.L. Metcalf, Greg and Debbie Miller, Ken and Dee Hollrah, Syd and Diann Nelson, Ron and Betty Decker, Roy Camp, Mica and Brenda Doane, Karl and Carol Siebert, Bill Blunk, Ron Valdez, Natalie Thomas, Mitchell Alexander, Jim and Geneva Jantz, Lahoma (grandparents of the Young Eagles), Don Jantz (father and uncle of Young Eagles and aspiring pilot) and the kids were; Jaclyn Jantz, Derick Jantz,Chris Jantz and Brad Jantz.
Super turnout! The following 10 aircraft were flown in for the event: Dave Chael Bonanza V35, Ken Sumpter C150, Ron Decker C172, Tom Nicholas C-172, Mike Porter C-172, E.L. Metcalf Kitfox, Ken Hollrah Kitfox, Ron Hazlett C-182, Marty Lochman C-140, and Charlie Calivas RV-6.
The weather gods smiled favorably on this traditionally rainy day in EAA 455 history. The day prior featured very low ceilings and drizzle most of the day. However, a morning frontal passage pushed all of the weather to the east, and the sun and wind put the grass strip in perfect condition. Non-stop flying and flyovers went-on most of the afternoon, when we finally stopped for the feast!
Ken Sumpter opened the short meeting and discussed the following: Vance RAPCON will be the Thursday the 23rd of May 2002. Pawnee flyout is the 18th of May, family picnic - if you can not fly, drive over. Bruce Crain, "that fabulous man with fiberglass" will host the August meeting at his home on Sunday the 18th. (He has a pool!). Ken will be checking on the Pegasus thing in the near future. Weíre planning on the 14th of July for the EAA show and tell day to the general public. Don't forget to tell about the Bartlesville Biplane Fly-In May 30 - Jun 1. Ken plans on going on June 1 (same day as Vance fly-in). Cost is $1.00 for children and $3.00 for adults on Friday, $3 and $5 on Saturday. Sounds like Breakfast at Ponca City then off to Bartlesville (or the Vance fly-in). We do not have much planned for June. Kenís plan is a fly-out to Weatherford and go to Astronaut Standfordís museum. The Aerospace American International Airshow is that month, 14- 16 June. Fly in, get in free! Another good trip might be to go the Omnidone Theater at the Kirkpatrick Center, Gus Grisson's Mercury Liberty Bell capsule is there on display. Of course this is all subject to chance at the discretion of the Local Chapter Prez.
Syd and Diann Nelson: The RV7 that we were working on was finished on April 16th, picked up on the 19th and is heading for the paint shop. For all you builders out there, we completed the "7" in 745 hours, including installing the engine and accessories, no wiring or instrument panel. This should give you some motivation! Our plane is now on it's gear with engine installed and getting the accessories attached. All we need is time?!
RV7 at Nelsonís hangar! The boxes in the corner are the latest delivery of the next RV7 kit boxes-wings, fuselage, and finishing kit. The "7" is complete with its wings on and the poor orphaned "8" is stuck to the side!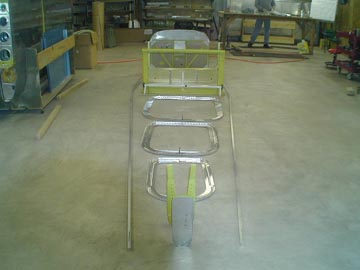 Syd and Diannís RV-7. Looks like a high chair kit from this angle! ed
The RV8 got it's engine hung!

Air-Tech in Orlando, FL has used Lycoming Oil Filter Adapters for $150, Lycoming Flywheels with Ring Gears for $299, Lycoming Ring Gears coarse or fine $69.95. We bought our gasket set from them and it only had the gaskets required to build up our engine for $90. They have Continental parts too. 1-800-407-839-4746 Dick Waters.

John Jameson: I was going to attend the Meno fly-in, but the weather was perfect for the final painting of my Darter. The paint job is not perfect but it looks much, much better than before!

Books youíll never see in print: "Learning to talk on the radios" by Dr Mike Nicholas J

Mike Porter is legal! Well, at least his GPS is. Mike finished up his GPS Certification last month in Tulsa at Airman Acres.

June 1st is slated as the Vance AFB Open House and Fly-in, hosted by Vance AFB Wing Safety. Itíll be an all-day affair, starting with breakfast for aircrews, safety presentations, RAPCON tours, and simulator rides for those wanting to participate. Capt Stouffer at Wing Safety is the primary contact, at 580-213-SAFE (7233). THERE IS A REQUIREMENT FOR PAPERWORK PRIOR TO ARRIVAL, and the document (hold harmless) is available on the Internet.

New FAA Pilot Certification Numbers

FAA To Stop Using SSNs as Pilot Certificate Numbers on June 1.

Recent security and identity theft concerns have led the FAA to cease its policy of using Social Security Numbers (SSN) as airman certificate numbers. Effective June 1, 2002, the Airman Certification Branch (AFS-760) will issue all original airman certificates with unique certificate numbers. Pilots with existing SSN certificate numbers can complete a form and have the FAA assign them a unique certificate number. Through June 1, the FAA will continue to issue new airman certificates using the SSN unless the airman requests a unique number. There is no charge for this change action, and you can use the form for any type of FAA certificate that contains your SSN, including an A&P or repairman certificate. FAAís Request for Change of Certificate Number form is available for download at http://registry.faa.gov/docs/SSN_Change.pdf.

Young Eagles take to the skies in June. Droves of future aviators will take to the skies Saturday, June 8, as part of EAA's ninth annual International Young Eagles Day. The international event is part of EAA's ongoing Young Eagles Program, which was launched in 1992 for the purpose of introducing kids to the joy of flying. Organizers hope to reach their goal of giving 1 million youngsters a free demonstration ride in an airplane by December 17, 2003 -- which, not coincidentally, is the 100th anniversary of the Wright brothers' first flight at Kitty Hawk. Mica Doane should be briefing the Chapter on what our participation will be.

Marty Lochman Ė Sun-n-Fun Trip Logbook!

Marty Lochman

writes about his exciting return trip from Sun-N-Fun, in Lakeland, Florida! Itís a copy of the letter he wrote to Doug Corrigan, the President of the Cessna 120-140 Association. ed

Doug, Yes, flying CAN BE an adventure! I know exactly what you mean. I too experienced the typical "VFR NOT RECOMMENDED" from flight service. My son and I left Lakeland Florida at 0800 on Friday to 40J (Perry-Foley, FL (gas) at 2500 feet. At Perry, I insulted an ultralight pilot flying a Coyote by calling his craft a "weedhopper!" There were 4 of them, an Aircam and a Cessna 120. The flight of 6 was from Tulsa, Oklahoma and they were enroute to CEW (Crestview Fl). I waited my turn and the little kites departed on course. I asked their freq (123.45) and once airborne from Perry dialed in the "Okie Flight" and asked their position. One of the Coyotes had a full swivel, zoom camera on the left wing strut and smoke system installed. I asked "Smokin' Okie" for a quick burst, caught a visual of smoke and joined his left wing position in a nice formation. It took me quite a while to catch these little bugers, but then once joined, could easily out run them. They did climb quite well. Enroute to CEW, the ceilings started to drop. The now flight of 7 "Okies" elected to drop below the clouds and continue on course. Under the clouds the ceiling dropped to 900 feet and it began to rain. Needless to say we were busy dodging cell towers and looking for 6 other airplanes of which one was a C120 and the other 5 ultralights. We couldn't see one another but we were tearing up 123.45 freq. All of the flyers had GPSís out the gazoo and everyone was reporting towers, ceilings, visibility and positions as we found our way to Crestview. The 120 landed first with our 140 on the downwind. We taxied to park before the other "weedhoppers" made the field. I had now been accepted in this very fun circle of small craft flyers!! After everyone topped off the tanks, we then left CEW (still in the soup) and plotted a course for 23M (Clarke County, MS) and halfway there the ceiling began to rise and we turned West. We bid our farewells to the "Okie" flight and turned to a new course for LUL (Helser-Noble, MS) and fueled up the airplane. Took a small break, used the airport courtesy car and got a few "Frisco Burgers/fries" from the local Hardees fast food establishment and then took off for Mt Pleasant TX. After an hour and a half flying, the fuel said "you aint-a-gonna make it" to Mt Pleasant so we diverted to Atlanta, TX (ATA). My CURRENT GPS database said ATA had fuel available on the field. We landed at 5pm, made our way to the airport lounge area and called on the phone for fuel. The person on the other end said they would be at the airport at 7 am on Monday......after all, its 5pm on Friday night! I guess they had a hot date at the local barn dance or the family was gonna take a trip to the big city to eat a hamburger!! Needless to say, I was madder than a hornet, tried to find a way to steal 5 gallons of gas to get the hell out of there, but that try was fruitless. There was a Cessna 140 on the field with a pickup parked next to it along with several other airplanes, but no one around. I walked a quarter of a mile to a gas station/quick stop store and asked if they had a gas can. "No, we aint got no gas can you can borrow, but we have some 1 gallon plastic cans you can buy." I asked how many they had and they informed me they had 3. I said, I don't need to buy them, I just need some gas and I will give them back. Naaaaaawwww, we can't do that. 'sides that, you'd have to wash them out." (Were talking about gas cans here and she wants me to wash the gas out when I'm finished). I didn't think I was making much progress! So, I said "How 'bout I just taxi my airplane up here to the pumps. This place is adjacent to a busy highway! They said "that would be OK" as if it was the norm. I was kind of puzzled now, but was seriously considering the task. I went outside and looked at the pumps and the hoses wouldn't reach the wing tanks. Besides that, I would have to do some creative taxiing to clear all the obstacles and then fight off the crowd when I got to the pumps. I found a construction worker, and asked if he had a gas can - low and behold he had a 5 gallon container with a 4 inch diameter spout. I said I would give it back when I was finished. So, I filled it with 5 gallons of "yellow autofuel" unsure how safe it was but decided I needed to get the hell out of Atlanta TX. I asked for a funnel, (they gave me 5 paper-made funnels for putting oil in your engine) and then carried it the 1/4 mile back to the airplane. Gene strattled the right wing strut and the makeshift stand they had sitting by the pumps (that only the local patrons could use) at the airport and held the useless paper funnels while I poured 5 gallons of yellow juice into the tanks. Fortunately, the wind wasn't blowing and I only put a half gallon on the wing surfaces!!!! I told Gene to take the container back and I jumped in and fired up the Cessna. We took off uneventfuly, with a small crowd at the airport and turned on course for TKI- McKinney, TX. Tower at McKinney said report the downwind and I told them I needed a base to final (I was low on fuel) and was cleared as such. I taxied to park, and while Gene removed his gear, I fueled the airplane. I put 22.5 gallons of fuel in the airplane. I then hustled out to the departure end and was cleared "on to hold" after a 172 did a touch and go. Tower cleared me for takeoff, the airplane now like a rocket without my son and the extra weight of his gear removed, and I could tell I was going to overtake the 172. I reduced power to 2000 rpm and asked for a midfield turnout to the East followed by a turn to the North. The tower approved and my son, watching my departure from the ground was concerned I didn't get clearance. He had taken his private checkride only a week prior, and on the return legs from Lakeland told me if he was the FAA he would have taken my ticket a long time ago! I told him to give me some credit for my experience and knowledge of the airplane and I assured him it would fly at bank angles "greater than 30 degrees"! Now on course for home with a nice tailwind, my groundspeed was 134 knots. I hit a rain shower between Ardmore and Norman Oklahoma and I was getting tired. I arrived at the field where I keep the airplane Ė itís a 2600 ft private grass strip and I am the only guy on the field with an airplane. I descended to 50 feet at 140 indicated and made a high-speed low pass over the runway to clear the animals (deer, kids, dogs and vagrants) followed by a tight climbing right turn to downwind on the departure end. I then landed uneventfully and taxied to the hangar with the airport owner greeting me with the doors open and my pickup parked outside. I taxied into the hangar, let her idle a bit and shut her down. Fatigued with a smile on my face, I crawled out, grabbed my gear and walked through the door at home (23 miles from the airport) at 9:10 pm. Roundtrip to Lakeland and back via stops in Dallas, TX was 22.2 hours of flying. It was a trip to remember!

Hope I didn't bore you with my side of the story, but believe me, I know what you mean. Hope to see you in Newnan and the only thing that will keep me from going will be a deployment to the sand country in the KC135. Take care Doug, talk to you later, Marty

Edo-Aire 777 Transponder. Works great (from Mike Porterís C-172). Was coupled with Narco 850 encoder (includes wiring harness). Call Mike Porter with offer, 234-6008.

4 new standard pistons (#75089) $40 each. 4 used narrow deck cylinders, need to be overhauled, $50 each. Call Syd Nelson chasers1@pldi.net 580-883-2307

Your ad here! Please contact EAA Chapter 455 Newsletter Editor Dave Chael with your items wanted or for sale.

Why I chose the M20 air/oil separator and its results!!! By Marty Lochman

When I bought my 140 in 1989 it was two years out of annual. Cylinder compression was impressive and the engine ran very nice, although I never flew it! I spent 11 years restoring my 46 Cessna 140 and performed monthly 20 minute ground runs on the engine. It was a very thorough undertaking and part of the restoration included removing and overhauling the accessories on the engine. The engine had been major overhauled in 1975 with standard steel cylinders etc. Using the rule of "if it isnít broke donít fix it" I elected NOT to disturb the cylinders or the case. Once the restoration was complete, I began to fly the airplane. The first year I flew 201 hours so I would have the 200 in type to lower my insurance premium. During that time frame, I remember changing the oil and oil filter one weekend and flying a low level cross country to Texas. At my Texas stop (less than 2 hours flying time) I did not check the oil. I continued my route and on the leg home (after 3 hours of flying and a fuel fill-up) while flying in the flat farmlands of Oklahoma at 100 feet and full throttle, I noticed my oil temp up around 210 degrees. Outside air temp was above 100 and so I climbed to altitude, richened the mixture, reduced the throttle setting and the temp came down. I didnít give it much thought expecting the temp and low level as the culprit. I landed the airplane late in the day and the following morning returned to fly again. I checked the oilÖÖ.my gosh thereís only a sliver of a drop of oil on the stick. In that 3 + hours of flying I had burned or blown out all the oil in the tank. I removed the oil filter (3+ hours of time on it) and cut it open. Nothing in the filter (thank goodness) and serviced the engine with new oil and a new filter. I swore from that day forward I would never take off again without checking the oil first. I looked at the belly and it did have oil all the way to the tailwheel but did not look that bad. (it was not dripping off the belly!!!!) I eventually realized that the dipstick in my oil tank was improperly marked and I was putting too much oil in the tank. At any rate, the spark plugs always looked good, the engine ran like a top, but if I flew with full throttle I would go through a quart of oil per 2 hours of flying. I found this oil consumption reduced if I set the cruise RPM to 2350. So, for the next 130 hours I nursed it along at 2350 and just kept putting oil in it. For any of you that have seen my airplane you realize I spend lots of time keeping it clean. I had altered my crankcase breather elbow to the 10 oíclock position, added an internal extension to put it in the middle of the air chamber in the crankcase and played with the exit position out of the cowl. All of these modifications were completed in the very early stages of flying. I decided to install a M20 air oil separator. They advertise unbelievable results, but I figured I had a healthy engine (it runs great, 850 hours since major) and this might be just what Iím looking for. I did not like the options made available for the M20 installation and wrote Bill Sandman (technical representative for M20) that I had an alternative method of installation and asked if it would work. He assured me, it would work as I outlined my changes but insisted the return oil line from the separator MUST have a downward slope to the point of entry in the engine. The options given with the STC is to mount the M20 as high as practical and return the oil through a line with a constant downward slope to a low pressure plug on the left of the 0200 accessory case OR weld a fitting into one of the rear rocker covers. The line to the accessory case clutters the engine compartment, puts a line in your way when working on any of the accessories and the modification to the rocker cover I thought was tacky. I elected to mount the M20 just aft and high on the right vertical baffle with the oil returning to the neck in the 0200 tank. The tank needed a fitting however, and I did not want to weld it. I thought I could remove the induction system on the #1 cylinder and access the tank to drill a hole. My biggest concern of course was the potential for debris to get in the tank. I decided to remove the tank, flush it, drill it, flush it again and re-install. Needless to say, I found a complete gear tooth from the camshaft gear which led to removing the engine, accessories, accessory case and for safety sake decided to replace the appeared un-damaged crankshaft gear. Still not sure, I decided to remove the cylinders. I took them to the shop and 3 of the 4 were cracked beyond service limits but one was repairable. So, new crank gear, cam gear, gaskets, modified oil tank, 3 new standard steel cylinders with the new improved intake valves and my overhauled cylinder with the new valves were installed and now its time to fly. I can time the engine to 24 degrees and it should run like a striped ape!!!! OK, does this M20 really work? What the heck, in goes 5.5 quarts of 100 (50wt) Aeroshell Mineral Oil and now were going to fly. How do I break it in? Full throttle for an hour? Man, I donít know if I can run it that hard. I did, and after 4 hours I went through a quart of oil. NONE ON THE BELLY! I talked to the engine shop. They told me it might take 7-8 hours for the rings to seat. I kept on flying, hard and at full throttle. I have now flown 32 hours on the Cessna. 10 before flying to Sun-N-Fun and 22 round trip Lakeland Florida to Oklahoma City via Dallas TX. The belly only has exhaust residue, absolutely NO OIL. I am amazed at the lack of oil consumption, none on the belly and the dipstick says the same volume of oil. The oil tank was modified with a 90 degree, Number 4, AN bulkhead fluid line fitting with two bulkhead nuts and an o-ring. The length of the fitting will interfere with the tank dipstick if not shortened on the length that penetrates the tank. I drilled an 11/64 inch hole in the area closest to the case and where the filler neck cap flange slips onto the tank filler extension tube. I thought this provided the most material as I originally intended to thread a nipple into the tank neck. There was not enough material for the threads to hold the fitting and that is how I decided on the 90 degree bulkhead fitting. So, I put the bulkhead fitting nut onto the fitting, then an o-ring, installed into the tank neck, followed by the other bulkhead fitting nut on the inside of the tank. The o-ring seals the connection and the nut on the inside keeps the fitting tight in the neck. Works like a charm. Then, I flared a ľ" aluminum line with B-nut and cut the end about 2 inches up from the flare. I then installed a ľ inch hose between the M20 and the oil tank neck. The installation is neat, out of the way and functions exactly as M20 advertises. If anyone needs or wants assistance in this modification, please donít hesitate to call or email. You can call at 405-391-6773 Home (after 5) or email at nc773sh@mcloudteleco.com or Marty.Lochman@tinker.af.mil Either email I will answer as well as the phone. Good luck and again, I am very pleased with the M20 performance!!

Airplane Systems? Do you know yours well?

How well do you know your airpane systems? Hereís an airplane accident worth reviewing: Accident occurred June 17-90 at Oshkosh, Wisconsin Aircraft: Beech K-35, Injuries: 2 Minor. The pilot was en route at 4,000 feet MSL on cross-country flight when he experienced total loss of power. The pilot stated that he switched tanks but could not restart the engine. He made a planned approach for a forced landing at an airport. The pilot lowered the landing gear prematurely on final approach, then raised it when he saw he was going to land short of runway. A gear-up landing was made on residential street adjacent to the airport. The aircraft slid into a tree after landing. The investigation revealed no fuel in the engine fuel system. The left main tank, which the pilot was using, and both tip tanks, were empty. The right main tank and both auxiliary tanks were full. Probable cause: fuel mismanagement.

(Ya think? Öed)

Editorís note: Fuel mismanagement is a serious problem for this airplane model (K- Bonanza, same model that Dave Chael and Mike Kitterman fly). Fuel management is critical! The proper sequence is burn left for an hour, then burn the AUX, then right or left as required. Excess unburned fuel is returned to the tank from which it is drawn, with the exception of the AUX tanks which is returned to the left tank. You can see how one could get distracted, and without a fuel plan, could inadvertently "run-out" of gas. Letís be careful out there! Not knowing your aircraft systems can and will sneak-up and bite you!

Some days it is not YOUR day! "Min lat sep at the merge for today's fight is 15 inches...Hmm. It's one of those days when you're out flying Top Gun one vs. one missions, to see who can "gun" wh. Okay, head-on pass with your F-18, put the pipper on that Bozo's helmet for a beautiful video tape shot of your "guns, guns, guns" kill on this guy...And the result is: a midair collision with two F-18s and both return. One comes in with part of a left wing and left vertical fin and rudder missing, while the other takes the approach end barrier missing everything forward of the cockpit pressure bulkhead - and is flying a convertible because the canopy is shattered too. Uh, anybody seen an APG Ė63 radar, fire control computer, and numerous radio boxes laying around the country side? Oh, yeah, I'm missing a complete M61A3 20mm cannon and ammo drum too, but don't tell the boss. Whew! These guys are sooo lucky. Usually when this happens all you get is a quick fireball in the sky and MAYBE one guy getting out badly injured after ejection, with the other team being a "mort."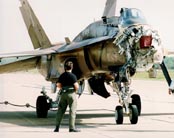 Oops!

Question: How wide is a jet route? Answer: Jet routes extend from Flight Level 180 to FL 450, inclusive, and designate frequently used routings. According FAA Order 7400.2E, Procedures for Handling Airspace Matters, jet routes have no specified width. However, alignment should be planned using protected airspace specified for VOR airways in FAR 71.75 or any flight inspection limitation to prevent overlapping special-use airspace or the airspace to be protected for other jet routes. FAR 71.75 states that federal airways include the airspace within parallel boundary lines, four miles each side of the centerline.

Q:

Is there a way to tell the last revision date of a particular approach chart published by the FAA's National Aeronautical Charting Office (NACO)?

A: The last revision date on the NACO terminal procedures is found in the lower left-hand corner. It is a five-digit number, printed after the amendment number, such as "02092." The first two digits are the year of revision and the last three are the day in that year of the revision. The example "02092" means the approach chart was revised on the ninety-second day of 2002, or April 2, 2002. The U.S. Terminal Procedures published by NACO are available on AOPA Online. See (http://www.aopa.org/members/airports/ ) and click on "U.S. Terminal Procedures."

While recently flying from FLL to JFK an airline captain was given holding instructions due to congestion. After holding for quite some time, the captain finished an exchange with a controller with an attempt to clarify his situation:

Captain: "Copy. Could we get an EFC [expect further clearance], please?"

ATC: "Indefinite."

Captain: "...I don't think I have the fuel for that."

Classic Tower Conversations. "Air Force '45, it appears your engine has...oh, disregard...I see you've already ejected."

Never fly in the same cockpit with someone braver than you. Richard Herman, Jr., 'Firebreak'

The Cub is the safest airplane in the world; it can just barely kill you. Attributed to Max Stanley, Northrop test pilot.

Without ammunition the USAF would be just another expensive flying club.
Thanks to our newsletter contributors this month: Marty Lochman, John Jameson, Syd and Diann Nelson, Ken Sumpter, et al. If your news isnít here, itís because we didnít know about it! Fly Safe!

Dave