Experimental Aircraft Association

Chapter 455 Newsletter Enid, Oklahoma
The Enid, Oklahoma Chapter of the Experimental Aircraft Association normally meets on the third Sunday of each month at 2:30 p.m. in the main Terminal Building at the Enid Regional Airport, Enid Oklahoma. All members and their guests are welcome to attend. The Chapter Web Page is located at:

http://members.tripod.com/eaa455 We encourage you to view this and other items of Chapter interest there!
| | | |
| --- | --- | --- |
| Vol. 02, No. 03 | The March meeting is NOT at the Airport! See details! | March, 2002 Edition |
March, 2002 Meeting Notice

1

February, 2002 Meeting Minutes

1

Member News

2

"The User Friendly Airport"

3

Vintage Aircraft Help

3

Stupid Pilot Tricks

3

"Trouble in Iowa"

3

Classifieds/Cool Tech Stuff

3

Airplanes vs Women

4

Great New Books

4

March, 2002 EAA 455 Meeting Notice
The March meeting of EAA Chapter 455 will be held on Sunday, March 17, 2002 at the ACE Headquarters in Enid, located at 424 South Van Buren, just south of the Hibdon Tire Center. We'll meet there at 2:30 p.m. instead of at the terminal building. If you or anyone needs a ride from the airport (flying-in?), just contact any of the officers and we'll arrange to have you picked-up at the airport. Bill Blunk has asked some of us to bring chairs (lawn chairs would be OK) to the meeting as he has a limited number of chairs available. The floor is carpeted, plenty of room on the floor. Bill will also be serving refreshments – see you there!
February, 2002 EAA 455 Meeting Minutes
Ken Sumpter called the meeting to order at the Woodring Regional Airport Terminal building at 2:30 p.m. Amidst the chaos of the Civil Air Patrol SAREX gathering, it was a significant challenge to conduct anything.
The following members were in attendance: Charlie Calivas, Jerry Calvert, Dave Chael, Ron Decker, Ray Gill, Lonnie Gillespie, Ken Hollrah, Marty Lochman, Mike Nicholas, Tom Nicholas, Lance Nitschke, and Ken Sumpter. Marty Lochman brought a guest, Jerry Sharp, from Shawnee, OK. Welcome!
Ken opened the meeting with an announcement that the March meeting will be held at Bill Blunk's Aero Club of Enid HQ, located at 424 South Van Buren, just south of the Hibdon Tire Center. We'll meet there at 2:30 p.m. instead of at the terminal building. If you or anyone needs a ride from the airport (flying-in?), just contact any of the officers and we'll arrange to have you picked-up at the airport.
Fly-out! On the day PRIOR to the March meeting, Saturday March 16th, the Chapter will participate in a fly-out activity to Ozzie's Restaurant at Westheimer Airport, Norman, OK. Plan on taking-off from Woodring between 7:30 to 8:00 a.m. We always have empty seats going – you need to join us even if you do not have an airplane. Should be a great time!
Mica Doane will host the semi-annual Meno Fly-in, and the April Chapter meeting at his residence in Meno, OK, on Sunday April 21, 2002. We'll all plan on a 2:30 p.m. arrival in Meno. Mica and Brenda will probably cook-up their world-class brisket (fantastic!), and we'll all bring a side dish. Spouses and family members are very welcome naturally. You will NOT want to miss one of our best events of the year, so brush-up on your short-soft field techniques, and we'll see you there!
Ken has arranged for a RAPCON (Radar Approach Control) tour at Vance AFB, which will be conducted in late April or in May. The tour will be on a Thursday afternoon around 4:00 p.m. This is worth taking a day-off from work to experience, especially if you've never had the opportunity to see the kind of flying that's going on here in the local area! We'll finalize the date, and announce it in a future newsletter.
The EAA is giving away a Cherokee 140, and Ken was attempting to sell raffle tickets – they're only $1.00 each. Feel lucky?
Treasurer's report: Check paid to Bruce Crain for $24.30, last-minute Christmas Party 2001 supplies. We took-in dues for eight individuals, bringing the treasury up to about $280.00.
Ken's presentation on Airspace was great! We handed-out AOPA Air Safety Foundation
Pamphlets, Airspace for Everyone (if you were not there and want a copy, contact Ken and request a copy – we have a very few left). We discussed all of the different kinds and divisions of airspace, with emphasis on what weather and ATC clearances (if any) are required to fly in them. Those of us who learned to fly in the dark ages still seem to struggle with some of the changes and the "alphabet airspace". The pamphlets are really excellent, and should answer all of your questions.
Ken then discussed a humorous safety incident, during which two individuals were attempting to hand-prop an airplane IN A HANGAR. Faulty brakes and Murphy's Law ended-up contributing to the injury of one individual (the one standing on the outside of the airplane). Airplanes are deadly – be careful out there!
Jerry Sharp talked about his Navion, built in 1946! He's justifiably proud of owning the oldest flying Navion in the world, serial number 4! It's a beauty, and if you weren't there you missed a real treat! Thanks again to Marty for bring Jerry to Enid.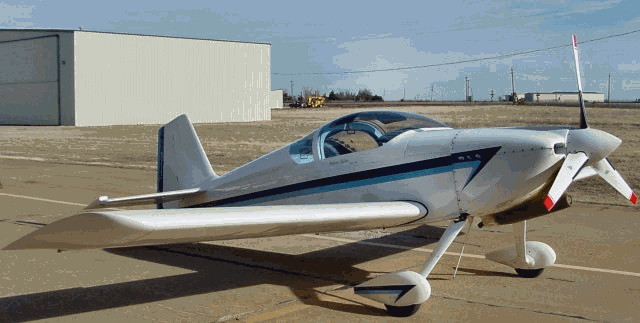 Charlie Calivas was chasing a pesky oil leak in February, and at press time had the new prop installed (see photo!). A meting of the minds took place in Charlie's hangar after the meeting – perhaps Marty helped him to figure it out!
Check out that new propeller!!!
Ken Hollrah is "exhausted", or rather should be. He removed the exhaust system for welding repair at the Kitfox factory. With only one certified welder, it's been up there a while. At least he has the Cessna 172 to fly around!
Scott Hughes tried to fly the Stearman on Saturday February 16th, (a very unseasonably warm day, required for Stearman flying) but a fuel leak around the fuel selector valve kept that airplane grounded. Spring is not far around the corner!
The Phoenix rises again! Dave Chael's Bonanza flew after the February Chapter Meeting! The test flight was semi-uneventful, and the baffling and GAMIjectors installation worked out great! Good to be flying again! 20+ knot winds from the south, landing runway 12 (long runway closed) – sporty, but fun! And I owe a HUGE thank-you to Ken Hollrah, metallurgy guru", for helping me to fabricate a nosewheel clamp for the Bonanza ground tug. Ken's passion is working with 1/4" plate steel and pipe. I was very impressed, and am indebted to Ken for his help! You gotta see it! The compressor hush-house project is almost complete. Anyone who's been to my hangar with the compressor going knows what a pain it is to work with the noise. I normally wear double hearing protection (remember, I fly Tweets, can't hear squat), but wanted to quiet-down the hangar. So I've built a plywood box around the compressor, and lined it with fiberglass batt insulation. Should make a significant difference. Am also working on replacing the Dzus (beat-up, worn-out) fasteners on my cowling with new Camloc phillips-head fasteners.
Lance Nitschke is back, having survived another season of football! He's going to crate-up the Dominator engine and send-it back to the factory for work. Also has a few cracked mounting plates here and there. Lance, we'd love to se you at the Meno fly-in in April!
Lonnie Gillespie is progressing with his 1952 C-model Bonanza! It's currently at Dale LeGrand's, and is slowly taking shape. Plans include new glass (ought to be gorgeous), and a nice radio stack. He found a throw-over yoke this week, and is making great progress! Especially nice is the single-action cowling attachment system!
Roy Camp is making outstanding progress on the recovery from his recent surgery. We visited recently about the status of the Chapter, and his recent surgery. Roy indicates that he is doing great and he's feeling better every day. Roy's doctors have given him a very good chance at a full recovery. And we look forward to having him back at the airport on a regular basis soon! Get well!
Tom Nicholas is getting up-to-speed on the ins and outs of GPS navigation, and loves the new Apollo GPS. Now if he could just figure out how to make it do what he wants it to do!
Marty Lochman - No pics of the 170 are developed yet. Not much time available to work on the 170 or fly the 140. I want to get the 140 ready for Sun-N-Fun as I received my invitation from their staff to park in the previous winners row. That in itself is quite nice, considering very open parking, front row and in view of the flying events. Also, the campers are spaced away from you. Also, the invite included a request to participate in the "History of Flight"....a flyby event on Wednesday of the show. I intend to fly in that event as well. My son from Frisco Texas is going to accompany me. He is the one that will baby-sit the Cessna as I am doing my internship as a new EAA Judge. Go figure! Congratulations Marty!
Ray Gill sends this .jpg file in aresti showing the sequence for the new primary category (aerobatics) - can you handle it?
It consists of :
1) Loop
2) Wingover
3) 1/2 Cuban eight
4) roll
5 180 degree turn...
In most contests, each pilot would fly this twice (once per day)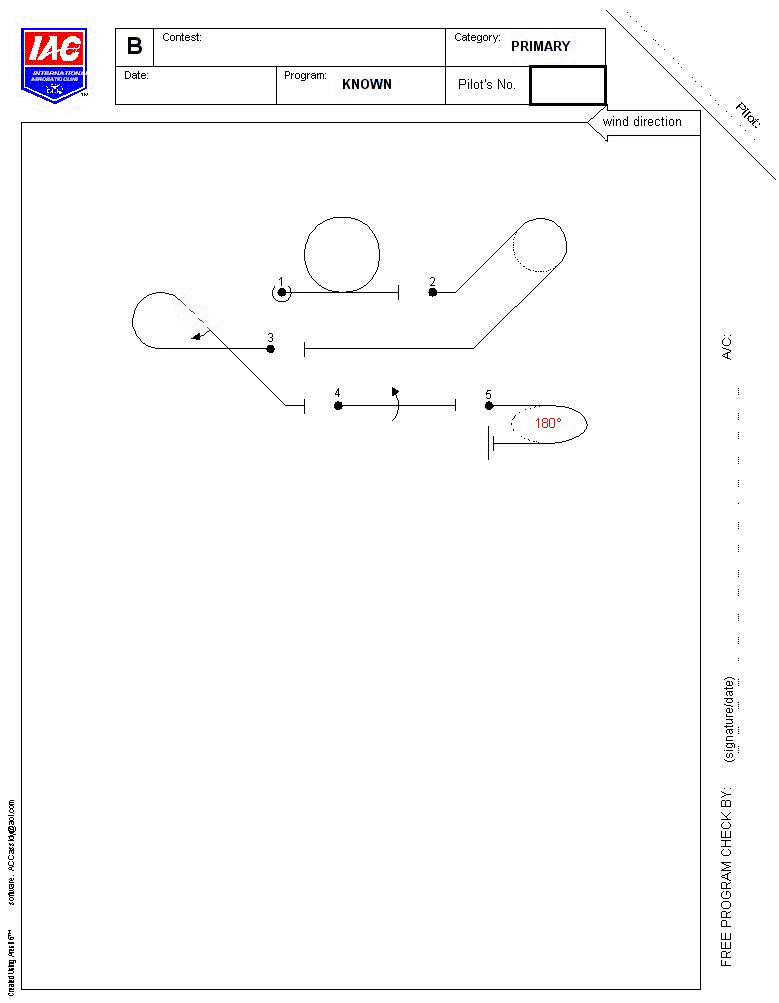 (Looks like a great challenge! Is there a T-37B category for entries? Betcha I could do well in that one… ed)
John Jameson - My (new) plane N3626X is a 1969 Commander 100 Darter. They made 300 Darters and this is the 6th from the last. It sorta looks like a 172 with a Mooney tail. Leo of Leo's Aviation up in Medford has one too and the plane's up there getting annualed. It's "cosmetically challenged" with pretty bad paint and interior but only has 1200 hours. It was cheap too. I'm gonna try and clean it up a little.
Mike Porter. "The Cessna 172 flies like new!" Engine was recently overhauled in Tulsa, at Custom Airmotive. Mike said it burned <1 quart oil in break-in! The engine has a very smooth operation! Flies like a new airplane. Now Mike tells us he needs to make time to get out there and fly!
Ralph Mitten is now a flight examiner at Flight Safety, Wichita, KS.
Syd and Diann Nelson - We have riveted on the upper rear skin onto our RV8 and pretty well have the canopy and skirt completed other than some finishing work on the aft of the canopy skirt. It didn't fit as snug as we wanted so it was cut off and re-layed. We just got our engine torn down today. The engine appears to be pretty clean on the inside, the worst thing we found was the center main bearing is gaulded and wreaked havoc on the crank. We'll keep our fingers crossed in hopes the repair shop can make it pass. No log book as to how many hours are on the engine, but when we get thru, it'll be a good one. Engine parts are layed in front of the fuselage-pretty close to where it needs to be, just missing a few items. The 7 has the horizontal and vertical installed and are finishing up on the rudder, with the elevators to still build. Then on to the wings. Other than that, "we're not doing anything" (yeah, right! ed)
Greg Miller is heading down to Houston in the Piper Apache and won't be at the March meeting. He's currently working on repairs to the cowling Camloc fasteners. Fun working with sheet metal!
Remember, we need digital PIX and stuff for the newsletter. Even if you don't think it is important, tell us anyway – your chapter mates want to know what you're doing!
"There never seems to be enough time to do the things you want to do, once you find them…" Time in a Bottle, Seals and Crofts
The User Friendly Airport
What makes a good airport -- the kind that satisfies pilots, lures locals, attracts out-of-town visitors, provides essential community services and promotes the economy? Well, that's what the good folks in the pilot's lounge have been hashing out. AVweb's Rick Durden was there and reports on their discussion in the latest issue of The Pilot's Lounge. After flying for a few years, many pilots come to feel that airports, just like airplanes, have personalities. Here in the Pilot's Lounge at the virtual airport there seems to be a pretty universal opinion that while each airport is a gateway to the world aloft, some are warm, friendly haunts, as comfortable as an old shoe, while others seem cold and unwelcoming.
Your newsletter editor strongly recommends looking-up this website. http://www.avweb.com/articles/lounge/tpl0044.html
Bottom line: How do you think Woodring rates at being user friendly. My opinion is that we're very fortunate to be able to call Woodring home! Read the article and see what we can do to improve the home drome!
Fly an old airplane? One of the headaches of maintaining a vintage aircraft is that owners were required by the FAA to maintain and modify their aircraft according to design data supplied with permission of companies that often no longer exist. Now, working with the EAA, the FAA has produced new and impressively sensible guidelines for the release of original blueprints and other data when the information's owners cannot be located. The FAA will perform the search, and if no owner is found the information will be released under the Freedom of Information Act. EAA is working with government officials to develop the full policy, to be adopted on a national level later this year.
First, floatplane pilot Peter Drewery of Nanoose Bay, British Columbia, reported a fuel-related problem and made an emergency landing on or near Duke Island. The plane bonked a rock, punching a hole in one float. A volunteer rescue squad helped patch the float, but it leaked and led to the aircraft flipping during the subsequent takeoff. Drewery returned with a barge and crane and recovered the aircraft from 70 feet of water, but raised the suspicions of the rescue squad, who reported him to local troopers. When the troopers searched the island, they found four duffle bags stuffed with marijuana. Drewery was later found wandering the area looking for something he "forgot." Bail was set at $100,000
Could this happen in Oklahoma? EAA and AOPA are encouraging the Iowa legislature to reconsider their 2003 budget, which would eliminate all funding for aviation in the state, including such niceties as AWOS installations, windsock replacements, runway marking programs, airport inspections and certifications, and Airport Improvement Program enhancements. EAA notes that during the budget process, many states consider eliminating programs to help control expenses, but that "in most cases, the cutbacks do not happen or are less severe than proposed." Nonetheless, EAA is urging their members to contact their government representatives and express support for Iowa aviation programs and safety.
RV-9A Quickbuild kit. Everything you need to start building the day you get it! He has $22,296.54 invested in everything. He is asking $18,000.00 for the whole thing. It is located in a hangar at Front Range Airport (FTG) which is located in Watkins, Colorado just east of Denver. If you are interested in owning a real nice RV-9A Quickbuild, his name is Jerry Lippert and he can be reached at (303) 751-1755. Thanks, John Singer RV-6A - Denver, CO http://www.jgsinger.com/rv
Edo-Aire 777 Transponder. Works great (from Mike Porter's C-172). Was coupled with Narco 850 encoder (includes wiring harness). Call Mike Porter with offer, 234-6008.
Your ad here! Please contact EAA Chapter 455 Newsletter Editor Dave Chael with your items wanted or for sale.
Question: When I descend below 4,000 to 5,000 feet MSL while flying in northern Michigan, Minneapolis Center always tells me "radar contact lost" and asks me to begin position reporting. Yet the indicator light on my transponder continues to blink. Can they see me or not? It seems the transponder is still responding to queries and sending responses.
Answer: According to the "Pilot/Controller Glossary" (http://www.aopa.org/members/files/aim/glossary.html), the term "radar contact lost" is used by ATC to inform a pilot that radar data used to determine the aircraft's position is no longer being received, or is no longer reliable and radar service is no longer being provided. The loss may be caused by several factors, including the aircraft's operating below radar line-of-sight coverage. Your transponder reply light may still illuminate in these situations, but it is impossible to determine which radar facility is "painting" your plane. This light could be in response to a totally separate facility than the one with which you are currently in radio contact. In addition, the response could be from military radars or nearby aircraft with traffic alert and collision avoidance systems. TCAS equipment actively queries nearby transponders for position information. You can find more information on position reporting in a 1991 "AOPA Pilot" article (http://www.aopa.org/members/files/pilot/1991/SC0391.TXT).
Question: Is it legal to take off VFR from one airport that is clear, get above an overcast layer of clouds, then cruise in VFR and land at an airport that is also VFR? The departure and arrival airports have clear conditions, but the airports along the way are overcast. I don't have an instrument rating.
Answer: What you are describing is called VFR over-the-top. VFR over-the-top is strictly done VFR, and although it is not recommended for VFR pilots, it is not prohibited. As long as you can maintain the VFR cloud clearance requirements for the airspace you are in, you are considered to be legal. Note that student pilots must maintain visual contact with the ground and therefore, cannot fly VFR over-the-top. Please note also, that VFR over-the-top is different from VFR on-top. VFR on-top is an authorization for an IFR aircraft to operate in VFR conditions at any appropriate VFR altitude (as specified in the regulations and restricted by ATC). A pilot receiving this authorization must comply with the VFR visibility, distance from cloud criteria, and the minimum IFR altitudes specified in FAR Part 91.
Airplanes can kill you quickly; a woman takes her time. Airplanes can be turned on by a flick of a switch. Airplanes don't get mad if you 'touch and go.' Airplanes don't object to a preflight inspection. Airplanes come with manuals to explain their operation. Airplanes have strict weight and balance limits. Airplanes can be flown any time of the month. Airplanes don't come with in-laws. Airplanes don't care about how many other airplanes you have flown before. Airplanes and pilots both arrive at the same time. Airplanes don't mind if you like to look at other airplanes. Airplanes don't mind if you buy airplane magazines. Airplanes expect to be tied down. Airplanes don't comment on your piloting skills. Airplanes don't whine unless something is really wrong. However, when airplanes go quiet, just like women, it's a bad thing.
So you really wanna be in the Navy, huh??
Oops! You'd run away too! Photos from the flight deck of aircraft carrier. Look closely to see what's wrong with this picture!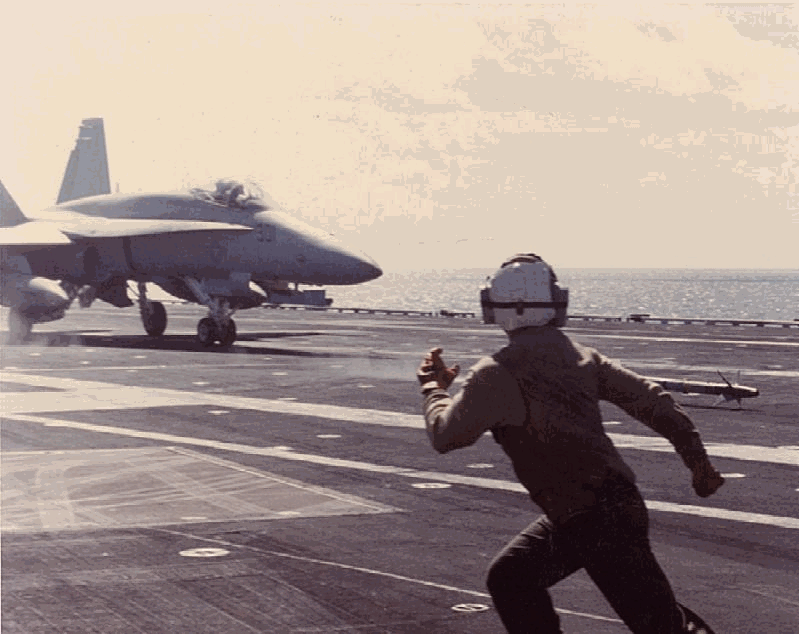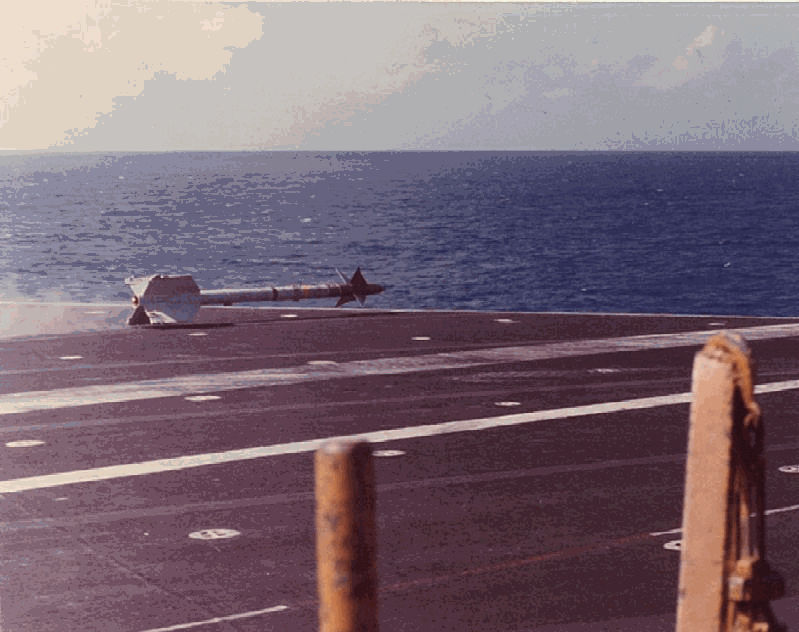 Every pilot worth his/her ticket should have a professional library and continue to add to the knowledge base we started way back in basic flight training. As a pilot (regardless of your ratings) it is very important to stay abreast of recent changes in the aviation world and grow in proficiency and knowledge! What are you doing to get smarter in this endeavor we call aviation? One thing I enjoy is reading about flying every chance I get. Magazines, books, internet, etc.
There is one outstanding book I just purchased that is worth adding to your own professional library: Redefining Airmanship, by Major Tony Kern, USAF.
Redefining Airmanship offers the first concrete model of the abstract ideal of airmanship, and gives the reader step-by-step guidance for self-appraisal and improvement in the areas of flight proficiency, teamwork, and good judgment in crisis situations. The author, Major Anthony Kern, draws on his extensive flight and crew-training experience in the US Air Force, but his model is invaluable for all pilots, whether military, recreational, or commercial. Kerns work is a breakthrough, and a benchmark. Here, for the first time, is a systematic model of professional airmanship, for all pockets of the aviation community. With this book as a guide, you too will develop the "right stuff" for today's complex world of flight. Step by step, system by system, the book shows you how to: Use history's greatest flyers as role models--and follow in their footsteps; Define standards and measurements for success; Understand specific aspects of airmanship, using case studies and lessons learned; Handle peer pressure, lack of time, and stress; Reduce errors and aid decision-making; Manage risks; Evaluate your own performance; Illuminate a path for self-improvement; Advance your career. Redefining Airmanship gives you a holistic model of good airmanship and shows you how to use that model to measure and improve your performance. Using the book's Individual Improvement Plan, you can increase your confidence. . .develop flight discipline. . .understand your aircraft. . .know your crew's strengths and weaknesses. . .be an effective team manager. . .and achieve your personal best as an airman. Great reading! (Available at http://www.Amazon.com
Short Final...I was flying my first "Bay Tour" in the San Francisco Bay area and didn't yet know many of the landmarks. As I continued up the coastline I was handed over to SFO, who announced, "Cessna 12345, turn left to 300 and report shoreline." I promptly reported that I was "unable." That course would not take me over the Shoreline Amphitheatre – the landmark was retreating behind me. Regardless, the controller stated that it was at my 12:00, and "please report shoreline." After going back and forth few times, the controller said, a bit exasperatedly, "It's the long thing with sand."
Dave Chael will be updating information about Chapter 455 members in the database at the next meeting. We're specifically looking at aircraft flying and projects in the works, N numbers, # seats, etc. Fly safe! Dave