Experimental Aircraft Association

Chapter 455 Newsletter Enid, Oklahoma
| | | |
| --- | --- | --- |
| Vol. 03, No. 03 | The March Chapter Meeting is in Medford, Oklahoma! | March, 2003 Edition |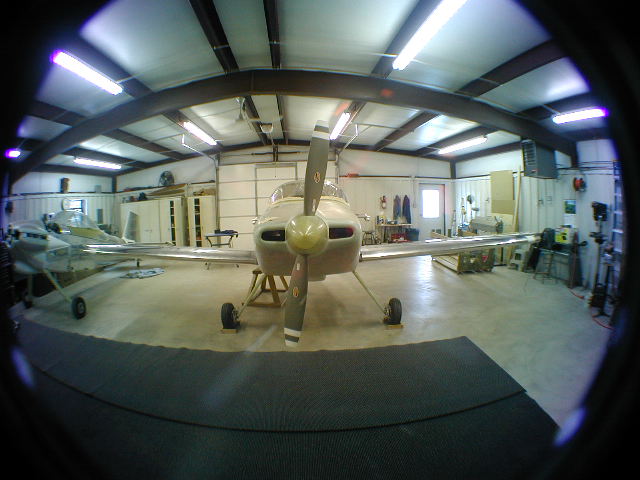 Outstanding photo of "RV heaven" in Syd and Diann Nelsonís workshop! RV-7 featured in the center, RV-4 on left.

March, 2003 EAA 455 Meeting Notice

The March meeting of EAA Chapter 455 will be not be at Woodring, but instead at the Medford, Oklahoma airport in Medford. The meeting will be held on Sunday, March 16th at our normal meeting time: 2:30 p.m. The City of Medford is going "all out" for the EAA meeting!

They will be selling CHEAP AV GAS for only $1.50 per gallon for EAA Chapter Members! They are also providing refreshments. Let's have a good showing on Sunday the 16th! Bring your (nearly) empty fuel tanks, and let's take advantage of this good deal! (Too bad our cars won't run on the stuff Ė itís cheaper than auto gas in many places). Should be a great time, and an excellent opportunity to fly-in, or drive-in (if your airplane is still on the jacks like mine - ed)

February, 2003 EAA 455 Meeting Minutes

President Ron Decker opened the meeting at 2:30 on February 16, 2003. 15 members and one guest were present at the Woodring Terminal. We discussed having our March meeting at Medford Airport and all agreed. It's a paved runway for all that can fly in. If anyone's interested in flying over, contact one of the many pilots that have planes. The meeting will be held at one of the hangars. Ken Sumpter will contact Control Vision to see if they can come to our May meeting and give a demonstration. Mica Doane will prepare chili for the April 13th fly-in meeting to be held at Doane Field. All members were introduced to our guest Ken Cook and gave reports on their projects. It was mentioned that Perry Airport has a breakfast every Saturday morning. Hutchison, Kansas has a buffet breakfast on the 2nd Saturday of the month. To date, 25 members have paid their dues. There are quite a few people who haven't paid this year. If you are unsure if you're paid up, please contact Syd Nelson

chasers1@pldi.net Treasurerís Report: $356.05. Respectfully Submitted, Syd Nelson, EAA Chapter 455 Secretary/Treasurer, Cook, and Chief Bottlewasher.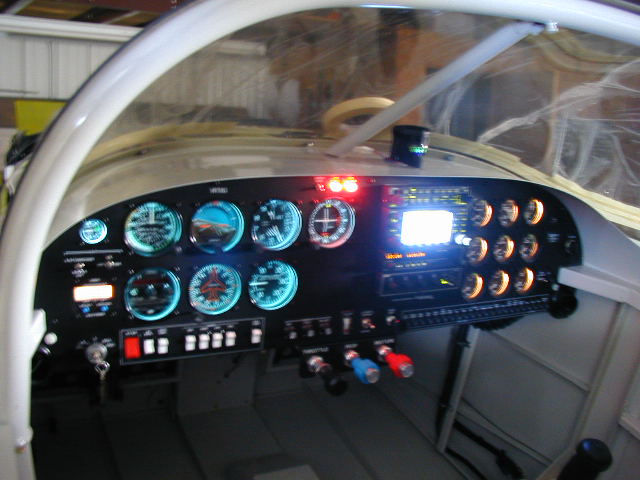 Way cool lights!

Syd and Diann Nelson: Latest pictures of the RV7. Note the lights around the individual instruments. Neat! The plane is finished and weighs 1141 pounds.

Dave Chael:

Iím almost there on the Banana! The latest is a second attempt at painting the ruddervators to enable them to fall within strict weight and balance limits. The first attempt resulted in a less-than-great paint job that fell well outside of any resemblance of where the balance was supposed to be. So I stripped them AGAIN and am doing the painting myself this time. Itís amazing how much confidence in yourself you can muster after doing a very complex and time-consuming jobÖ the second time! Should look great! Seems that work is getting in the way of my hobby!

Great news from Lonnie Gillespie!

Lonnie called and asked me to spread the word to the EAA Chapter about his recent operations, and his outstanding recovery progress. As many of you know, Lonnie has had a heart murmur for most of his life, and it had progressed to the point where an operation was required (remember he is also recovering from a recent colon cancer operation as well!) The heart operation(s) went very well. In addition to repairing the malfunctioning heart valve, the doctors also discovered and repaired significant blockage in two arteries! Lonnie expects to be recuperating for at least six months, and indicated he feels really good, with some normal pain, and a normal lack of energy. We hope he can begin working on the Bonanza and getting ready to fly again at the end of this summer! Lonnie thanks all of you for your continued thoughts and prayers. I'm sure he'd love to get a card from each of us: Lonnie Gillespie 2412 Weycroft, Enid, OK 73703 lonelg@ionet.net

Question for EAA Aviation Information Services: I'm in the process of trying to get a "N" number for my amateur-built aircraft. I have picked five numbers of my choice in order of preference. I understand that there is a $10 charge to reserve one of these numbers. How do I go about doing this and who do I make the check out to and where do I mail it? Answer: The info on reserving a special "N" number can be found on the FAA's Aircraft Registration Branch web site,

http://registry.faa.gov/aircraft.asp. Click on the link "Special Registration (N-Number) Request" found under the Customer Services heading. This will take you to a page that explains the process for reserving a special N number. You can reserve the "N" number online or by mail.

EAA Southwest Regional Fly-In Update. The EAA Southwest Regional Fly-In is just around the corner. It will be taking place May 16-17, 2003 in New Braunfels, Texas. The March Newsletter has recently been added to our website. Please go to the following link to read about all of the latest information:

http://www.swrfi.org/swrfinewsmarch2003.pdf For more detailed information on the fly-in including the schedule of activities, forums, transportation and lodging and more go to the main EAA Southwest Regional Fly-In website: http://www.swrfi.org/ We hope to see you there! Stan Shannon, President SWRFI, www.swrfi.org, 830-997-8802.

EAA, AOPA Exemption Requests For Rec Pilot Driver's License Medical Denied. EAA's request for an exemption to permit recreational pilot certificate holders to conduct flight activities using a current and valid U.S. driver's license, instead of an FAA-issued medical certificate, was denied by the FAA Flight Standards Office on Thursday (March 6). EAA, which filed the request on September 26, 2002, sought to use a proposed five-year exemption to collect data and establish a basis for eliminating third-class medical certificate requirement for recreational pilots. The Aircraft Owners and Pilots Association (AOPA) filed a similar petition in January 2003 which was also denied on March 6 by the FAA.

Short finals:
"We can stand here like the French, or we can do something about it." ---- Marge Simpson
As income tax time approaches, did you ever notice when you put the two words "The" and "IRS" together it spells "THEIRS"?
Golf is a game in which you yell "fore," shoot six, and write down five. ~ Paul Harvey
Golf is a game invented by the same people who think music comes out of a bagpipe.
Politics is supposed to be the second oldest profession. I realize that it bears a very close resemblance to the first.
Fly safe! Dave