Experimental Aircraft Association

Chapter 455 Newsletter Enid, Oklahoma
| | | |
| --- | --- | --- |
| Vol. 03, No. 06 | June Meeting at Woodring (and Father's Day) on the 15th! | June, 2003 Edition |

Charlie Calivas and RV at Mica's, 2002 fly-in!
Please send current PIX to the editor if you have them!



June, 2003 EAA 455 Meeting Notice

The June, 2003 EAA Chapter 455 Meeting will be held on Sunday, the 15th, 2003, Woodring Regional Airport Terminal Building, 2:30 p.m. Should be an outstanding meeting you won't want to miss! Hope to see you there!

May, 2003 EAA 455 Meeting Minutes

Sixteen members were present at our meeting with 7 visitors. It was brought up to have the August meeting at Bruce Crain's. We will find out more at the next meeting. Treasury Report: current balance is $348.

Gene Martin if fitting his airscoop and cowling, also routing new control cables on his Lancair 320. Dwayne Lee is ready to rivet the flap on his Sonex. Bruce Crain has his plane inverted and finishing the wing connection. Carl Siebert is working on the forward side fuselage skin on his RV6.

Control Vision showed up an hour late blaming weather, some members were still present. We flew over to Medford and watched Mica Doane fly John Jameson's newest toy, a Kitfox. It flies! He took up John and Mike Kitterman also.

Chapter Activity Notice!

Autry Tech Open House
EAA Chapter 455 Static Display Support
Sunday 29 June 2003
2:00 – 4:00 p.m.

Don Gerbrandt has asked the Chapter to support Autry Tech open house like we did last year with static displays of our aircraft! It was a big success for Autry Tech last year, and they would appreciate our support again this year! Ken Sumpter has promised to bring the portable shade and the Chapter banner. Autry Tech will provide refreshments and hot dogs.. The powered parachute guys from Kremlin will be there for demonstrations! Taxi to the south side of Autry Tech hangar, follow marshaller for parking instruction. Bring own tie-downs. This was a lot of fun last year – see you there!

Your news here! Let us know what you're doing these days! ed
Syd and Diann Nelson - Attached is a picture of a new steering link used on RV type aircraft that have the full swivel tail wheel. We installed this on the RV4 we were working on. Terry Jantzi from Canada designed it. No modifications are required to install the link and all hardware is supplied. Cost is $113 and that includes shipping. http://www.iwantarocket.com

This same RV4 was inspected on June 5th by Bart Dalton, DAR from Owasso, and it flew for the first time on June 8th! Another RV4 (Russ Parr) that's been in work for 10 plus years is to be inspected this month also. It sure is great to see these planes finally get their Airworthiness Inspections and ready for their first flight!

Jerry Calvert - Here is an interesting article on a test that was performed on a "unwaxed" and "waxed" Mooney to determine the speed advantages. Might be something of interest for future newsletter: http://www.cafefoundation.org/aprs/Wax%20Job%20with%20PICT.pdf

Bill Melanson – Found a neat website telling the flip side of some of Hollywood's real heroes! I was sent this URL and thought you all might enjoy it.

http://www.palletmastersworkshop.com/flipside.html (worth reading)


Dave Chael - Removed oil cooler on Bonanza due to small leak in front near mounting gasket. Sent away to have unit ultrasonically cleaned and refurbished. We recently returned from two trips to San Antonio area. The Bonanza is THE way to travel! On one trip, stopped ½ way down at Mineral Wells, TX for gas. Either way, about 10+ hours of driving like a madman on I-35, or about 3 hours in "the Banana". Do the math! Watch out for the TFRs, especially when "George W" is in town at the ranch.

For Sale: 1966 PA-28-140

, hangared & pampered. Annual 8/1/02, TT2914, TSMOH 1204, Narco AT50A transponder, Narco ADF, KA134 switch panel, KX155 NavCom, STS Loran C, marker beacon, glideslope, autopilot. $37,500. (580) 446-5601 days (580) 446-5440 genemartin@enid.com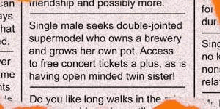 …yeah right! ed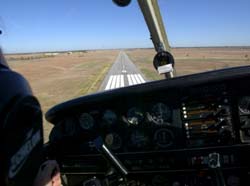 A presolo student pilot writes, "The most difficult part about flying for me has been the transition between a crab and a sideslip during a crosswind on landing." Much has been written on crosswind landing techniques (see "Practicing Crosswind Landings" in the December 28, 2001, edition of this newsletter, available online). But skill is only acquired through practice. See the February 2000 AOPA Flight Training feature "The Examiner's Lament."

Insight into what it takes to humble a crosswind is found in Budd Davisson's insightful July 2000 AOPA Flight Training feature article,

"The 10-Hour Graduate Course": "The changeable characteristics of a gusty crosswind are what drive all pilots nuts, and it is usually because they haven't drawn a firm visual line that they want to fly. Once that line is drawn, they have to resolve to instantly correct for any deviations from it. In a gusty wind, flying something like a Cessna 172, that means thrashing away with the ailerons and rudder, doing whatever you have to do to keep the airplane from drifting while absolutely nailing the nose at a given attitude."

In the crab/slip approach, the pilot flies final approach with the aircraft's nose crabbed into the wind to counteract drift until just before touchdown, when the nose must be aligned with the runway centerline for a straight-ahead touchdown. Simply using rudder to eliminate the crab would result in drifting downwind. This is avoided by simultaneously banking into the wind. The airplane lands banked slightly. The upwind main wheel touches first, and the nose (longitudinal axis) points straight ahead. See "Defeating the Crosswind" by Alton K. Marsh in the August 1996 AOPA Pilot.

If you are having trouble timing the transition, tell your instructor that you would like to fly a crabbed approach to the runway, but instead of touching down after entering the sideslip, add a touch of power and continue flying above the centerline while sideslipping. (Sideslipping all the way down final approach through touchdown is another acceptable technique; choose the method that you like best.) Knowing that you can fly along this way indefinitely removes the stress of feeling that you must time the transition to occur just before touchdown. Make as many passes as it takes for you to feel comfortable. Know your airplane's demonstrated crosswind capability–technically this is not an operating limitation, but it does exist for a reason. You should calculate the crosswind component at the time of your flight to make sure that you have adequate rudder authority (see Section 3 of AOPA's Handbook for Pilots). Then go out and become proficient in one of aviation's most challenging skills!

By Staff Sgt. Jason Haag
332nd Air Expeditionary Wing Public Affairs

OPERATION IRAQI FREEDOM (ACCNS) -- An A-10 Thunderbolt II pilot deployed with the 332nd Air Expeditionary Wing safely landed her "Warthog" at her forward operating base after it sustained significant damage from enemy fire during a close air support mission over Baghdad April 7.

Capt. Kim Campbell, deployed from the 75th Fighter Squadron at Pope Air Force Base, N.C., and her flight leader had just finished supporting ground troops and were on their way out of the area when her aircraft was hit with enemy fire.

"We were very aware that it was a high-threat environment -- we're over Baghdad," she said. "At the same time, those are the risks you are going to take to help the guys on the ground, that's our job, that's what we do. Our guys were taking fire and you want to do everything you can to help them out.

"We did our job with the guys there on the ground and as we were on our way out is when I felt the jet get hit. It was pretty obvious -- it was loud," Captain Campbell said.

After sustaining the hit, she said the aircraft immediately became uncontrollable and she noticed several caution warnings -- all over a very hostile territory.

"I lost all hydraulics instantaneously, so I completely lost control of the jet. It rolled left and pointed toward the ground, which was an uncomfortable feeling over Baghdad," she said. "The entire caution panel lit up and the jet wasn't responding to any of my control inputs."

Captain Campbell tried several different procedures to get the aircraft under control, none of which worked, she said. At that point, she decided to put the plane into manual reversion, which meant she was flying the aircraft without hydraulics. After that, the aircraft immediately began responding.

"The jet started climbing away from the ground, which was a good feeling because there is no way I wanted to eject over Baghdad," she said.

Because the aircraft sustained hits to the rear of the aircraft, including the horizontal stabilizer, tail section and engine cowling, Captain Kim said she could not see the damage. Her flight leader, Lt. Col. Richard Turner, positioned his aircraft where he could view the damage.

"The jet was flying pretty good and the damage had not affected the flight control surfaces or the (landing) gear," Colonel Turner said. "If (Kim) could keep it flying, we would get out of Baghdad and might be able to make it (back to base).
Once they assessed the situation, the two worked closely together to determine the best course of action. Captain Campbell said the colonel's calm demeanor and attention to detail were instrumental in her being able get the airplane home.

"I could not have asked for a better flight lead," she said. "He was very directive when he needed to be, because all I could concentrate on was flying the jet. Then, once we were out of the Baghdad area, (he) just went through all the checklists, all the possibilities, all the things I needed to take into account."

Captain Campbell said she and Colonel Turner discussed all her options, which ultimately came down to two: fly the aircraft to a safe area and eject or attempt to land the disabled plane.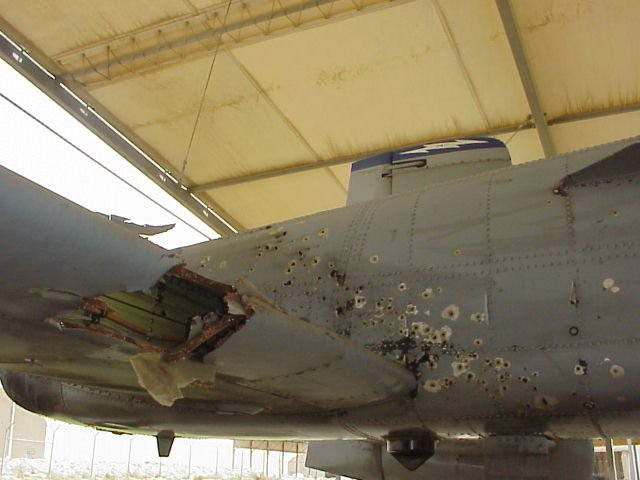 "I can either try to land a jet that is broken, or I can eject...which I really didn't have any interest in doing, but I knew it was something that I had to consider," she said. "But the jet worked as advertised and that is a tribute to our maintainers and the guys who work on the jet. It's nice when things work as advertised."

Colonel Turner said that even though he could advise her, only one person could make the decision about whether to eject or attempt to land the aircraft.

"She had a big decision to make," he said. "Before anyone else could throw their two-cents worth into the mix, I made sure that she knew that the decision to land or eject was hers and hers alone."

To Captain Campbell, the decision was clear. "The jet was performing exceptionally well," she said. "I had no doubt in my mind I was going to land that airplane." After getting the aircraft on the ground, the final task was getting it stopped and keeping it on the runway, she said. "When you lose all the hydraulics, you don't have speed brakes,

you don't have brakes and you don't have steering," she said.

"One of the really cool things that when I did touch down, I heard several comments on the radio -- and I don't know who it was -- but I heard things like, 'Awesome job, great landing,' things like that," she said. "I guess we all think we are invincible and it won't happen to us," she said. "I hadn't been shot at -- at all -- in all of my other missions. This was the first. Thank God for the Warthog, because it took some damage but it got me home." (Courtesy of AFPN)

Capt. Kim Campbell, an A-10 Thunderbolt II pilot deployed with the 332nd Air Expeditionary Wing, surveys the battle damage to her airplane. Her A-10 was hit over Baghdad during a close air support mission April 7. The A-10 can survive direct hits from armor-piercing and high explosive projectiles up to 23mm. Manual systems back up their redundant hydraulic flight-control systems. This permits pilots, like Captain Campbell, to fly and land when hydraulic power is lost.

26 July 2003 Owasso, OK Chapter 10 Pancake Breakfast, Gundy's O38 Contact Information: Gerald Vaughan

918-272-6604

20 July 2003 EAA Chapter 455 Woodring Municipal Airport 2:30 p.m.

Sunday 29 June 2003 Autry Tech Open House EAA Chapter 455 Static Display Support

2:00 – 4:00 p.m.

29 July – 4 August 2003

Oshkosh, Wisconsin

EAA AirVenture Oshkosh 2003, Wittman Regional Airport OSH Contact Information: 920-426-4800

2 August 2003

Ellsworth, Kansas Chapter 1127 Cow Town Fly-In Breakfast, Ellsworth Municipal 9K7 Contact Information: Dale Weinhold 785 472 4309 Email Address: dalewein@grapevine.net

9 August 2003 Beaumont, Kansas Pancake Feed Fly-In, The Beaumont Hotel SN07 Contact Information: Travis W Atwood 620-843-2422 Email Address: gm@hotelbeaumontks.com

29-30 August 2003 "When Pigs Fly Bar-B-Q Cook Off" and Central Fly In, McPherson Airport, Kansas MPR Contact Information: Cheryl Lyn Higgins 620-241-3303 Email Address: chamber@mcphersonks.org

17 August 2003 EAA Chapter 455 Bruce Crain's Pool!

12-13- September 2003 Beaumont, Kansas2nd Annual Beaumont Blazin BBQ Championship and Fly-in, Beaumont SN07 Contact Information: Travis Atwood 620-843-2422 Email Address: tatwood@hotelslc.com

13 September 2003 Tuttle, Oklahoma Chapter 98 Fly In, Thompson Airfield Contact Information: Robert Crawford 405-381-2840 Email Address: rlcraw4d@aol.com

19-20 September 2003 Bartlesville, Oklahoma47th Annual Tulsa Regional Fly-In, Contact Information: Charlie Harris 918-665-0039

21 September 2003 EAA Chapter 455 Woodring Municipal Airport 2:30 p.m.

19 October 2003 EAA Chapter 455 Woodring Municipal Airport 2:30 p.m.

16 November 2003 EAA Chapter 455 Woodring Municipal Airport 2:30 p.m.

21 December 2003 EAA Chapter 455 Christmas Party! Woodring Municipal Airport 2:30 p.m.

A stockbroker, on his way home from work in New York City, came to a dead halt in traffic and thought to himself, "Wow, this seems much worse than usual." He notices a police officer walking between the lines of stopped cars, so he rolls down his window and asks, "Officer, what's the hold up?" The officer replies, "Hillary Clinton is depressed, so she stopped her motorcade and is threatening to douse herself in gasoline and set herself on fire. She says her husband is running around on her more than ever and the Democrats told her to forget about running for President in 2004. So we're taking up a collection for her." The stock broker asks, "How much have you got so far?" The officer replies "About 4 1/2 gallons, but a lot of folks are still siphoning."

"Cowboy Ten Commandments"
(1) Just one God.
(2) Honor yer Ma &Paw
(3) No telling tales or gossipin'.
(4) Git yourself to Sunday meeting.
(5) Put nothin' before God.
(6) No foolin' around with another fellow's gal.
(7) No killin'.
(8) Watch yer mouth.
(9) Don't take what ain't yers.
(10) Don't be hankerin' for yer buddy's stuff.
While flying in Saturday morning around 10:30 am to the EAA southwest show at New Braunfel's (BAZ), the very busy tower and an experimental aircraft on final had this exchange.
Experimental ABX: "Tower, experimental ABX, I'm dodging a bunch of airplanes."
Tower: "Good, keep dodging. You're number 4 on final."
See you on the 15th - Fly Safe!
Dave Chael, EAA 455 Newsletter Editor