Experimental Aircraft Association

Chapter 455 Newsletter Enid, Oklahoma
The Enid, Oklahoma Chapter of the Experimental Aircraft Association normally meets on the third Sunday of each month at 2:30 p.m. in the main Terminal Building at the Enid Regional Airport, Enid Oklahoma. All members and their guests are welcome to attend.
| | | |
| --- | --- | --- |
| Vol. 03, No. 07 | It's too darn hot! | July, 2003 Edition |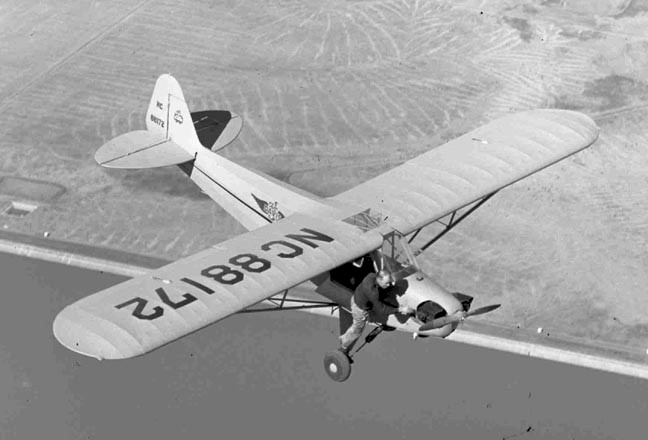 Oops – sure hope I can get this started!
From Robb Gessert – Thanks!
June, 2003 EAA 455 Meeting Notice
The July, 2003 EAA Chapter 455 Meeting will be held on Sunday, July 20, 2003, Woodring Regional Airport Terminal Building, 2:30 p.m. It'll be over 100 degrees in the shade (too hot to fly for fun), so come on out to the airport and let's sit inside where it's air-conditioned! Hope to see you there!
June, 2003 EAA 455 Meeting Minutes
Short Meeting – no meeting notes
A special thanks to everyone who submitted news items! I had more news submission for this newsletter than ever before, and it is a LOT more fun to edit your news than the "stuff I normally have to make up!"
Thanks, and keep it coming! ed
Ken Sumpter: Ken has been working overtime on the refurbishment of his Cessna 150 instrument panel. Looking really neat – stop by and have a look!
Ken and Dee Hollrah: Ken & I flew to Beaumont, Kansas, June 8 for lunch at the Historic Beaumont Hotel and fly-in restaurant.
The 17-35 grass strip was fairly smooth on landing although the gusty crosswind was fun to deal with on that day. We landed on 17 and quickly taxied down the county blacktop to make room for the landing traffic behind us. As we taxied we dodged the hog handlebars of the bikers there having a late breakfast. About 50 bikes were still there and some had already departed from the weekend festival that had taken place Friday and Saturday. We parked close to the "only" wooden water tower in the country to eat a quick lunch in the Beaumont Hotel. The retro cafe had sandwiches and a bar. We had a grilled chicken sandwich served with cole slaw or potato salad for $7.95. Drinks were extra. A formal dining room is also available for "fancy" meals. Rumor had it that the hotel serves a wonderful breakfast buffet but we were too late for that.
The bikers were interested and had lots of questions for Ken about the Kitfox like "Can you pop a wheelie?" and "How many miles to the gallon?" (makes me want to go out and buy a Harley ed) After lunch we walked around the so-called town for a while. Most of the
buildings were residential; even most former businesses had been converted to homes.
There is a lengthy article in the May-June Southwest Aviator for more information. A scheduled September barbecue might be a neat fly-out to plan. It's about an hour or so in the Kitfox so a half-day trip can easily be planned.
(We've had a lot of interest in a trip like this! Let's talk it up and get something on the Chapter Calendar! Seem article on the Beaumont Hotel later in this edition of the Newsletter ed)
Bill Blunk: Bill received a really neat e-mail recently from Gene Fildes, a CFI back from his old flying club, "The Flying Country Club". Bill received this e-mail from Gene out of the blue, regarding a kid (now well grown up) to whom Bill had given an airplane ride. THIS is why we do Young Eagles flights!
Gene writes: Bill, I just received this through our "Flying Country Club" web page...thought you'd find it interesting. :) Gene Subject: Re: Inspiring a youth...
Dear Flying Country Club,
I stumbled upon your website by accident. I grew up in the QCA (Quad City Area) until I was 19 then went off to the Navy, only returned twice to visit friends. I'm writing, because scrolling through your archive newsletters I came across a name that sounded familiar. Bill Blunk...if it's the same person I remember, was a Navy Lt at the time (1990), and he was the area officer recruiter. At the time I was considering joining the Navy and showed a special interest in being a pilot. To effectively "set the hook", Mr. Blunk offered to take me flying in his Great Lakes out of Moline airport. In fact, I believe I had already enlisted and at the time didn't possess any of the academic qualities that would've made me a solid officer prospect. Still, Mr. Blunk spent his own time and gas money to inspire a youth to fly (and pass on some tips on how to get where I wanted to be.) To make a long story somewhat shorter, I never became a Naval Aviator, but I spent 12 years in the Navy as a Navy SEAL, earned a COMM/MEI, tailwheel, etc. on my own and co-owned a T-34 for a few years. In Mr. Blunk's honor, last June, I transferred to the Army (I was too old for Navy flight school) and now I'm flying UH-1's, CH-47's and UH-60 Blackhawks. Often it doesn't happen according to our own time line, but dreams do come true! If Mr. Blunk is still around, I doubt he'll remember me, but let him know his investment was well spent. I look forward to retiring in the QCA and joining the club. Sincerely, Michael Rutledge, CW2 U.S. Army
Remember, that which goes around… You never know who you might influence for a lifetime! ed
John Cottle: Thought I would pass on some information to the group about a gentleman that repairs pneumatic hand tools. Jim lives in Enid, and does very good work on repairing pneumatic hand tools (drills and rivet drivers). He is also very reasonable on his prices. Contact: Jim Shepherd 4224 Shiloh Ave. Enid OK 73703 (580) 234 7576
Ray Gill: Here are some photos of the hangar where Peter's Sterarman was during the Wiley Post Tornado May 2003! It is very amazing there was not more damage that there was! (Ray indicates the insurance company is already on getting repairs completed!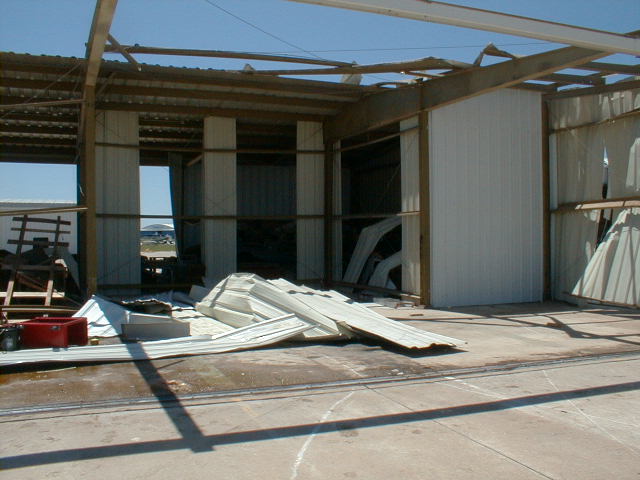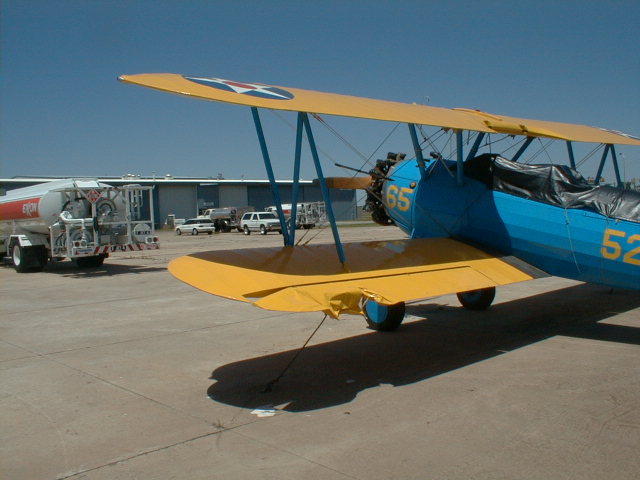 Ouch!
We had a really great turnout from the Chapter for Autry Tech Open House in June! A great big thanks to all who participated again this year!
The Young Eagles event at Medford (June 28th) was a big success to the tune of 25 YE's! Our club participation was excellent, with six airplanes. The day was cool, light winds, perfect!
Martin 7 YE's
Hollrah 4 YE's
Traynor 2 YE's
Calivas 2 YE's
Sumpter 4 YE's
Hazlatt aka Hazmatt 6 YE's
I think everyone except one had a good time. Gene Martin reported one young boy in tears during his flight, I don't know if it was Gene's flying or he is just a natural Navy flying candidate. A special thanks to everyone from Charlie Calivas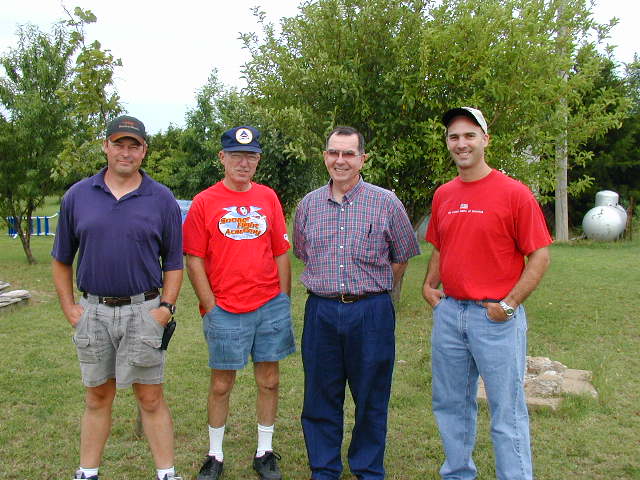 "Old Eagles" in Meno!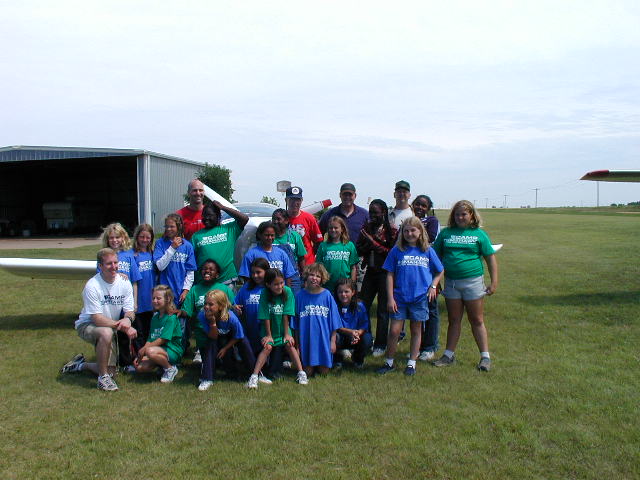 "Young Eagles" in Meno!

Diary of Meticulous Maintenance, from Avweb, written by Bruce Chien

Over the years, my maintenance diary has led to the following measures for my Seneca II. A simpler aircraft will omit some of these items; a more complicated airplane will have more. An experienced mechanic or another long-operating private owner will be very helpful making out your list. – B.C.

Immediately Anything that leaks gets fixed, regardless of whether it's water, oil or fuel. Leaks don't fix themselves and only get worse. Any wet landing is followed by a wipe down of the brake calipers. Moisture accumulates on the edges of the brake cylinder bores and causes pitting, so the next time your linings get thin, the o-rings will extend toward the edge and encounter the pits. You'll lose fluid -- maybe even brake function. (Been there, done that ed)

Every Postflight

Wipe your finger in the exhaust stack. Anything but a dry light gray residue means a change in oil disposition. Clock oil consumption in a log.

Magneto check. If your magnetos are going to prevent a trip you want to know about it in advance so that it can be repaired in advance.

Inspect landing gear. Check out the gear down-locks. Look at the tires as the aircraft is being pushed back with the tug. Order replacements three months before you expect the tires to wear out.

Six Months After Annual Remove wing inspection panels. Search for fuel hose leaks, bad-looking stuff in the gascolator/strainer, chafing wires. I've saved a strobe generator unit from a short. Do a dental-mirror exam of fuel selector linkages, visual inspection for play in any control surface.

Mirror magneto inspection. Pressurized magnetos retain moisture.

Inspection of the combustion heater. This is the Achilles' heel of most multiengine aircraft and it will terminate a trip. Had I been doing this I might have saved $800 by replacing a capacitor instead of the whole switch.

At Specific Intervals De-cowl at 25 hours. Search for anything wet, loose, chafing or bent, or any carbon plume. A problem that might have compromised my right mixture-control cable was picked up early because of this.

Change oil at or before 50 hours. If you don't fly weekly you should change at shorter intervals. Inspect each plug and re-gap. Cut the filter and inspect.

In the autumn, climb into the flight levels and check de-ice gear completely. That way, parts can be obtained in time for the icing season.

Continually Scan for proposed ADs. They almost all become real ADs, but even if they don't it'll alert you to a potential problem. If it does become an AD, you'll want to get the parts before everyone else tries to get them. Frequently I know about them before my mechanic, and we obtain the part and do the service early. The most recent example was the solenoid fuel valve for the cabin heater.

Any transient anomaly gets logged in a separate book, so I have an accurate history. Include all indications, altitude, temperature, instrument readings, etc.

Carry fuel drain spares and the appropriate wrench. This is a no-go item if it refuses to seat. Yes, you can change them even with fuel in the tank.

Keep appropriate light bulb spares in the hangar or aircraft. Flashlights taste terrible. Fix it on the spot or you'll likely tolerate it for a long time.

Note: We've had a lot of interest in a fly-in to this place. Here is some information I've found on the internet – let's talk it up and get it planned! ed

Beaumont Hotel Location: 97.8 NM, 030 Bearing from Enid (about 40 minutes in a Bonanza (your flight time will vary). When you plan your flight, be sure to include the GPS coordinates for The Beaumont Hotel (SN07) – or DME off the 086° radial Wichita VOR (ICT) at 49 nautical miles. Latitude and Longitude coordinates: N 37 - 39.553 W96 - 31.652

Edwin Russell established the historic Beaumont Hotel in the beautiful scenic Flint Hills of Kansas in 1879. It was first used as a stagecoach station and stopping place for travelers from Fredonia and Wichita. In 1885, Beaumont was established as a railroad town. The water tower, built in 1885, stands across from the hotel and is the only one still in use in the United States. The former roundhouse, built in 1890 across from the hotel, employed 90 people. Beaumont was established as the overhaul station between St. Louis and Wichita. The Beaumont Hotel, then known, as the Summit Hotel, was the highest point on the Frisco Line from Ellsworth, Kansas to St. Louis. Guests included cattle barons from Texas and Oklahoma and the elite of the Frisco Railroad. It was used as headquarters for those who shipped or brought cattle in to fatten. While the cattle barons and ranchers stayed in the hotel, the cowboys camped outside. The rich Kansas Bluestem grew abundantly in the Flint Hills, resulting in hundreds of thousands of cattle being shipped by rail from Oklahoma, Texas and New Mexico. There were holding pens for 9,000 head of cattle across from the hotel (Mark Winter, are you reading this??? ed). At this time, Beaumont was a typica1 old western town, with four eastbound and four westbound trains a day. In 1885 the hotel was purchased by Durham Cattle Company and sold in 1895 to Reed Church. In 1910, when Charles Church took over the hotel, Beaumont had approximately 1500 residents. In 1930, a Mr. Waterfall bought the hotel and started serving meals. Nell Rauch bought the hotel in 1945 and sold it in 1947 to a Mr. Coonrod who operated it for six years. Mr. J. C. Squier bought the hotel in 1953. He added running water and heat, removed, the old rope ladders used for fire escapes; and added the decks, giving a beautiful view of the Flint Hills. For the convenience of cattle buyers, a grass airstrip was put in for

planes to taxi up the street and park south of the hotel.

We invite you to come in, visit us, and learn more of the history of Beaumont Kansas. Experience firsthand the charm and beauty of the Flint Hills end of this hotel.

Thanks to Syd and Diann Nelson for this interesting topic! ed

This was in The Experimenter magazine from EAA, More Tips From the Internet written by Cy Galley. The "Hole" Story The firewall in your plane has several holes, which are all potential fire entrances. You can reduce the number of holes, but you will still need some holes for several wires, control linkages, and tubes. Each opening can become a blowtorch during an engine fire. Enter Intumescent caulk to seal any opening after all wires and controls are in place. What is Intumescent caulk? It is material that expands when heated so that even when the aluminum tube or wire is melted by fire, the caulk expands to prevent fire from passing through the opening. Who makes it, and where can you get it? The name on the tube of the 3M porduct is Fire Barrier CP 25 WB+ Caulk. It's a latex-based product that cleans up with water before it sets. The 3M stock number is 98-0400-5379-9. Many home supply stores have it. Don't look in the paint section, but rather in the electrical supply section, as it is used by electrical tradespeople to keep fires from traveling through conduit holes between floors. You might have to ask for the product, as it can be hidden from obvious view.

The Four C's

When a pilot gets surprised, trapped or suckered by the weather, it is my personal opinion that can he or she should follow the "lost procedure" of climb, communicate, confess and comply. If you deviate without a clearance, the odds of hitting another aircraft in the clouds are much lower than the odds of hitting the earth, or something sticking out it, if you don't. You may note that most of the "inadvertant flight into IFR" accidents happen in remote locations-not from an airport traffic pattern. Of course, the best procedure would be to turn away from the clouds and stay VFR, if possible, and request an IFR clearance. But many VFR flights do not monitor ATC frequencies to be able to quickly request an IFR clearance. No one plans to in advertently fly into the clouds. Squawk 7700. Stupidty gets us here, but pride kills. Never hestitate to declare an emergency and ask for help-it is not done enough. Live, then sort it out later. I fear dying more than I fear the FAA. It is better to lose my certificate than my life. Some may not agree with that, but I'm old. Do everyone a favor, when you are in inadvertent IFR, remember the four C's-climb, communicate, confess and comply.

For Sale: 1966 PA-28-140, hangared & pampered. Annual 8/1/02, TT2914, TSMOH 1204, Narco AT50A transponder, Narco ADF, KA134 switch panel, KX155 NavCom, STS Loran C, marker beacon, glideslope, autopilot. $37,500. (580) 446-5601 days (580) 446-5440 genemartin@enid.com

Your ad here! Send items to Dave Chael for the next newsletter! ed

PLANE PAPERWORK UNDER MICROSCOPE.

Your personal paperwork isn't the only object of the government's security watchdogs. The FAA has announced it is going through its aircraft registry, one plane at a time, to ensure that all the documents are in the right place at the right time. Any registration that doesn't meet requirements -- for any reason -- will be flagged as a possible security threat and followed up on by the FAA. The solution for aircraft owners is simple and that's to make sure that all the paperwork is properly done, especially with ownership transfers and other status changes. But AOPA also wants to make sure the FAA is not overzealous in its review. "AOPA's concern is that aircraft owners not be branded potential terrorists due to a clerical error or other innocent mistake," said AOPA VP Melissa Bailey. More...

20 July 2003 EAA Chapter 455 Woodring Municipal Airport 2:30 p.m.

26 July 2003

Owasso, OK

Chapter 10 Pancake Breakfast, Gundy's O38 Contact Information: Gerald Vaughan

918-272-6604

29 July – 4 August 2003 Oshkosh, Wisconsin EAA AirVenture Oshkosh 2003, Wittman Regional Airport OSH Contact Information: 920-426-4800

2 August 2003 Ellsworth, Kansas

Chapter 1127 Cow Town Fly-In Breakfast, Ellsworth Municipal 9K7 Contact Information: Dale Weinhold 785 472 4309 Email Address: dalewein@grapevine.net

9 August 2003 Beaumont, Kansas

Pancake Feed Fly-In, The Beaumont Hotel SN07 Contact Information: Travis W Atwood 620-843-2422 Email Address: gm@hotelbeaumontks.com

29-30 August 2003 "When Pigs Fly Bar-B-Q Cook Off" and Central Fly In, McPherson Airport, Kansas

MPR Contact Information: Cheryl Lyn Higgins 620-241-3303 Email Address: chamber@mcphersonks.org

17 August 2003 EAA Chapter 455 Bruce Crain's Pool!

12-13- September 2003 Beaumont, Kansas

2nd Annual Beaumont Blazin BBQ Championship and Fly-in, Beaumont SN07 Contact Information: Travis Atwood 620-843-2422 Email Address: tatwood@hotelslc.com

13 September 2003

Tuttle, Oklahoma Chapter 98 Fly In, Thompson Airfield Contact Information: Robert Crawford 405-381-2840 Email Address: rlcraw4d.aol.com

19-20 September 2003 Bartlesville, Oklahoma 47th Annual Tulsa Regional Fly-In, Contact Information: Charlie Harris 918-665-0039

21 September 2003 EAA Chapter 455 Woodring Municipal Airport 2:30 p.m.

19 October 2003 EAA Chapter 455

Woodring Municipal Airport 2:30 p.m.

16 November 2003

EAA Chapter 455 Woodring Municipal Airport 2:30 p.m.

21 December 2003 EAA Chapter 455 Christmas Party! Woodring Municipal Airport 2:30 p.m.

A guy goes on vacation to the Holy Land with his wife and mother-in-law. The mother-in-law dies. They go to an undertaker who explains that they can ship the body home but that it'll cost over $5000, whereas they can bury her in the Holy Land for only $150.

The guy says, "We'll ship her home."

The undertaker asks, "Are you sure? That's an awfully big expense and we can do a very nice burial here."

The guy says, "Look, 2000 years ago they buried a guy here and three days later he rose from the dead. I just can't take that chance!

A businessman sends his wife a FAX

"To my dear wife: You will surely understand that I have certain needs that you with your 54 years can no longer satisfy. I am very happy with you and value you as a good wife. Therefore, after reading this fax, I hope you will not wrongly interpret the fact that I will be spending the evening with my 18 year old secretary in the Comfort Inn Hotel. Please don't be perturbed. I shall be back home before midnight."

When the man came home, he found the following letter on the dining-room table:

"My dear husband: I received your fax and thank you for your honesty. I would like to take this opportunity to remind you that you are also 54 years old. At the same time I would like to inform you that while you read this, I will be in the Hotel Fiesta with Michel, my tennis coach, who like your secretary is also 18 years old. As a successful businessman and with your excellent knowledge of mathematics, you will understand that we are in the same situation ... although with one small difference: 18 goes into 54 more often than 54 into 18 .... and therefore I won't be back before lunchtime tomorrow !

Nearly fifty years ago when I was a NAVCAD (Naval Aviation Cadet), one of our classmates had an accident. One of the accident board members asked him what he thought caused the accident.

His reply: "Well sir, I ran out of airspeed, altitude and ideas all at the same time."

After holding short of runway 4, with no traffic in sight and the vice-president of the company riding shotgun...

Pilot: "Cessna 123, still holding short."

Tower: "Cessna 123, Hold your taters."

Pilot: "Taters held, over."

Tower: "Cessna 123, release taters, [chuckle] Runway 33, position and hold."

The VP was impressed and the pilot is now known company-wide as "Tater".

And now the best is saved for last!

Three old pilots are walking on the ramp.

First one says, "Windy, isn't it?"

Second one says, "No, Thursday!"

Third one says, "So am I. Lets go get a beer."

See you on the 20th - Fly Safe! Dave Chael, EAA 455 Newsletter