Experimental Aircraft Association

Chapter 455 Newsletter Enid, Oklahoma
The Enid, Oklahoma Chapter of the Experimental Aircraft Association normally meets on the third Sunday of each month at 2:30 p.m. in the main Terminal Building at the Enid Regional Airport, Enid Oklahoma. All members and their guests are welcome to attend. The Chapter Web Page is located at:

We encourage you to view this and other items of Chapter interest there!
| | | |
| --- | --- | --- |
| Vol. 02, No. 07 | July's meeting is at the Vo-Tech, Sunday the 14th, 12 Noon! | July, 2002 Edition |
| | |
| --- | --- |
| July, 2002 Meeting Notice | 1 |
| June, 2002 Meeting Minutes | 1 |
| Weatherford Flyout Notice | 2 |
| Young Eagles Report | 2 |
| Member News | 2 |
| Classifieds | 2 |
| Aerobatics in OK – Ray Gill | 3 |
| As the Beacon Turns | 3 |
| EAA Workshops | 4 |
| Short Finals | 4 |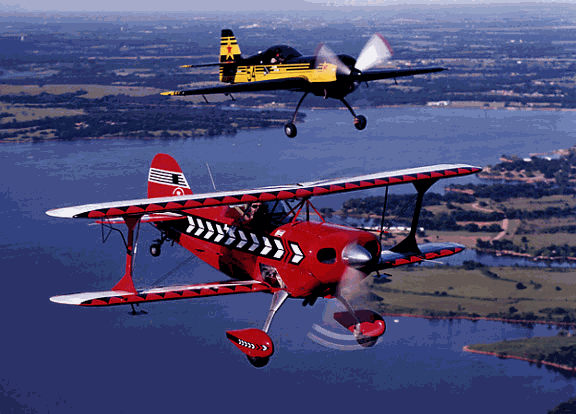 Ray Gill in his Pitts, and Lynn Hefley of Keller, TX in a SU-26. Outstanding photo by Robb Gessert, taken after June Okie Twistoff in Stillwater, OK. Don't. miss Ray's article "Aerobatics in Oklahoma" in this issue! G

reat Photo! Thanks Robb!

July 2002 EAA 455 Meeting Notice

Our regularly scheduled meeting date has changed! We will NOT met on the 21st, but instead on Sunday, July 14th from 12:00 to around 3:00 p.m. The change will enable the Chapter to participate in Autry Tech's Aviation Day Open House. The Open House will also be held on the 14th, from 12:00 to 4:00 p.m. at Woodring Airport, behind the Autry Tech Hangar. President Ken Sumpter needs to know how many of us can make their airplanes available for static display. Please e-mail Ken directly at: kwsumpter@prodigy.net to let him know if you can participate. Airplanes will be "protected" from the public. We'll also have a tent/booth and make ourselves available to answer questions to the general public. Should be a great time, and a great opportunity to show Enid what we do in the EAA. We'll see you there!

June, 2002 EAA 455 Meeting Minutes

The June EAA Chapter 455 Meeting was called to order by President Ken Sumpter at the Woodring Terminal, 2:30 p.m. on June 16th, 2002 (Father's Day). The following members were present: Dave Chael, Ken Sumpter, Ron Hazlett, Lance Nitschke, Ken Hollrah, Mike Porter, Mica Doane, Gene Martin, Charlie Calivas, Roy Camp, and Wayne Janzen. There were no visitors.

Ken opened the meeting with news that Autry Tech will hold an aviation day in July, but the date had not been finalized at the meeting time. Our participation is needed to supply various "static display" aircraft on the lawn south of the Autry Tech hangar during the show. Autry Tech promises that spectators will NOT be allowed in or on the airplanes – should be roped-off. Dave Chael, Ken Sumpter, Mike Porter, Gene Martin, Doc Camp, and Ron Hazlett agreed to display their airplanes. Ken has a portable display tent that he's going to bring to provide much-needed shade! We plan on having brochures and folks on hand to answer questions about the EAA and our Chapter. (Note: since the meeting, Autry Tech settled on Sunday afternoon, July the 14th for the display – more details elsewhere in this issue of the newsletter ed).

The Chapter cannot find our EAA banner, and a motion was made and seconded to purchase a new, ready-made banned from HQ EAA. Dave was railroaded into doing this task (ordered on 1 Jul 02). Ken has access to EAA discount books – see Ken if you're interested. Dave Chael gave a quick review of how to prepare for and what to expect during a Flight review. Charlie Calivas discussed plans for a Young Eagles event on Thursday, June 27th. We'll be flying kids from the OU Flight Academy at Woodring, 9:00 a.m. Dave agreed to e-mail a reminder to all Chapter 455 members. Ken showed some way-cool video of F-16/F-16 flying, and bomb drops (shot during Desert Storm time frame).

Join us on Saturday, July 13th, as we fly out to Weatherford, where we'll tour the Gen. Thomas P. Stafford Airport Museum. The museum chronicles the career of this Weatherford, Oklahoma native, and features spacesuits, a Titan second stage booster engine, an F104 Starfighter, and space mission videos. It is open daily, and donations are accepted. Plan on a takeoff around 8:00 a.m. (for a relatively cool morning flight), and we'll stay for lunch or as long as you'd like! Ron Hazlett reports that there are several restaurants conveniently located near the airport.
Thursday, June 27th, five pilots from EAA Chapter 455 and Ponca City flew 21 rides (kids). Participants included Charlie Calivas, Dave Chael, James Popham, Ron Hazlett, and Merle Helt. Ken Sumpter helped the event go safely by helping to "stuff" kids. Charlie also gave a ride to one of the OU Flight Academy instructors. The Young Eagles papers have been filed with the EAA. There may be a few repeats, and we're not sure of the final official count. Thanks to all who helped!
EAA Young Eagles Reaches 800,000! This just in under the deadline wire...The EAA Young Eagles Office anticipated the Young Eagles total topping 800,000 sometime Friday as registrations are entered from June flights, especially those that occurred during International Young Eagles Day. The jump from 700,000 to 800,000 was reached in less than a year, despite last September's airspace shutdown that eliminated some prime flying days and weekends. (Once we determine the 800,000th Young Eagle, we'll provide his/her identity and that of the pilot on the EAA website.)
Editor's Note: We helped! Thanks again to all who participated in the Chapter 455 International Young Eagles Day at Woodring!
Ken Sumpter is finishing-up work on the interior of the 150. After installing new carpet and taking care of minor corrosion, he's started to repair the ABS plastic interior panels. He found a "molecular bond" paint that works great, by chemically adhering to the plastic! Looks really great!
Doc Camp still awaiting medical re-certification – hopes to have it all done by December of this year!
Lonnie Gillespie: Thought I would bring you up to date on my Bonanza! I have the long windscreen installed, the "NEW" instrument panel is hung, and now I'm installing my electric fuel boost pump. Next comes the fabrication and installation of new floor boards, so things are looking up!
Syd and Diann Nelson: We have a Lycoming coming in for the next plane that we're to work on. We got our wings on "ours" Saturday and have been working on it all this week getting everything done so we can pull them off. I'll send a picture IF we get the wingtips on today, for sure by the deadline. We think that's the last thing we need to do. We did finally get the gear leg and intersection fairings in we'd ordered. We had them painted to cover the pits and weave before they were installed as we were trying to get all the fiberglass parts ready for final paint. Well...they didn't fit! At least not good enough for us. Syd called TeamRocket where we bought them, sent them pictures on how poorly they fit and are waiting for a return call...and still waiting. Seems they're using the same ones for all the RV's, as these were originally off of a "6". The past two days we worked on installing Van's gear legs, taping and claying-- making a mold for the intersection fairings. We got them made yesterday afternoon, so now we get to start all over again, getting them ready to paint. With the help of Gene Martin and his tubing bender (Thanks Gene!) and a heat torch, Syd got his control stick bent to fit the plane. I'll try to remember to get a picture of it, it's pretty bizarre, two serious bends in it.
Lance Nitschke – still waiting to crate-up and ship the engine on the gyrocopter.
Gene Martin has made significant progress on his hydraulic landing gear struts. The old ones (Matco) started to leak, and were replaced with a higher-quality strut/cylinder assembly. However, the seals were nicked, and leaked as well upon initial installation. After installing new seals, he's proud to report "no puddles"!
Dave Chael recently finished installation of a new strobe light assembly to replace a very old rotating beacon for the Bonanza, and now is having alternator troubles. More details on the frustrating installation inside newsletter!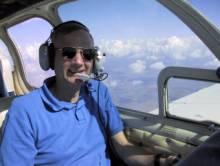 Dave Chael @ 9,500 MSL over Ponca City. Photo by Lance Nitschke
Edo-Aire 777 Transponder. Works great (from Mike Porter's C-172). Was coupled with Narco 850 encoder (includes wiring harness). Call Mike Porter with offer, 234-6008.
Fred DeLacerda, is selling all tools and materials that he has collected over the years. Contact Fred for an appointment at: (405) 624-0955. His hangar is on the Stillwater Airport. (A copy of the .pdf file was sent to each 455 member on the 1st of July ed)
BD4 Blueprints, construction manual, info manual, parts list and Newsletters $250. Mustang ll Blueprints and construction manual $175. Diann Nelson
28V Grimes Rotating Beacon, and 1very slightly Used Tire and Tube, Goodyear Flight Custom II 650-8, 8 Ply, from Bonanza. Call Dave Chael, (580) 242-3445, e-mail chael@peakonline.com.
4 new standard pistons (#75089) $40 each. 4 used narrow deck cylinders, need to be overhauled, $50 each. Call Syd Nelson chasers1@pldi.net 580-883-2307
Amoolia Airheart? This is a hoot! Recently added to the Aeroshell Home Page is a game where you can fly around the sky with "Amoolia Airheart" in her Skywriter plane. Create smoke designs, play connect the dots and test your skywriter flying skills. http://www.avweb.com/sponsors/shell/amoolia. This one is a lot of fun!
By Ray Gill
Yes, there are aerobatics in Oklahoma. The first of two Oklahoma hosted aerobatic competitions was held June 7th and 8th in Stillwater, Oklahoma. Twenty six pilots from five states showed up to compete in the 15th annual Okie Twist-Off. The weather turned out to be good. Each pilot flew three flights in front of the judges. The first flight, the "known", is a compulsory type flight. This sequence of maneuvers is published by the IAC at the beginning of each season. It stays the same for the year. The second flight is the "freestyle". This flight is one composed by the pilot. It is designed to compliment each pilot's style. The freestyles have to be approved by a judge prior to the flight. The last, and usually the most mentally demanding is the "unknown". This sequence is given to the pilots the day before the flight. Unlike the other flights, there is no way to practice this sequence.
There are five categories of competition: Primary, Sportsman, Intermediate, Advanced, and Unlimited. Primary and Sportsman sequences could easily be flown by most homebuilts including the RV's. The higher categories require a plane that can handle more G-loading. All the aerobatics are flown in a 1000 meter cube affectionately called the "box". The box is marked out on the ground so that the pilots can orient themselves.
(Editor's note: It's really, really small. Really small.)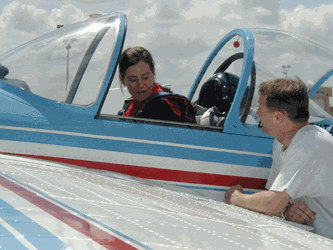 Julia Wood – USA 2002 AWAC team (wonder if she has any sisters? ed) Photo courtesy Air Museum of Stillwater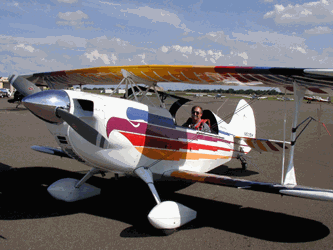 Randy Reed , Plainview ,TX Photo courtesy Air Museum of Stillwater

Ray placed 3rd in the Advanced category, and won the "unknown" flight. Thursday evening featured a pizza party at Delta Aviation. Hangar flying was at its peak. Friday, the Stillwater Airport hosted an excellent BBQ for the pilots and guests. Saturday was an awards banquet and party. The pilots are a great group of people. The event was a combination of efforts from the Oklahoma City IAC chapter, and the Tulsa Chapter. Volunteers from each chapter made the event possible.

The next competition in Oklahoma is July 12-14th at Weatherford. Come by and check it out!. The airport will not be closed during the competition. Ray Gill

Dave Chael

installs new Whelen strobe beacon - and it even works!

I started having troubles with my old rotating beacon last month – seemed it started popping circuit breakers, and would "stall out" – sometimes lighting without rotating, when it did not pop the breaker. Upon closer examination, I discovered the unit was pretty worn out (internal gears a bit chewed up) and it was actually a 28v beacon – in a 12v airplane. Charlie Calivas was right, as usual! He knows a thing or two about electricity!

I did some homework on what was the best unit for replacement. A used beacon could be found, but I was not happy with an electric motor in the back grinding away for hours upon end, which used a lot of current and has a propensity for eating light (expensive) bulbs. Several folks on the field recommended a unit from Whelen, and it was just the trick. Advertised to be a "direct replacement" for any existing 3 ¾" beacon installation. The neat thing is that it's a self-contained unit, not needing a power supply unit, which can be expensive. It's supposed to simplify the installation as well.

So I found a pretty good deal on the Internet – AeroParts & Supply, Inc in Santa Clarita, CA. (661-259-8810). I ordered and had it delivered to the house. The unit was initially out of stock, but the sales rep promised to deliver it within a few weeks, which he did. The nice thing about this company is the outstanding sales support. I thought I was going to need a $20 bracket to mount this thing on top of the fuselage, but the sales person promised me I would NOT need the bracket. He was right, and saved me $20! It all adds up after a while!

Whelen, advertises this unit as a "direct replacement" for an existing rotating beacon. It looked like it would install easily, however I was not going to be satisfied with the "looks" of the new beacon installation, particularly on the top of the fuselage, which would have provided a receptacle for water to collect. In addition, the silver color of the beacon can, while not objectionable for a silver airplane, just did not look right on the Bonanza. I figured, for $330.00, it was going to look nothing short of excellent! I looked a few other installations for ideas – on one Bonanza, the guy had used what looked like paint caulking to seal the top – looked like dog doo to me! There had to be a better way! So I devised a plan to make a fairing and holddown ring out of materials I had on hand.

First step: I spent an evening making a fiberglass mold and a six-layer fiberglass casting for a fairing. I'd had problems with fiberglass not working before, so I judiciously followed directions, and to my amazement, the fiberglass "cured" as advertised by the next morning. I then trimmed and sanded to the exact shape and finish for painting. Then I constructed a 6" diameter holddown ring (looks like a great big washer) out of .032 aluminum. Even got to use a new toy – a cutout ring for the drill press. Caution! This tool is a great way to lose a finger or two! Then, I sanded, and drilled holes on the top to precisely match those on the existing beacon mount.

Painting was the fun part! Following Ron Decker's instructions precisely, I applied a two-step primer and multiple light coats of a 3-part PPG paint from Carter's, (computer matched to the existing airplane color precisely). When the paint was dry, I took extra care during the installation phase – I wanted it to be installed permanently, yet allowing for easy removal and maintenance in the future.

The operational test failed! Seems there was still some sort of electrical short in the supply wire, or a "tired" circuit breaker. This is not good! I opened the back again, and traced the wire in the floor – looked OK, with some spots of cracked insulation, but not enough to cause an electrical short circuit. An ohm meter check indicated continuity to ground – oops, gotta find this. I tested the unit directly to the circuit breaker – alas, worked great! So then I began the arduous task of crawling up under the panel looking for the proverbial needle in the haystack. After much cursing and gnashing of teeth (hot 100+ degree hangar, sweating like a pig, no fan), I found the culprit! Seems someone years ago had pigtailed onto the circuit breaker with a wire going who knows where. An electrical crimp connector had been cut, and the end with metal had been left dangling under the panel! You guessed it, the wire finally found continuity and grounded itself out! It was "intermittent" due to vibrations while flying, and would move around on/off ground (especially after my landings). With that fixed and the mechanic's sign-off, I'm done! Bottom line: It looks really great, works really well, and I'm once again legal. I could probably not have paid anyone to do exactly what I wanted, and having the tools and skills to do these jobs is what makes owning a classic airplane affordable! Come see it!

And then there's the story about the alternator. Maybe next month!

EAA will be holding an Aircraft Builders Workshop on Saturday and Sunday, September 14th & 15th in Denver, CO. These one and two day courses will introduce participants to the joys of building your own aircraft while providing the knowledge and experience necessary to do it safely. EAA will be offering the following hands-on courses:
Introduction to Aircraft Building. This 2 day course provides an overview for the person who is undecided about whether to build an airplane or what type of airplane to construct. All of the options available are discussed along with "hands-on" workshops in fabric covering, sheet metal construction and composite construction. After the workshop, you will be able to make educated decisions as to whether building or restoring an aircraft is for you. Tuition for EAA members is $209. Sheet Metal. This 2 day course prepares you to build any sheet metal kit aircraft and teaches the procedures for sheet metal repairs. There is a discussion of all the basics including types of aluminum, rivets, tools, cutting, drilling, deburring, countersinking, and riveting. Tuition for EAA members is $289. Fabric Covering. This 2 day course prepares you to cover any type of aircraft, whether certified or experimental. Using the Poly-Fiber Covering System, the class will cover DC-3 ailerons. All steps are demonstrated and practiced, including preparation, gluing the fabric, shrinking, rib stitching, taping and spraying. Repair procedures will also be discussed and practiced. Tuition for EAA members is $259. Composite Construction. This 2 day course provides you with everything you need to know to begin building a composite aircraft. The course will provide a complete discussion of core materials, reinforcement materials, and different types of resin systems. The hands-on portion includes such skills as bonding, hot-wire cutting, and lay-ups. Tuition for EAA members is $259. Electrical Systems, Wiring, and Avionics This 2 day course prepares you to wire your aircraft and allows you to practice the skills you will need to install your electrical system through the use of several hands on wiring projects. Definitions of electrical terms are discussed along with information on selecting the proper wire size, how to route wire and installing avionics and antennae. Tuition for EAA members is $279. What's Involved in Kit Building. This Saturday evening seminar is a fact-filled discussion of regulations and paperwork, the workspace required, the time commitment needed, the financial investment and insurance considerations. May be taken in conjunction with other workshops. Tuition for EAA members is $30 and includes dinner. The courses are instructed by experts that not only know the subject matter but know how to teach! To enroll or learn more about the EAA SportAir Workshops, visit our website www.sportair.com or call 1-800-967-5746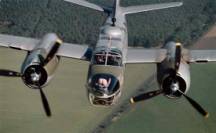 Look very closely – gives new meaning to the term "bombs away" Photo forwarded by Charlie Calivas
Heard on the air: Airline123: Airline 123, request a 360 to parking.
Ground: 360 approved, 180 recommended.
[pause]
Airline123: You've been saving that one for while, haven't you?
Cessna 1234: ...15 miles from VORTAC. Request a VOR Runway 14 approach, circle to land, full stop.
Approach: Cessna 1234, say your indicated airspeed.
Cessna 1234: Our ground speed is 59 knots. Is that going to be a problem?
Approach: No problem. We're open 24 hours.
Great Aviation Sayings!
"If you're faced with a forced landing, fly the thing as far into the crash as possible." Bob Hoover
"Just remember, if you crash because of weather, your funeral will be held on a sunny day." Layton A. Bennett
When a flight is proceeding incredibly well, something was forgotten.
A DC-9 captain trainee attempting to check out on the 'glass cockpit' of an A-320:
"Now I know what a dog feels like watching TV."
Thanks to our newsletter contributors this month: Lance Nitschke, Ray Gill, Syd and Diann Nelson, Charlie Calivas. If your news isn't here, it's because we didn't know about it!
Fly Safe!
Dave