Experimental Aircraft Association

Chapter 455 Newsletter Enid, Oklahoma
The Enid Chapter of the Experimental Aircraft Association normally meets on the third Sunday of each month at 2:30 p.m. in the main Terminal Building at the Enid Regional Airport, Enid Oklahoma. All members and their guests are welcome to attend. The Chapter Web Page is located at: http://members.tripod.com/eaa455 We encourage you to view this and other items of Chapter interest there!
| | | |
| --- | --- | --- |
| Vol. 02, No. 02 | EAA Chapter 455 – off to a great start in 2002! | February, 2002 Edition |
February, 2002 Meeting Notice

1

January, 2002 Meeting Minutes

1

Treasurer's Report

2

Member News

3

Builder's Workshops

4

Test your Knowledge

4

Spatial D

4

Funnies heard on the air!

4

Wisdom of Will Rogers

4

February, 2002 EAA 455 Meeting Notice
The Experimental Aircraft Association Chapter 455 February meeting will be held on Sunday, February 17th, 2002, 2:30 p.m. at the Woodring Regional Airport Terminal Building. Ken Sumpter will preside over the meeting, and our planned topics include a review of FAA Airspace and procedures, and a review of planned events for 2002. Don't miss it!

Dues for 2002, still only $10.00, will be collected for those still delinquent. Please make checks payable to EAA Chapter 455.

January, 2002 Meeting Minutes

Note from the newsletter editor: As I write this, I can hear the distant rumbling sound of a trash truck from the City of Enid – which is significant, since I just realized I've prematurely "offered my notes to the landfill gods at Mount Trashmore" (oops, I threw them away), and am reconstructing these minutes from a faint and distant memory. Oh well!

The January 2002 EAA Chapter 455 meeting was brought to order by our new President, Ken Sumpter on January 20, 2:30 p.m. at the Woodring Regional Airport Terminal Building. (So far so good). The following individuals were in attendance: President Ken Sumpter, VP Charlie Calivas, Newsletter Editor Dave Chael, Ron Hazlett, Ron and Betty Decker, Mica Doane, Wayne Janzen, Jesse Stowell (new member J ), Bill Melanson (drove in from Wichita), Marty Lochman (drove in from Owalla), Bruce Crain, Bill Blunk, John Jameson (new member J ), Gene Martin, Syd and Diann Nelson, Tom Nicholas, Mike Nicholas, Dwayne Lee, Ken Hollrah, (and Jerry Mathers as the Beaver – ed. ). There were no visitors that I remember. Great turnout! A special welcome to our two newest members John Jameson (Enid Attorney) and Jesse Stowell (Vance AFB T-37 IP and RV-4 owner). Welcome!

Ken Sumpter started off by leading a group discussion to determine where the chapter wants to go in the next year. We discussed ideas for programs, meeting topics, safety topics, and aircraft building presentations. Bill Blunk agreed to host the March chapter meeting at the Aero Club of Enid HQ located at 424 South Van Buren. We will convene at ACE (NOT at the airport) on March 17th at 2:30 p.m. We'll arrange transportation from Woodring for those flying in to the meeting – just let us know and we'll come out and get you. Bill has new flight simulators and an Instrument training curriculum that he is excited to show off! Ken discussed the publication of chapter business cards that we could all hand-out to prospective members – great idea! The cards would have names and e-mail addresses for the new member to contact. For the February meeting, Ken is planning on a review of FAA airspace procedures. Ken also had printouts for flight intercept procedures for those who (were planning on being intercepted) and wanted one.

Mica Doane will host the semi-annual Meno fly-in on April 21 (it's going to rain). (ed note: some members recommended that we schedule a flyout to Mica's every month beginning in February to ensure we get some needed precipitation – just kidding). Bruce Crain agreed (prior to spousal consultation) to have us all over for a fiberglass demo (and did we mention the pool party) this summer, perhaps in July/August. Other meeting ideas include the FSDO FAA Safety rep Norm Edwards visiting in July. Bill Blunk agreed to contact him to see what his availability is. Chapter flyouts were proposed to Hutchinson ("go early" says Charlie), Pawnee, Norman Westheimer, and other places. A family picnic is planned for the May timeframe (after the meeting). Marty, you can bring Sharon to this one! Ken emphasized that empty seats are ALWAYS available, and we can get you there if you do not have a flying aircraft! The March chapter flyout will be conducted on Saturday morning March 16th, to Westheimer (Norman, OK) for breakfast. There are always plenty of empty seats, so come along for the fun!

Interest is there for a Vance AFB RAPCON (Radar Approach Control facility) tour! Ken indicated that the best days would be Thurs/Fri, around 4:00 p.m. (probably in the summer months) when local T-37/T-38/T-1 flying is going on. You'll want to be there for this one, and will be surprised as to how many aircraft are flying around the local area. The tour would include a gathering in the OSS Classroom building (next door to RAPCON), and some structured function before and after the tours. Dave and Ron agreed to help out (and perhaps we can twist Jesse's arm to help too). Should be fun! Looks like we're off to a great start! If you're interested in hosting a demonstration at your hangar or home, or whatever, please let us know and we'll arrange it!

Then the status of member projects was discussed. Syd and Diann's RV8 fuselage is about ˝ done. Charlie Calivas is still struggling with an oil leak in his prop. Gene Martin reported that his landing gear problem is probably due to a faulty o-ring material that has contaminated the hydraulic lines – he's going to flush 'em out and let us know next month! Dave Chael is "baffled" by engine cooling – he's replacing all silicone baffles in the engine compartment, and recently installed GAMI's in the Bonanza. Marty Lochman is restoring a Cessna 170 with metalized wings, and is converting it back to fabric, using skills learned with the (award winning) Cessna 140 project. It has an interesting history, including a forced landing (due to an improperly mounted fuel switch) during which the pilot landed successfully in a mall parking lot, only to have an unsuspecting motorist back out into the flow of "traffic" (what, no horn?). Intense braking was applied, resulting in the aircraft flipping on its back. Marty opened a discussion about making ribs and other wing parts (unavailable after a lengthy search). Should be a neat project!

There was interest in having an up-to-date member's roster. Dave agreed to distribute a list with names, addresses, e-mail, and projects from the MS Access database. Shot down was a proposal to provide a food stand for an upcoming CAP function in March. There was no interest in pursuing a food-for-profit function. Bill Blunk will contact other chapters in the region to see if anyone else is interested in doing this. Could be a real moneymaker, but without a reason for profit (clubhouse, project, etc), it is understandable that we're not willing to risk the club treasury. Safety will be presented at every meeting. (ed note: Ken Sumpter is a former F-15 Pilot and was an USAF Safety Officer, and is a tremendous resource to the organization!) Safety ideas included runway incursions (bad things to do), flying safety, and contacting AOPA for their "Seminar-in-a-Box" program listings. Ken expressed interest in pursuing a Pegasys broadcast of EAA and aviation activities here at Woodring, perhaps in conjunction with an "airport day", where the general public would be invited out to the airport to observe up close and personal what flying is all about. Late summer time frame.

Bill Melanson discussed his new job at Cessna in Wichita, and is still getting settled-in at his new residence. Bill works on the Citation Bravo and other Cessna jets, (ed note: Bill indicated that it would probably be difficult to bring one to Enid to show off at the next meeting J ) He also said that Cessna was not giving tours of the plant. Guess we'll have to buy Lears or Beechjets instead. Bill, thanks for driving to Enid to be with us! (A later e-mail from Bill indicates that Cessna will indeed be conducting tours – more later – ed)

Dues for the 2002 year were collected at the meeting (ed note: the following 33 individuals still owe dues for the 2002 year – if you're on this list you are delinquent and will not receive a newsletter after this one): Alston, Becker Bourn, Calvert, Camp, Carroll, Crain, Dakalakis, Dortch, Doss, Fox, Gill, Gill, Gillespie, Gorman, Hinchcliffe, Hofberger, Janzen, Kinzie, Kitterman, Klewin, Lines, McGinnis, Metcalf, Miller, Montgomery, Perez, Porter, Rogers, Siebert, Traynor, Unruh, Watkins. If everyone on this list renews, the income would be $330.00 and our bank balance would be $520.17. It's a pain to keep reminding guys on this list to pay dues, so if you're not intending to renew, let us know).

The meeting was adjourned around 3:45 p.m.

In discussion after the meeting was adjourned, a flying skills contest (time and distance) and spot-landing contest were discussed for a future flying event. A triangular course would be planned, commensurate with your aircraft category and speed. For example, the fast movers might fly a course of 100 miles. Where the slow movers might fly a distance of 50 miles, (in an attempt to equalize the amount of flying time). Scores would be assessed on YOUR pre-planned ground speed and time for the entire route, which would include the time from takeoff, fly the route, and complete a rectangular traffic pattern and spot landing! We decided NOT to include fuel calculations like the 99s do, and instead concentrate on basic navigation skills. Could be fun!

Good news! Ron Hazlett agreed to fill the vacant Secretary/Treasurer position! Thanks Ron! Since he has a better memory than I do, you can look for improved meeting coverage minutes in the next newsletter! A thank you also goes out to Gene Martin who agreed to help, but could not plan to be here during the summer months when he's racing. Thanks to both for stepping up to help out!

Fly safe!

Dave T. Chael, Newsletter Editor

Thanks to Ron Hazlett who's agreed to take over the Secretary/Treasurer office! Ron will start hopefully by collecting delinquent dues at the February meeting. Until then, here's our approximate financial status (less any pending bank charges):

Previous end-of-year balance: $45.48 Inflows: Dues paid): $200.00 Outflows: Mica Doane, food for fly-in) $55.31 Approximate bank balance: $190.17

Bill Blunk: The Civil Air Patrol will be having a SAR Exercise on February 15, 16, 17 and 18 at Woodring Airport. AMBUCS will hopefully provide food (lunch on Sunday). The Aero Club of Enid (ACE) will be hosting a free introductory ground school on Thursday nights soon at the ACE facility, 424 South Van Buren, just south of the Hibdon Tire Center. These will be informative in nature. They will be telling folks about CAP, EAA, what it takes to learn to fly, etc. The Oklahoma Wing of the Civil Air Patrol will host a National Flight Academy for cadets in June at Muskogee. The fee is $700, which includes a minimum of 10 hours flight instruction, room and board for the cadets, ground school etc. The Areo Club of Enid, is also currently offering FAA approved Flight Training Devices (FTD's) for instrument and situational awareness training, with discounts for training time "blocks" and flexible instruction and payment plans. FTDs can help reduce the cost of your instrument rating by hundreds of dollars. In addition, Bill is conducting weekend ground schools for Private, Instrument, CFI, and ATP ratings. Contact Bill at Aero Club of Enid, Inc, 580-234-7466, or 888-388-6520, e-mail: Billblunk@aol.com.

Dave Chael: I'm still working on the Bonanza engine baffling, and about to get it done! I've re-engineered the design of the way the silicone rubber seals-in the critical cooling air, and recently installed GAMI fuel injectors (have not test flown yet). The valve covers were painted to match the airplane exterior - looks great, hope it runs as well. My engine has had the #2 cylinder replaced numerous times, and I'm highly suspicious of the cooling (or lack thereof) for this "hot spot" in the engine. Hopefully this re-engineering will do the trick! Looking forward to FLYING someday again! Hope to see you all on the 16th of March, at Westheimer!

Jerry Calvert: The RV6 is coming along. Just completed the panel with the mounting of the Garmin GPS. The canopy is the only major construction part that is lacking. I am waiting for just a little warmer weather. The plane should be ready to fly this summer. I have been busy getting current again flying a C-172. During the last four years of RV construction I have concentrated on building and haven't been doing any flying. I have a Citabria and instructor lined up to get a tailwheel endorsement. Will then get some RV6 transition training and evaluate my skills to see if I can do the test flying safely. I am thinking the RV will be ready before I am! The project has been a very satisfying experience, but I am quite ready to finish it up. I admire builders like Syd & Diann Nelson and Charlie Calivas (we all do – ed) who have built several RV's. If I can just get this one done!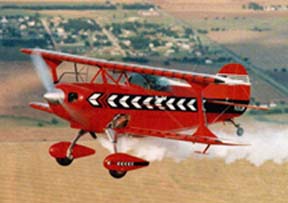 Ray Gill: I am President of IAC-59 Oklahoma City Aerobatic Club this year. It keeps me busy and on the fringe of the EAA. This year there will be two aerobatic contests in Oklahoma: June 7,8 - Okie Twist-off in Stillwater; July 12,13 - Dust Devil in Weatherford. Since there aren't many hard-core acro guys around the state right now, I am in charge of getting these contests rolling. The Tulsa chapter, IAC-10 will be helping me run the Twist-off. The Pitts is running good.

(Ray – couldn't resist! A photo from 1995 taken by the editor – "smoke … NOW"). I flew a couple of contests last year after a 2 year layoff. I won the Dust Devil in the Advanced category. Experience ruled over youth and the wind gods. I have decided to part out my laser project. My partner in the plane, Rick White, was killed in a plane crash in November. You all may remember Rick, he flew at Fairview Airshow several times. His last airshow was in Enid during the IMAC Model Airplane Aerobatic contest. He was my mentor and coach that got me up to USA Aerobatic Team quality. He basically kept me alive during the learning curve - He was a close friend....... IAC has added a primary category to competition. It is designed for low-performance aerobatic planes and beginning aerobatic pilots. RV's, warbirds, and Stearmans can easily get through the maneuvers. (No Spins!). If anyone is interested, I will get them a copy of the sequence and then fly it with you a few times to get the hang of it...(assuming 2 place aircraft).
Diann Nelson: Our RV8 is about to get the last two upper skins riveted to the fuselage. The RV7 we're working on just got its legs with the gears attached, also its engine and we are now working on the cowling. The canopy is finished also. Next will be the engine baffling and finish up the spinner. In the picture to the left with the blue skin on top is our RV8, the main picture being the RV7.

(Great PIX Diann – thanks! Ed)

Jesse Stowell: I'm working on bring civilian military warbirds to our (Vance AFB) airshow this fall and would like to get the word out to any owners via the EAA channels. I am looking for anyone who has or knows anyone who has any aircraft whose designation has served in any military. If you could get my contact info out or let me know how to best contact any local chapter, I'd appreciate it. Our airshow is scheduled for Saturday 14 September 2002

Thanks to all who responded to our request for news. Remember, this is YOUR newsletter, and it's really fun for us to report the news of our membership. If your news is not here, it's because we do not know about it! Still need more PIX. Ed.

"If things go wrong, don't go with them." Roger Babson

Hopefully this isn't you on a cross country…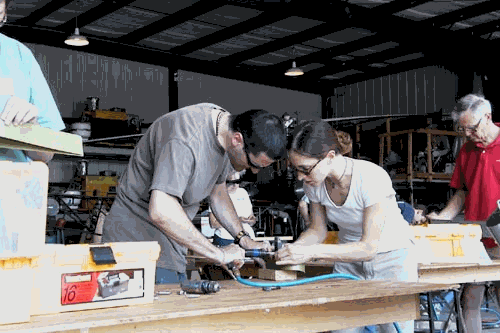 Dear EAA Newsletter Editor,

On Saturday and Sunday March 23rd & 24th, EAA will be holding an EAA SportAir Aircraft Builders Workshop in Dallas, Texas. These workshops teach people how to build their own aircraft. I'm asking you to please include the following information in your next newsletter so our members are aware of this great opportunity. If you would like to include a photo, a selection of photos to use with the following text can be found at: http://www.sportair.com/editors/index.html If you have any questions, please do not hesitate to contact me. Thank you supporting this important EAA educational program. Charlie Becker EAA SportAir Workshops 1-800-967-5746 www.sportair.com
Here's a question asked by an AOPA member last week of our AOPA technical specialists.
Q: What are the aircraft type designators for experimental aircraft?
A: The answer lies in Appendix C of the "Air Traffic Control Handbook" (FAA Order 7110.65M). There are three designators for experimental aircraft. For aircraft with indicated airspeeds of 100 knots or less, the designator is HXA. HXB is used for aircraft with indicated airspeeds of greater than 100 knots, up to and including 200 knots. For aircraft with indicated airspeeds greater than 200 knots, use HXC.
Spatially disoriented no longer ... Hopefully:
Citing the deaths of John F. Kennedy Jr. and Missouri Gov. Mel Carnahan, the AOPA Air Safety Foundation has rolled out a 12-page booklet intended to aid pilots in correctly establishing which way is up when they're not so sure anymore. The booklet addresses the physiology behind the problem, meteorological conditions that work to exacerbate signals sent by the inner ear, and includes historical accident data and case histories. The booklet warns of conditions most often correlated with spatial-disorientation accidents and offers a three-point avoidance checklist -- fly within your abilities, maintain VFR and acquire an instrument rating.
NOTE: Go to AVweb's Newswire at http://avweb.com/n/?01b for a link to the complete text of the AOPA Air Safety Foundation's booklet on spatial disorientation.
More from our "Approved, direct..." file: On a flight near Madison, Wis., a pilot overheard this exchange on the frequency:
Madison Approach: "Cessna 1234, are you direct to Madison?"
Cessna 1234: "We're trying."
Madison Approach: "Cessna 1234, turn right 20 degrees and try harder."
More from our "It's all in your point of view" files...A pilot departing La Crosse, Wis., contacted Minneapolis center. After initial contact, the following transmission was heard:
"Attention all aircraft on this frequency, this controller position will no longer be manned." Perplexed, the captain and first officer and looked at each other with amazement. After 10 or 15 seconds another transmission -- a woman's voice -- said... "That wasn't funny."
Wisdom of Will Rogers:
Don't squat with your spurs on.
Good judgment comes from experience, and a lot of that comes from bad judgment.
Lettin' the cat outta the bag is a whole lot easier 'n puttin' it back in.
If you get to thinkin' you're a person of some influence, try orderin' somebody else's dog around.
After eating an entire bull, a mountain lion felt so good he started roaring. He kept it up until a hunter came along and shot him... The moral: When you're full of bull, keep your mouth shut.
Never kick a cow chip on a hot day.
There's two theories to arguin' with a woman. Neither one works.
If you find yourself in a hole, the first thing to do is stop diggin'.
Never slap a man who's chewin' tobacco.
It don't take a genius to spot a goat in a flock of sheep.
Always drink upstream from the herd.
When you give a lesson in meanness to a critter or a person, don't be surprised if they learn their lesson.
When you're throwin' your weight around, be ready to have it thrown around by somebody else.
The quickest way to double your money is to fold it over and put it back in your pocket.
Never miss a good chance to shut up.
There are three kinds of men. The one that learns by reading. The few who learn by observation. The rest of them have to pee on the electric fence for themselves.

Finally: Here's what you need! SoloTrek resembles a strap-on helicopter, but with a left and right ducted-fan-type rotor design. SoloTrek is in the product stage and will require a lot of testing ... and a few more rounds of funding. Interested in getting one for yourself? Fortunately for you, it's too early to speculate on price or availability dates. As with all things new to the air, it's often good to watch someone else pave a good track record ...... from a good distance.
Sounds like good advice – Fly Safe!