Experimental Aircraft Association

Chapter 455 Newsletter Enid, Oklahoma
The Enid, Oklahoma Chapter of the Experimental Aircraft Association normally meets on the third Sunday of each month at 2:30 p.m. in the main Terminal Building at the Enid Regional Airport, Enid Oklahoma. All members and their guests are welcome to attend. The Chapter 455 Web Page is located at: http://eaa455.tripod.com/ We encourage you to view this and other items of EAA Chapter 455 interest there!
| | | |
| --- | --- | --- |
| Vol. 03, No. 02 | Spring has to be right around the corner! | February, 2003 Edition |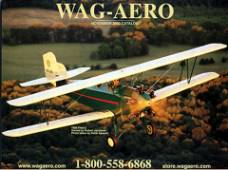 Photo by EAA 455 member Robb Gessert for Wag Aero catalog cover. Great photo!
February, 2003 EAA 455 Meeting Notice
The February meeting of EAA Chapter 455 will be held on Sunday, February 16th, 2:30 p.m. at the Woodring Regional Airport Terminal Building in Enid. Refreshments will be served, and we look forward to seeing you there!
January, 2002 EAA 455 Meeting Minutes
President Ron Decker called the meeting to order at the Woodring Terminal Building, 2:30 p.m. 15 members were present at the meeting. Mark Winter was our guest and is now our newest member! Mark owns a 1964 Musketeer (and now owns a 1956 G-model Bonanza! … ed). Ron opened the meeting with a discussion of what activities the members would like to see for the year. Unfortunately, the floor was very quiet and no ideas of any substance were stated. The Chapter decided to move the April meeting up a week because of a conflict with Easter. The April meeting will now be on Sunday the 13th and will be a fly-in event held at Mica Doane's Field! Details to be discussed later. Dave Chael retrieved the financial books from Ron Hazlett, and handed them over to our new Sec/Treasurer, Syd. Member dues are now $15; 12 renewed after the meeting, and a total of 22 members have paid this year to date. The balance of the last bank statement was approximately $312.00. Dues collected at the meeting: $180.00, EAA insurance of $155.00 was paid, leaving a balance of $312.80 (does this not add up or is it just me? … ed).
After the meeting, the Chapter looked over airplanes flown-in by Mike Kitterman (Hummel), John Jameson (Mooney), Syd and Diann Nelson (RV8A).
Semi-Respectfully Submitted, Syd Nelson, EAA Chapter 455 Secretary/Treasurer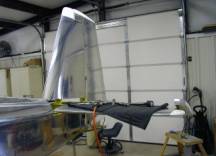 Syd and Diann Nelson: Attached are some pictures of the new RV7 rudder,
two are of the comparison between the old rudder and the new one. Quite a difference. The biggest difference other than the size is that the trailing edge is riveted, as it is two skins. I guess it's common with other a/c, but on Van's, they are traditionally bent and are one skin. Van's hired a test pilot to check the spin characteristics. It was found that the plane took longer to recover from a spin than they would've liked. (That's why I don't want to be a test pilot … ed) It met the FAA requirements for the "normal category" aircraft which are required to recover from a 1 turn spin within 1 additional rotation, but it didn't meet the "aerobatic category" limits of recovering from a 6 turn spin with 1 1/4 rotations. Van's put on the larger RV9 rudder and was able to meet the standards. With this rudder they were able equal or exceed the spin recovery of the RV6. To read the complete article from Van's http://www.vansaircraft.com/pdf/sb02-6-1.pdf
Mark Winter: Mark is the proud owner of a 1956 G-model Bonanza! Mark and Dave Chael flew N4232D home from Tulsa on Wednesday the 5th!
Looks like a LOT of fun! … ed
John Jameson: John has acquired yet another airplane! "To my surprise, theMurphy Renegade was delivered yesterday to Medford. They picked up my red and white Ercoupe and flew back to Poteau. They said the Murphy performed flawlessly on the trip up. They refueled at Cushing. It cruises at 70-80 mph at 5000-6000 rpm. Rotax 912 four-cylinder four-stroke engine with gear reduction. Only 60 hours total time on plane, built in 1996. The owner, John Leonard said 'come in at 50 over the fence on final and cut power and apply full back stick for a full stall three point landing'. Stall is 40".
Tom Gebbie: EAA 455 members, notice: Tom is back with a first class medical after heart surgery and 6 months recovery. He's in great shape, and the FAA doctor even waived an additional 2 months he could have held Tom, and cleared him back to fly! Chapter members boarding United Airlines flights might want to check who the first officer is before committing to the trip! Submitted by Charlie Calivas
For Sale:

1966 PA-28-140, hangared & pampered.

Annual 8/1/02, TT2914, TSMOH 1204, Narco AT50A transponder, Narco ADF, KA134 switch panel, KX155 NavCom, STS Loran C, marker beacon, glideslope, autopilot. $37,500.

(580) 446-5601 days (580)446-5440

genemartin@enid.com
Two Aircraft Offered For Sale:
Superb craftsmanship – both aircraft constructed by professional machinist
BD-5B For Sale

$15,000
Aircraft Features: Direct Drive Subaru Engine, Prince Propeller, Cleveland Brakes, Only 3 hours Total Time! Price Includes Trailer.
Sonerai II L.T. For Sale $14,000 Aircraft Features: Zero time Aero-Vee Engine Electric start! Airframe - Only 40 hours Total Time. Cleveland Brakes, Wheel Pants, Hedgy Prop. For additional information contact: Don WorthingtonHCR 79 Box 3050, Pittsburg, MO 65724 (417) 852-4915
Your ad here! Contact Dave Chael for our unbelievably low advertising rates!
Here's a question that Ken Hollrah should have asked: Question: Do you know where I can get a history of prevailing winds for a particular airport? Answer: The National Oceanic and Atmospheric Administration provides climatic wind data for downloading on the Web: http://www5.ncdc.noaa.gov/documentlibrary/pdf/wind1996.pdf. It has gathered wind data from 1930 to 1996 and provides prevailing wind direction, mean wind speeds (guess that means they're not very nice … ed), and peak gusts for more than 300 locations within the United States. (For example, Vance AFB shows February winds out of the North at 12, peak gusts to 62. Better keep the airplane in the hangar!) While it may not provide the information for the specific airport you are looking for, it will most likely include the information for a nearby location. (Looks like Ken Hollrah should have considered a different runway direction? Just kidding!… ed)
FAA proposes to add RNAV routes to airway system: The FAA is proposing to add new area navigation (RNAV) routes to the existing airway system and AOPA believes this would provide many benefits for general aviation pilots. But the association also reminded the agency that many GA aircraft aren't yet equipped with IFR-certified GPS receivers and will continue to rely on ground-based navigation systems for some time to come. These aircraft must not be negatively affected by a transition to RNAV routing. The benefits of the routes include lower minimum en route altitudes along current airways that are artificially high because of poor NAVAID performance, increased ability to transition through Class B airspace, and more access to special-use airspace.
Money Saving advice from Diann Nelson!
Just found out at AOPA that if you don't want their magazine, it will cost you only $19 and you still get the annual Airport Directory. Syd doesn't like their magazine and doesn't read it, (didn't think Syd could read very well anyway … ed) so why buy it? Also, EAA offers this option for only $10 a year. We have noticed on the EAA magazine that they have the same articles as Kitplanes. Not usually on the same month, but the same articles. We like Kitplanes better because they have the special issues for kitbuilt info and others.
Two great stories from Bill Melanson
STORY NUMBER ONE: World War II produced many heroes. One such man was Lieutenant Commander Butch O'Hare. He was a fighter pilot assigned to the aircraft carrier Lexington in the South Pacific. One day his entire squadron was sent on a mission. After he was airborne, he looked at his fuel gauge and realized that someone had forgotten to top off his fuel tank. He would not have enough fuel to complete his mission and get back to his ship. His flight leader told him to return to the carrier. Reluctantly he dropped out of formation and headed back to the fleet. As he was returning to the mother ship, he saw something that turned his blood cold. A squadron of Japanese bombers was speeding its way toward the American fleet. The American fighters were gone on a sortie, and the fleet was all but defenseless. He couldn't reach his squadron and bring them back in time to save the fleet. Nor, could he warn the fleet of the approaching danger. There was only one thing to do. He must somehow divert them from the fleet. Laying aside all thoughts of personal safety, he dove into the formation of Japanese planes. Wing-mounted 50 calibers blazed as he charged in - attacking first one surprised enemy plane, and then another. Butch wove in and out of the now broken formation and fired at as many planes as possible until finally all his ammunition was spent. Undaunted, he continued the assault. He dove at the planes, trying to at least clip off a wing or tail, in hopes of damaging as many enemy planes as possible and rendering them unfit to fly. He was desperate to do anything he could to keep them from reaching the American ships. Finally, the exasperated Japanese squadron took off in another direction. Deeply relieved, Butch O'Hare and his tattered fighter limped back to the carrier. Upon arrival he reported in and related the event surrounding his return. The film from the camera mounted on his plane told the tale. It showed the extent of Butch's daring attempt to protect his fleet. He had destroyed five enemy bombers. That was on February 20, 1942. For that action he became the Navy's first Ace of W.W.II, and the first Naval Aviator to receive the Medal of Honor. A year later he was killed in aerial combat at the age of 29. His hometown would not allow the memory of that heroic action die. And today, O'Hare Airport in Chicago is named in tribute to the courage of this great man. So, the next time you're in O'Hare, visit his memorial with his statue and the Medal of Honor. It is located between Terminals #1 and #2. STORY NUMBER TWO: Some years earlier there was a man in Chicago called Easy Eddie. At that time, Al Capone virtually owned the city. Capone wasn't famous for anything heroic. His exploits were anything but praiseworthy. He was, however, notorious for enmeshing the city of Chicago in everything from bootlegged booze and prostitution to murder. Easy Eddie was Capone's lawyer and for a good reason. He was very good! In fact, his skill at legal maneuvering kept Big Al out of jail for a long time. To show his appreciation, Capone paid him very well. Not only was the money big, but Eddie got special dividends. For instance, he and his family occupied a fenced-in mansion with live-in help, and all of the conveniences of the day. The estate was so large that it filled an entire Chicago city block. Yes, Eddie lived the high life of the Chicago mob and gave little consideration to the atrocity that went on around him. Eddie did have one soft spot, however. He had a son that he loved dearly. Eddie saw to it that his young son had the best of everything - clothes, cars, and a good education. Nothing was withheld. Price was no object. And, despite his involvement with organized crime, Eddie even tried to teach him right from wrong. Yes, Eddie tried to teach his son to rise above his own sordid life. He wanted him to be a better man than he was. Yet, with all his wealth and influence, there were two things that Eddie couldn't give his son - two things that Eddie sacrificed to the Capone mob that he could not pass on to his beloved son: a good name and a good example. One day, Easy Eddie reached a difficult decision. Offering his son a good name was far more important than all the riches he could lavish on him. He had to rectify all the wrong that he had done. He would go to the authorities and tell the truth about "Scar-face" Al Capone. He would try to clean up his tarnished name, and offer his son some semblance of integrity. To do this he must testify against The Mob, and he knew that the cost would be great. But, more than anything, he wanted to be an example to his son. He wanted to do his best to make restoration, and hopefully have a good name to leave his son. So, he testified against the mob. Within the year, Easy Eddie's life ended in a blaze of gunfire on a lonely Chicago street. He had given his son the greatest gift he had to offer at the greatest price he would ever pay. What do these two stories have to do with one another? Butch O'Hare was Easy Eddie's son.
"Managing senior programmers is like herding cats." -- Dave Platt. "Do not meddle in the affairs of cats, for they are subtle and will piss on your computer." -- Bruce Graham. "There is no snooze button on a cat who wants breakfast."—Unknown. "Thousands of years ago, cats were worshipped as gods. Cats have never forgotten this." – Anonymous. "Cats are smarter than dogs. You can't get eight cats to pull a sled through snow." -- Jeff Valdez. "In a cat's eye, all things belong to cats." -- English proverb. "As every cat owner knows, nobody owns a cat." -- Ellen Perry Berkeley. "One cat just leads to another." -- Ernest Hemingway. "Dogs come when they're called; cats take a message and get back to you later." -- Mary Bly. "Cats are rather delicate creatures and they are subject to a good many ailments, but I never heard of one who suffered from insomnia!" -- Joseph Wood Krutch. "People that hate cats
will come back as mice in their next life." -- Faith Resnick. "There are many intelligent species in the universe. They are all owned by cats." – Anonymous. "I have studied many philosophers and many cats. The wisdom of cats is infinitely superior." -- Hippolyte Taine "No Heaven will not ever Heaven be; Unless my cats are there to welcome me." – Unknown. "There are two means of refuge from the miseries of life: music and cats." -- Albert Schweitzer. "The cat has too much spirit to have no heart." -- Ernest Menaul. "Dogs believe they are human. Cats believe they are God."—Unknown. "Time spent with cats is never wasted." – Colette. "Some people say that cats are sneaky, evil, and cruel. True, and they have many other fine qualities as well." -- Missy Dizick. "You will always be lucky if you know how to make friends with strange cats." -- Colonial American proverb. "Cats seem to go on the principle that it never does any harm to ask for what you want." -- Joseph Wood Krutch.
Subject: Tax Cuts - A Simple Lesson in Economics. Let's put tax cuts in terms everyone can understand. Suppose that every day, ten men go out for dinner. The bill for all ten comes to $100. If they paid their bill the way we pay our taxes, it would go something like this:
-The first four men (the poorest) would pay nothing
-The fifth would pay $1
-The sixth would pay $3
-The seventh $7
-The eighth $12
-The ninth $18
-The tenth man (the richest) would pay $59.
So, that's what they decided to do. The ten men ate dinner in the restaurant every day and seemed quite happy with the arrangement, until one day, the owner threw them a curve. "Since you are all such good customers," he said, "I'm going to reduce the cost of your daily meal by $20." So now dinner for the ten only cost $80. The group still wanted to pay their bill the way we pay our taxes. So the first four men were unaffected. They would still eat for free. But what about the other six, the paying customers? How could they divvy up the $20 windfall so that everyone would get his "fair share?" The six men realized that $20 divided by six is $3.33. But if they subtracted that from everybody's share, then the fifth man and the sixth man would each end up being "paid" to eat their meal. So the restaurant owner suggested that it would be fair to reduce each man's bill by roughly the same amount, and he proceeded to work out the amounts each should pay. And so: -
-The fifth man, like the first four, now paid nothing (100% savings)
-The sixth now paid $2 instead of $3 (33% savings)
-The seventh now paid $5 instead of $7 (28% savings)
-The eighth now paid $9 instead of $12 (25% savings)
-The ninth now paid $14 instead of $18 (22% savings)
-The tenth now paid $49 instead $59 (16% savings)
Each of the six was better off than before. And the first four continued to eat for free. But once outside the restaurant, the men began to compare their savings. "I only got a dollar out of the $20," declared the sixth man. He pointed to the tenth. "But he got $10!" "Yeah, that's right," exclaimed the fifth man. "I only saved a dollar, too. It's unfair that he got ten times more than me!" "That's true!" shouted the seventh man. "Why should he get $10 back when I got only $2? The wealthy get all the breaks!" "Wait a minute," yelled the first four men in unison. "We didn't get anything at all. The system exploits the poor!" The nine men surrounded the tenth and beat him up. The next night the tenth man didn't show up for dinner, so the nine sat down and ate without him. But when it came time to pay the bill, they discovered something important. They didn't have enough money between all of them for even half of the bill! And that, boys and girls, journalists and college professors, is how our tax system works. The people who pay the highest taxes get the most benefit from a tax reduction. Tax them too much, attack them for being wealthy, and they just may not show up at the table anymore. There are lots of good restaurants in Europe and the Caribbean.
At about 17:00 CDT, a Beech F35 (another twin-tailed, gas guzzling doctor killer … ed) was damaged during descent toward Jackson, MS. VMC prevailed and an IFR flight plan was filed. The pilot was not injured. The pilot reported that he was descending in smooth air at 650 fpm to 4,000 feet when he heard a "woofing" noise coming from the tail (must be my dog?). The controls shook continuously. The airplane power settings were 16 inches of manifold pressure and 2,100 rpm, and the indicated airspeed varied from 155 to 160 mph. The pilot said that the sound went away after he reduced power to idle. He put the gear down and stabilized the airspeed at 120 mph, then landed without further incident. After landing the pilot noted that there was extensive damage in the area of the empennage, including wrinkled skin, chipped paint, sheared rivets and buckled stringers. (Good maintenance really matters … ed)
Call for additional newsletter stuff!
Remember, we need digital PIX and stuff for the newsletter. Even if you don't think it is important, tell us anyway – your chapter mates want to know what you're doing! Thanks to this month's contributors: Syd and Diann Nelson, Mike Kitterman, Charlie Calivas, Bill Melanson, and Robb Gessert. Thanks to all!
Short final:
NOTICE: ALL K-MARTS WILL BE CLOSED IN IRAQ.
THEY WILL BE REPLACED WITH TARGETS.