Experimental Aircraft Association

Chapter 455 Newsletter Enid, Oklahoma
| | | |
| --- | --- | --- |
| Vol. 03, No. 12 | 17 Dec 2003 - Celebrating 100 Years of powered flight! | December, 2003 Edition |
Home Newsletters Chapter Officers Member List Photo Album Links Membership Form For Sale Calendar
We're Digital! Dave has a new FujiFilm digital camera and is having a blast! A quick shot of the Banana on aviation's 100th birthday just before taking to the skies over Fairview, Meno, and Enid.
December, 2003 EAA 455 Chapter Meeting and Christmas Party!
The December EAA Chapter 455 Meeting will be held on Sunday evening, December November 21, 2003, 6:00 pm at the Woodring Regional Airport terminal building. It will be the annual Christmas party bash, featuring a pot-luck supper. Members please bring your favorite holiday side dish, Syd and Diann will provide the Turkey. After installation of next year's officers, the ever-popular "Dirty Santa" EAA Style ($10 suggested limit) will follow.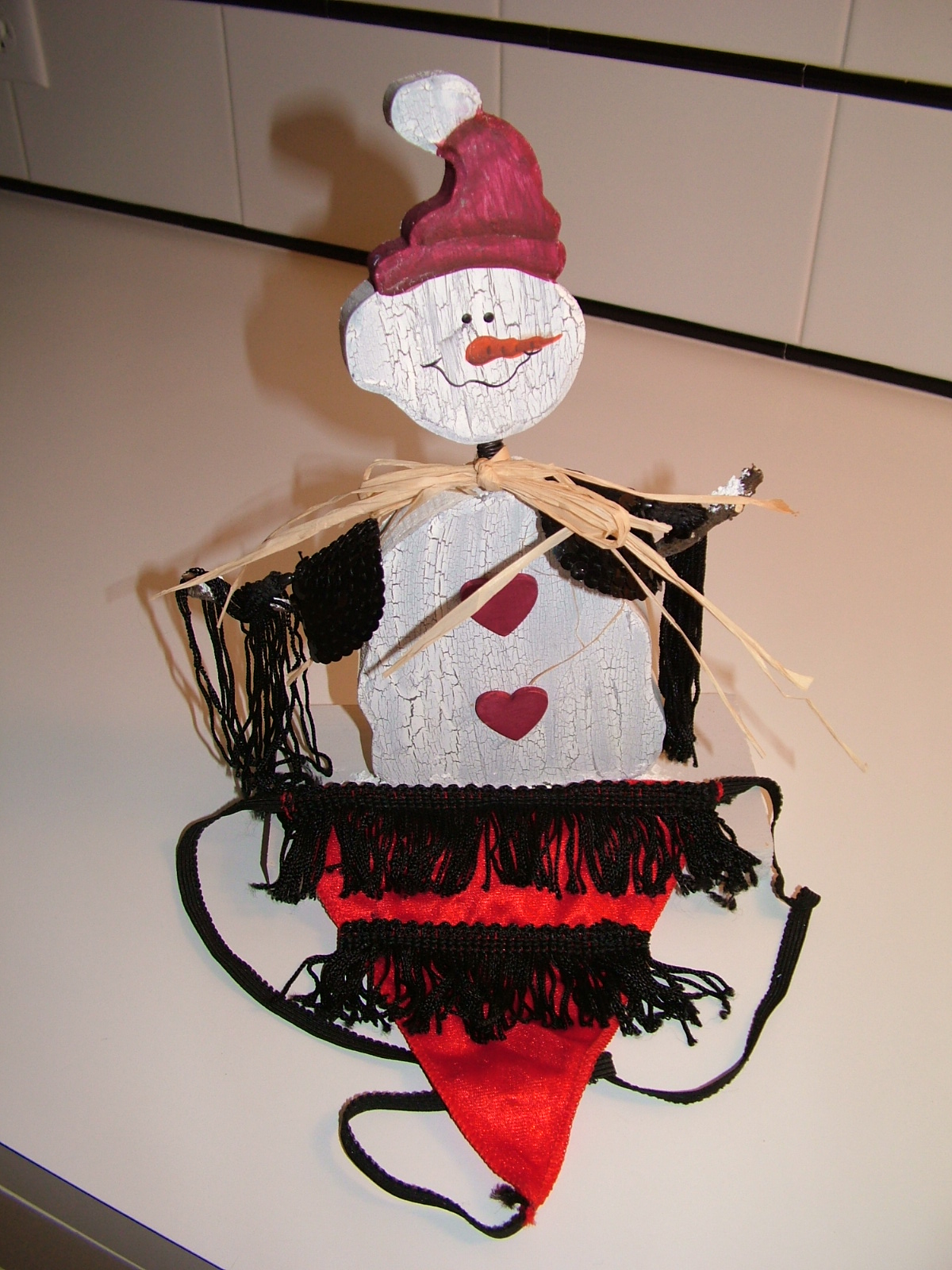 This is what the "best-dressed snowmen" will be wearing this year at the EAA party! Wonder who's gonna get "the surprise" this year? Better look the box over really well before you pick it up! ed
November, 2003 EAA 455 Meeting Minutes
The Chapter agreed until someone stepped forward to write the Newsletter, Diann Nelson will send the meeting notes to all the members via e-mail and also a reminder for the upcoming meeting. So, Dave is off the hook (for now I guess)! Young Eagles made the 1 million mark. It was suggested since Mica wouldn't be the Young Eagles Coordinator, that he would agree to take the Newsletter. He was quick to point out that he would still be the Coordinator and in no uncertain terms did he accept the Newsletter offer. We discussed the upcoming Christmas Parties, NW Aero will have the Airport party on the 13th of December (Note! The Woodring party has been rescheduled due to snow to Tuesday evening, 23 December). All were invited and if you do attend, bring a side dish. Our EAA Christmas Party will be on December 21st. We will eat at 6 pm. We will exchange Dirty Santa gifts, $10, bring something you'd like. Some members have agreed to bring the following foods: Syd and Diann Nelson will cook the turkey, also we'll have turkey and noodles. Ron Decker-mashed potatoes and gravy, Gene Martin-potato salad, Don Jones-cake and hot rolls, Ron Hazlett-green bean and bread, Ken Hollrah-pecan pie, Mica Doane-corn and bread. We still need dessert, devilled eggs, salads, relish plate. Members are asked to bring their specialties. Treasurer's Report: $394.95
Submitted by Syd Nelson EAA Chapter 455 Secretary
Woodring Christmas Party Rescheduled!
Due to heavy snow on the original date, the hugely popular Woodring Airport Christmas Party has been rescheduled for Tuesday evening, December 23rd, 6:30 pm! Northwest Aero will host the event again, and we encourage everyone to come on out and have a great time! (This is one of our favorite parties of the entire year, 'cause you can let your hair down and really enjoy yourself.) Elaine has rescheduled the entertainment for the 23rd, and we're looking for a really big turnout. Dress is casual, bring a side dish - should be really fun!
Military Instrument Approaches now in the IAP books!
You may have noticed that approach chart books and Airport/Facility Directories have gotten thicker (see – size really does matter). Think safety. The FAA added more than 100 military airfields along with about 750 approaches to the publications. "In the past, pilots who wanted the extra safety benefit of having approaches for military bases in case of emergency had to buy and carry a separate publication," said Heidi Williams, AOPA manager of air traffic policy. Military bases are often underutilized and permitting civilian aircraft to use them for instrument training could ease the burden at overtaxed civilian facilities, Williams added. But there are some cautions for non-emergency operations–military airfields require a written request for permission to land, although instrument approaches may be authorized as long as the aircraft doesn't touch the ground. Pilots should also carefully read the remarks sections in the A/FDs so as not to confuse civilian facilities with new listings for military airfields. AOPA's Airport Directory Online will provide the new approach charts early next year.
Hey Mike Porter, let's go flying! ed
Groundspeed – you better understand it!
Groundspeed–the rate of the airplane's in-flight progress over the ground–is a fundamental aeronautical concept. But not every student pilot understands this right away. Sometimes the sticking point is the realization that while an airplane moves "through" the air, it also moves "with" the air mass in which it flies. Chapter 8 of the FAA's Pilot's Handbook of Aeronautical Knowledge, which you can download from AOPA Online, helps clarify: In a 25-knot wind from the north, "any inert object free from contact with the earth will be carried 25 nautical miles southward in one hour." Now imagine an airplane flying in that air mass: Its position after an hour results "from a combination of these two motions: the movement of the air mass with reference to the ground, and the forward movement of the airplane through the air mass."
AOPA Flight Training Associate Editor Jill W. Tallman discusses applying groundspeed in the September 2002 issue's "Flying Smart" column. "This is the speed of your airplane relative to the Earth's surface. It's the speed that you'll use to calculate fuel burn and estimated travel times for each leg of your trip." Barry Schiff (my hero ed) reviews how to determine groundspeed by using your flight computer to solve a wind triangle in "Whiz Wheel Wizardry," published in the April 2000 issue of AOPA Pilot magazine.
Groundspeed plays a role in every approach and landing. Using the airport windsock or a wind report, we choose the runway that allows landing with the maximum possible headwind component, so the airplane's forward motion over the ground is as slow as possible when we're at our usual approach airspeed. This allows the shortest landing roll and minimum braking. As Ralph Butcher explains in the July 2002 AOPA Flight Training, "Your highest priority is an upwind landing with low groundspeed." This is true whether you're approaching a runway in normal operations or making an off-airport emergency landing.
Usually we calculate groundspeed from known true airspeed and wind data. But see how one pilot used known groundspeed to estimate airspeed after an airspeed indicator failure in the August 2002 installment of "Learning Experiences." Grasping these basic aeronautical concepts will help to bring mastery of safe and enjoyable flight.
Now do you get it?
Over Philly on a gorgeous CAVU Sunday...
Cessna XXX: Philly approach, Cessna XXX with you at 4,500.
Philly Approach: Cessna XXX, Roger, Altimeter 30.69 and numerous targets in your vicinity.
Cessna XXX: Could you be more specific about the targets?
Philly Approach: OK, 12 o'clock, 1 o'clock, 2 o'clock, 3 o'clock, 4 o'clock, 5 o'clock - would you like me to continue?
Cessna XXX: Negative, we get the picture...
And now, for a really bad Joke – you have been warned!
It is not well known that Thomas Edison was an avid fisherman. He usually included some trout fishing in his infrequent vacations. During one such trip to the West he was befriended by an Indian tribe. They provided free room and board as well as expert fishing guides for his stay. The first night he discovered that the only sanitary facility was an old-fashioned outhouse. To make matters worse, it was not illuminated. As a thank-you gift for their kindness, as soon as he invented the incandescent lamp, Edison personally installed lighting in the Indians' privy.
"He thus became the first person to wire a head for a reservation"
Told you!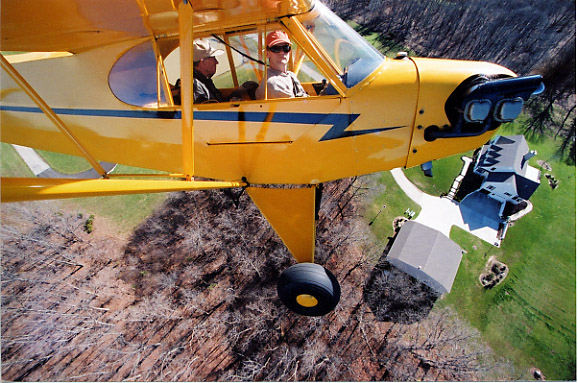 Robb Gessert (front seat) having a ball!
Fly Safe! I'm outta here!
Dave
Home Newsletters Chapter Officers Member List Photo Album Links Membership Form For Sale Calendar