Experimental Aircraft Association

Chapter 455 Newsletter

Enid, Oklahoma
The Enid, Oklahoma Chapter of the Experimental Aircraft Association normally meets on the third Sunday of each month at 2:30 p.m. in the main Terminal Building at the Enid Regional Airport, Enid Oklahoma. All members and their guests are welcome to attend. The Chapter Web Page is located at:

http://eaa455.tripod.com (new address) We encourage you to view this and other items of Chapter interest there!
| | | |
| --- | --- | --- |
| Vol. 02, No. 12 | Christmas Potluck Dinner – Sunday December 15th | Christmas, 2002 Edition! |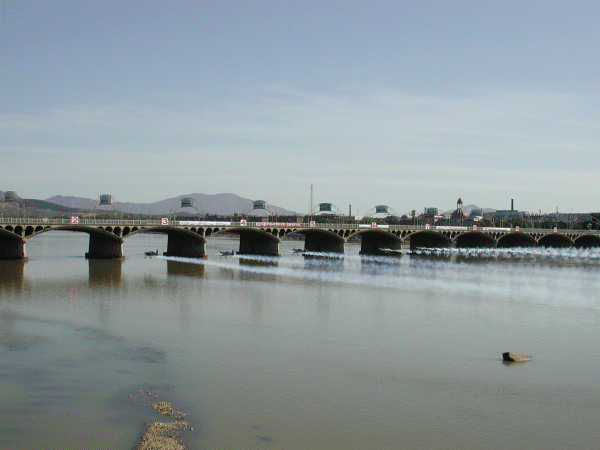 Looks like fun – my kind of formation! Photo from Ray Gill

December 2002 EAA 455 Meeting Notice

The December meeting of the EAA Chapter 455 will be held at Woodring Regional Airport on Sunday December 15th 2002, 6:00 p.m.

It's the annual EAA Chapter 455 Christmas extravaganza, and you won't want to miss it! Potluck dinner begins at 6:00 p.m., with a quick meeting, installation of 2003 officers and Dirty Santa to follow! (Beware of the Trojan Horse from Dr Nicholas - you've been adequately warned!) Please limit gifts to $10 or less. The Chapter will provide the main meat (Mica's cooking a turkey and brisket) and drinks, and members are requested to bring a side dish. See you there for the last event of the season!

November, 2002 EAA 455 Meeting Minutes

Ken Sumpter presided over the meeting at the Terminal on November 17, 2002. The following members were in attendance: Ken Sumpter, Ron Hazlett, Mica Doane, Syd Nelson, Diann Nelson, Ken Hollrah, Gene Martin, Dwayne Lee, Dave Chael, Bruce Crain, Charlie Calivas, Ron Decker, and Mike Porter.

Ron Hazlett gave the treasurers report with $157.80 in the bank and collected annual dues ($15) from several members to increase our account.

The Chapter Christmas Party, December 15, 6pm at the terminal, was discussed. It was decided to have Brisket and Turkey (Mica), drinks (Dave), and plates and silverware (Diann) provided. Members should bring their favorite holiday sidedish. You are also encouraged to bring a Dirty Santa gift (not to exceed $10) to participate in the festive ritual of giving – and taking away. Please email Ken, Ron or Dave to RSVP

Additional business and discussions: Ken discussed some of the current information available on the AOPA Air Safety Foundation (ASF) web site

http://www.aopa.org/asf/ . He highlighted the online Instrument Refresher but it also includes great information about other flying safety topics. Ken also gave a pop quiz showing flash cards depicting taxiway markings. We could all use some refresher to remain current and safe. Ken then pulled out the FARs and reviewed the items to accomplish before any flight. There is a particular need to review enroute NOTAMs, especially TFRs.

As the meeting closed Dave Chael again asked for information to be put in the Chapter Newsletter. Help!

Dave Chael, announcing he found a crack in his tail (of his airplane ed), showed some hardware he removed from the tail of his "bananna". During his annual inspection he decided to clean the paint off a part that has been known to crack in other Bonanzas. He was pleased to not find a crack in the usual location but, being Dave, was not satisfied until he cleaned and polished the part. During this process he found a small crack in a less likely location requiring Sue to authorize more expenditures. When doing inspection it may not be wise to only look at problem areas that have been discovered and documented – after all, these problems were discovered either by someone who took the time to look beyond the basic requirement or by accident. He's still slugging away at the restoration phase III, with improvements to exhaust brackets, new vacuum pump, vac pump air cooler, new ignition harness, gear door repairs (on the one he could get off – big thanks Ken Hollrah), V-Tail repainting and rebalancing, bushing and bearing all over the place, etc ad infinitum. Hope to fly by the end of the current century.

Bruce Crain announced his wings are done. Most of us started to salivate but he went on to talk about other styrofoam parts he has been working on to get his plane back in the air.

Mica Doane talked about the Fairview Fly-in calling it a good show with about 200 aircraft flying in. Also, the Young Eagles program has reached about 800,000 toward their goal of 1 million.

Syd and Diann Nelson are working on putting a 200hp engine in their RV-7. They are say the RV-7 is easier to build than the RV-8 because the kit is pre-punched so no jig is required to build the wings.

Attached are a couple of pics Syd and Diann took at the Zenith factory in Mexico, MO. The factory does all the work there, including the welding. The demonstrator planes are located in the same building. The ribs are formed and fluted by wood jigs. I was surprised that they didn't use more machinery to do this like Van's. I'm sure this keeps the cost down and Van's puts out a lot more planes than Zenith.
We had to wait in line for a ride as the day before was too windy. It was blowing 10-15 the day we flew and 44 degrees. Not at all like we left in OK! They offer Builders Workshops for first time builders. After building RV's, these are a very basic airplane. The main reason we selected the 701 over the others as this is all metal and is put together with pop rivets, plus it is designed for short take offs and landings. No dimpling or shooting solid rivets-this it too easy! We'll probably use the Jabiru 120 HP instead of the Rotax. It uses a throttle body similar we're told to Ellison. We saw the 601 fly, it is the low wing 2 seat version and had a Jabiru engine on it. It's real quiet and air cooled. The only noise we heard as it was taxiing off was the prop. The pilot was Sebastian Heintz, son of the designer.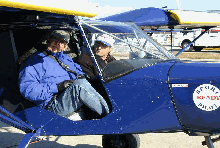 Would you buy a used Rotax from this individual? Ha! Thanks Syd and Diann for the great PIX ed
The 701 we flew used the Rotax 912 80 HP and had a ground adjustable 3 bladed prop. After sitting in the RV8A, it's a little short on shoulder room, we were wearing coats, remember. I was a little apprehensive being so close to the door. The whole side opens up, no fuselage to protect you. It will be nice in the summer to pull off the doors, I don't know about winter flying, I guess I'll get used it. The flying of it is similar to the RV, not quite as responsive, but effective. We were cruising at 80. There is one stick in between you that had T-handles on it. It takes off pretty fast and when he landed, he landed crossway to the runway! We are not wanting to do anymore cross-countries, just stay in the general area and be able to look around at the scenery.The RV did very well, we averaged 20 miles to the gallon on the trip. Going over at 5500' -173K , coming home at 6500' -168K. You always want more, but that isn't too bad.
Dwayne Lee went up to Wichita for a tour of a B-29 that is being restored. This aircraft was originally built in Wichita then spent years in the Arizona boneyard before being rescued with plans of restoration. You can contact him about this exciting trip.
Santa's Letter ...I regret to inform you that, effective immediately, I will no longer serve the States of Georgia, Florida, Virginia, North and South Carolina, Tennessee, Mississippi, Texas, and Alabama on Christmas Eve. Due to the overwhelming current population of the earth, my contract was renegotiated by North American Fairies and Elves Local 209. As part of the new and better contract, I also get longer breaks for milk and cookies so keep that in mind. However, I'm certain that your children will be in good hands with your local replacement, who happens to be my third cousin, Joe Bob Claus. His side of the family is from the South Pole. He shares my goal of delivering toys to all the good boys and girls; however there are a few differences between us. Differences such as:
1... There is no danger of the Grinch stealing your presents from Joe Bob Claus. He has a gun rack on his sleigh and a bumper sticker that reads: "These toys insured by Smith and Wesson."
2... Instead of milk and cookies, Joe Bob Claus prefers that children leave an RC cola and pork rinds [or a moon pie] on the fireplace. And Bubba doesn't smoke a pipe. He dips a little snuff though, so please have an empty spit can handy.
3... Joe Bob Claus' sleigh is pulled by floppy-eared, flyin' coon dogs instead of reindeer. I made the mistake of loaning him a couple of my reindeer one time, and Blitzen's head now overlooks Joe Bob's family fireplace.
4...You won't hear "On Comet, on Cupid, on Donner and Blitzen.." when Bubba Claus arrives. instead, you'll hear, "On Earnhardt, on Gordon, on Elliott and Petty."
5..."Ho, Ho, Ho!" has been replaced by "Yee Haw!" And you also are likely to hear Joe Bob's elves respond, "I her'd dat!"
6... As required by Southern highway laws, Joe Bob Claus' sleigh does have a Yosemite Sam safety triangle on the back with the words ... "Back Off."
7... The usual Christmas movie classics such as "Miracle on 34th Street" and "It's a Wonderful Life" will not be shown in your negotiated viewing area. Instead, you'll see "Boss Hogg Saves Christmas" and "Smokey and the Bandit IV" featuring Burt Reynolds as Joe Bob Claus and dozens of state patrol cars crashing into each other.
8... Joe Bob Claus doesn't wear a belt. So if I were you, I'd make sure you, the wife, and the kids turn the other way when he bends over to put presents under the tree. Sincerely Yours, Santa Clau
Ken Sumpter reminds us of a recent change to the FARs! The FAA now requires (with change to Part 61), that you must carry a photo ID with your FAA license.
If your news isn't here, it's because we didn't know about it!
Fly Safe! Dave