Experimental Aircraft Association

Chapter 455 Newsletter Enid, Oklahoma

Volume 2, No. 8
The August meeting is on the 18th at Bruce Crain's Residence!
August 2002 Edition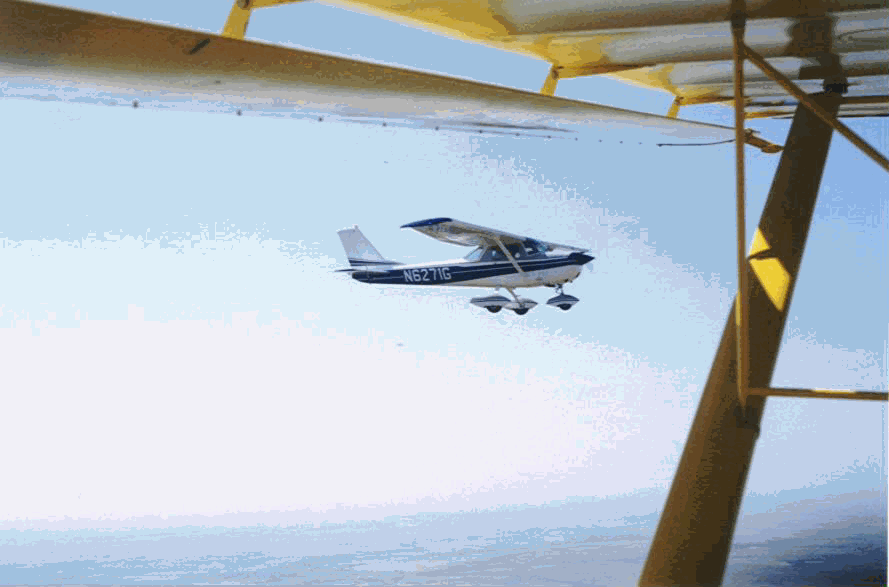 Ken Sumpter in a great air-to-air shot by Ken Hollrah from his Kitfox

Thanks Ken!

August 2002 EAA 455 Meeting Notice

The August EAA Meeting will be held on August 18th at Bruce Crain's residence, 2816 Meadowlark, at 2:30 p.m. Bruce will be conducting a fiberglass demonstration. Bring a swimsuit, and stay for dinner! The Chapter will provide the main course – brisket. You'll need to bring a side dish or two, and something to drink. See you there!

July, 2002 EAA 455 Meeting Minutes

The July meeting was called to order at Noon on the lawn of the Vo-Tech by President Ken Sumpter on Sunday, July 14th. He writes: "I would like to give a big THANK YOU to all the EAA Chapter 455 members who got their aircraft out Sunday 14th for the Autry Tech Open House. I appreciate you taking the time and effort to make it a wonderful day under the sun. I know I had fun just hearing stores and talking aviation. Again thank you for support."

The following aircraft were on static display: Ray Gill (Pitts), Ken Hollrah (Kitfox), Ron Hazlett (Cessna 182), Mike Porter (Cessna 172), Ken Sumpter (Cessna 150), Charlie Calivas (RV-6), Roy Camp (Stearman), Gene Martin (Lancair), Dave Chael (35 Bonanza), and Bob Lines (Staggerwing).

Dave Chael is recovering from a computer crash. Sorry about the short newsletter!

Ken Hollrah "International" Airport! Construction is being completed on Oklahoma's newest aerial port, located approximately 1.5 north and east of Fairmont, Oklahoma. Word has it that Ken's already landed the Kitfox on the field, which is about 2,200 feet long. Flyout next year perhaps?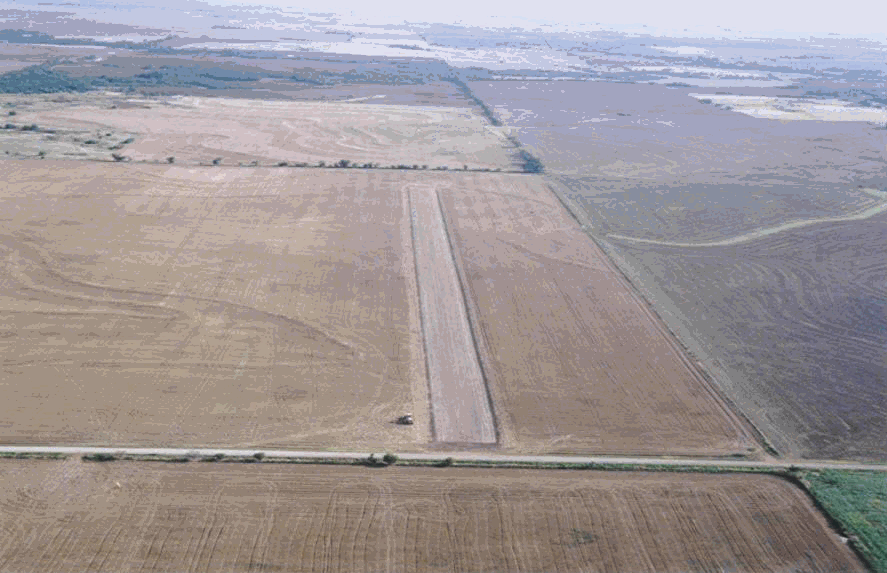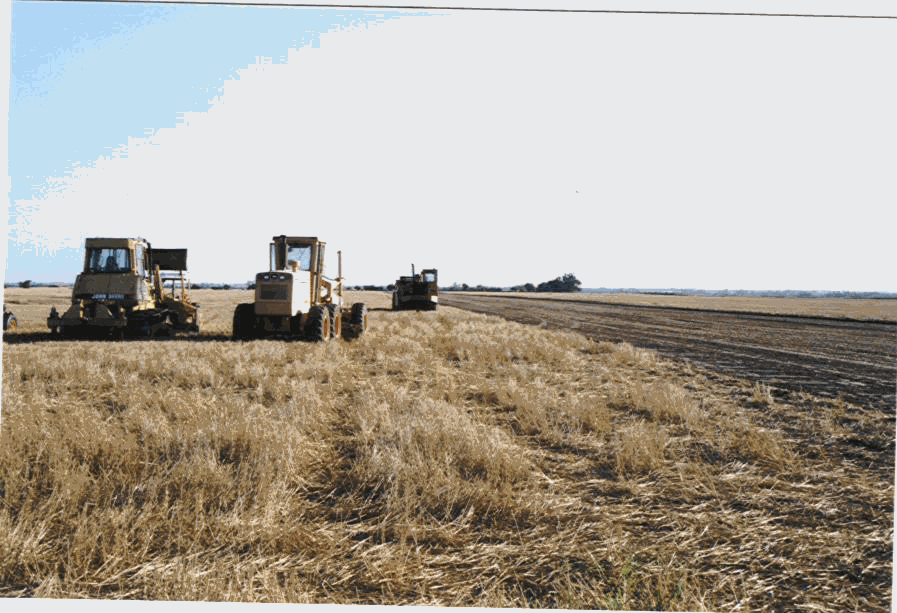 RWY 35 at Hollrah "International" Airport.
Construction crews scrambling to complete dirtwork on Ken Hollrah's strip near Fairmont.
Ken Sumpter discovered a wonderful product that every airplane owner should know about: Carbon-X!
Bugs. Yes bugs, as you all know this is the time of year when you go flying your aircraft comes covered with a few thousand bug hits. As some of you know I try to keep my C 150 pretty clean. I have tried a cleaning product sold by Sporty's Pilot Shop. It is called Carbon-X Stain Remover. It will de-bug, de-grease, and remove exhaust deposits, fuel stains, etc. It comes in a one gallon container and you dilute it 20:1 with water. Just spray on, wait a few seconds and the bugs come right off. It leaves your aircraft looking great. It only cost $15.95 plus if you have an AOPA Visa card you get an additional 5% off. Sporty's also sells a 32 oz. spray bottle graduated on the side for easy of mixed up the cleaner. It is the best cleaner I have tried to keep that pride and joy looking great.
Editor's note: This stuff is fantastic! Bugs that had long-ago dried-up on the Banana came right off, and it leaves a super-shiny, clean sheen. Come by and get a sample – you'll love it too!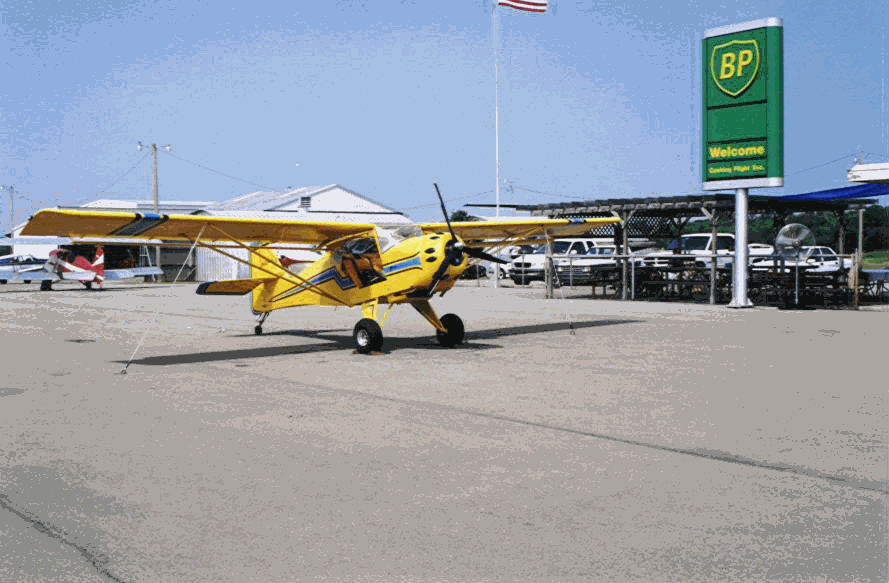 Ken Hollrah's Kitfox at a recent flyout with Ken Sumpter. Due to my increasing age and decreased mental capacities (and the computer crash), I can't for the life of me remember where it was taken. ed
Ozzie's Diner
University of Oklahoma Westheimer Airport Reprinted from SW Aviator, Story by Don Fielden

After hours of flying over the vast beautiful plains of Oklahoma, where does one go to satisfy a hearty appetite? More importantly, where does one go to satisfy the diverse appetites of a plane full of family? No problem, just point the nose of your flying machine to the University of Oklahoma Westheimer Airport, affectionately know as OU Airpark (airport identifier: OUN), and head for Ozzie's Diner.
Your aerial journey to Ozzie's Diner will include a friendly encounter with the controllers bringing law and order to the Wild West of controlled airspace of Oklahoma City, OK. Actually, the pilots are disciplined (unless they're hungry) and the controllers are very friendly and most helpful. From approach, you'll be turned over to the OU Airpark control tower, where the friendly controllers will guide you to a landing at a well-run and exciting airport. Tell the ground controllers you want to taxi to Ozzie's Diner (located in the terminal building) and prepare yourselves for feast that will satisfy the hungriest of pilots.

When you first find your way to the diner, you get the immediate feeling of a laid-back restaurant where one can relax and eat. Ozzie's Diner is the classic diner of years ago where the kitchen is in plain sight, 50's music

plays the background, and the staff is informal and friendly. The Specials Menu on display at the front door is the first clue the food is very well priced. Of course, such low prices always makes me wonder if the food is any good, so my curiosity was peaked. I was in for a pleasant surprise that began when I looked at the menu.

Ozzie's Diner offers over 100 different items on their menu plus several items for the "little" aviators. They offer soups, salads, burgers, sandwiches, steaks, pork chops, chicken, pasta, and more. I started off with an appetizer called "Loaded Fries," consisting of a large plate of French fries smothered with melted cheddar cheese and topped with bacon bits and sour cream. Even though I was starting to get full just on the appetizer, I had to try the House Specialty, Sirloin Strip Steak Dinner. At the low cost of $4.95, I had a juicy 8 oz. grilled sirloin steak, salad, baked potato, and Texas Toast. While this is not the same steak you'll get at one of those "high class joints," I can sum up the steak in one word: outstanding! The steak was tender and cooked to order. The steak was small for this steak-eater from Texas, but a great value. My significant other, in an attempt to stick with the theme of this article, ordered the Old-fashioned Hamburger. For only $3.95, she got a hearty size hamburger and a plate full of French fries. Her comment was "this is a good hamburger, and I can't believe the price," a significant statement from a rather picky eater. A healthy serving of homemade pie concluded the meal. I also fed my little pilot with a hamburger from the large selection available on the "Kids are Wonderful" menu. The whole lunch, the appetizer, the main course for three, drinks, and tips cost only $20.00, a great value (more money for Avgas). As mentioned earlier, Ozzie's offers over 100 items on their menu. They have a hearty breakfast menu featuring pancakes, omelets, and some rather unique dishes. For instance, the Route 66 is chicken fried steak, eggs, fries, and biscuits and gravy; the Pancake Sandwich, consisting of a short stack of pancakes topped with two eggs and bacon; and the "B.E.S.T," which is bacon, egg, Swiss cheese, and tomato on wheat and served with fries. They have an all-you-can-eat breakfast meal, available seven days a week for only $3.89.

Interesting lunch and dinner menu items abound, including the Ozzie's Burger; a hamburger topped with a grilled all-beef frank and bacon. There is the Hot Burger Blast, which is a hamburger on toast smothered in brown gravy and topped with French fries. There are the traditional sandwich fares, ranging from tuna salad to chicken fried steak sandwiches to the Juicy Pig Bar-B-Que sandwich. In addition to the House Specialty steak I described above, Ozzie's Diner offers other "Ozzie's Specialties," including Ozzie's Pig Stand, a plate loaded with smoke brisket and polish sausage, served with pinto beans and potato salad. If you need your sinuses cleaned out, there is the Spicy Broiled Breast of Chicken, a grilled breast of chicken marinated in Ozzie's "special" spices. Another pleasant surprise was their Pasta selection, which is quite large for an airport diner. Selections range from spaghetti in basil sauce to blackened chicken Alfredo to seafood fettuccine Alfredo. The little aviators will enjoy a large kid's menu consisting of corn dogs, hamburgers, gilled cheese, and meatloaf. The kid's menu even has fettuccine Alfredo.

I was impressed! The restaurant was busy when we arrived, but there were not many planes on the flight line. It turns out that Ozzie's Diner is a favorite among, not just flyboys, but also the local community. It has been my experience that airport restaurants are popular among the local community either because they are the only game in town, or because they serve great food. In the case of Ozzie's Diner, it is because they serve great food. I highly recommend Ozzie's Diner to my fellow aviators. Don't worry about eating too much, OU Airpark has a nice long runway for that extra takeoff roll you'll need. Happy Flying!

Editor's Note: Several members of Chapter 455 flew-in to Ozzie's last month and had a great time. If you missed it, you missed it. Who wants to go again? I'm game!

See you at Bruce Crain's on the 18th. Fly Safe