Experimental Aircraft Association

Chapter 455 Newsletter Enid, Oklahoma
The Enid, Oklahoma Chapter of the Experimental Aircraft Association normally meets on the third Sunday of each month at 2:30 p.m. in the main Terminal Building at the Enid Regional Airport, Enid Oklahoma. All members and their guests are welcome to attend. The Chapter Web Page is located at: http://members.tripod.com/eaa455 We encourage you to view this and other items of Chapter interest there!
| | | |
| --- | --- | --- |
| Vol. 02, No. 04 | The April meeting is NOT at the Airport! See details! | April, 2002 Edition |
April, 2002 Meeting Notice

1

March, 2002 Meeting Minutes

1

Member News

2

Boeing Stratoliner in the Drink!

3

Owner Maintenance

3

Classified Ads

3

Funnies Heard on the Radio

3

8's on Pylons Explained (finally)

3

Now "see" This and Short Finals

4

Contributors

4

April, 2002 EAA 455 Doane Field Fly-In and Meeting Notice
The April Fly-in and Meeting of EAA Chapter 455 will be held on Sunday, April 21, 2002 2:30 p.m. at Doane Field in Meno! Weather permitting, members are encouraged to fly-in for the meeting and stay for the pot-luck dinner! We'll eat around 5:30 p.m. or so. This is our semi-annual fly-in to Mica's, and is always a great time regardless of the weather.
Fly-in directions: LAT/LON: N 36 21.952' W 98 09.537'. Approximately 2 miles SE of Decker Field (OK69). Airstrip is located on the 270 radial about 15-16 miles from Vance.
Fly-in frequency 122.9. Airstrip is 2500', and the only obstacle is a fence at north end. Watch for kids playing around the hangars. Left-hand (standard) traffic pattern. Call Mica at (580) 776-2544 with any questions.
Driving directions: Stay on 412 west out of Enid till reaching the east side of Meno, turn south (left) on the Ames blacktop. Go two miles south on the blacktop, turn left again (east) and go one mile. House and airstrip on north side of road. The NS road is the "Goltry road" but newcomers are better off on the blacktop. Signs will be posted on 412.
Walking directions: Never mind – too far!
Mica and Brenda will be preparing their world-class brisket, and they will provide ice, drinks and plates and plasticware. Chairs are always in short supply and if anyone has a folding table or two we could use it.
Here's what you can bring: Good side dishes would be baked beans, potato salad, chips, and any desserts. Bring lawn chairs, hats, sunscreen, bug repellent, and airplanes! Be ready for a good time!
March, 2002 EAA 455 Meeting Minutes
The March EAA Chapter 455 Meeting was called to order by President Ken Sumpter at The Aero Club of Enid HQ, 2:30 p.m. on March 17, 2002. The following members were present: Ken Sumpter, Lance Nitschke, Dave Chael, Bill Blunk, Ron Decker, Syd and Diann Nelson, Ken Hollrah, Jerry Calvert, Mica Doane, Bill Melanson.
Ken opened the meeting with a special thank you to Bill Blunk for hosting the March meeting! Ken wanted to remind everyone not to forget that the April meeting will be held at Doane Field (Look for details in the newsletter). Members should bring a side dish, and the Chapter will provide the main dish. We'll fly-in around 2:30 p.m. and eat around 5:30 or so. Ken reported that three airplanes flew into Norman Westheimer for breakfast on the 16th. Ken's C-150, Ron Hazlett's C-182, and Marty Lochman's C-140 were on hand to have a great time. Hazy visited the tower and witnessed a Mooney crash on the ramp right after takeoff! Ken told about a F-15 4-ship flight that surely brought back some great memories for him!
The floor was then turned over to Bill Blunk, wherein he discussed his role with the Aero Club of Enid. He's planning on hosting an introduction to flying class on Thursday evenings, which should last around 1-1/2 hours. Members discussed project status, and Syd brought a spalled bearing for show-and-tell! Ouch! Bill Melanson discussed the 75th anniversary of Cessna, scheduled for the 3rd weekend in June. The main plant, normally "shrouded in secrecy", will be open for tours – now's your chance! The Independence, KS plant is always available for tours. It might work better with two groups going at once, so Dave agreed to call the Wichita EAA chapters to see if we might collaborate on a tour date. Let Dave know if you're interested in going! June 1st is slated as the Vance AFB Open House and Fly-in, hosted by Vance AFB Wing Safety. It'll be an all-day affair, starting with breakfast for aircrews, safety presentations, RAPCON tours, and simulator rides for those wanting to participate. Capt Stouffer at Wig Safety is the primary contact, at 580-213-SAFE (7233). There IS A REQUIREMENT FOR PAPERWORK PRIOR TO ARRIVAL, and the documents (insurance verification/hold harmless) will hopefully be available on the Internet. More later!
Bill Blunk gave a tour of the facility, and demonstrated the simulator capabilities available at ACE. Neat stuff! He also has a testing facility, pilot shoppe, classroom and kitchen facility. Great refreshments too – thanks Bill for hosting the meeting!
Bill Blunk, Jerry Calvert and Dave Chael on ACE simulator mission "attempting to determine where we're going"!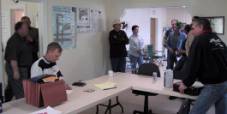 EAA Meeting with Ken Sumpter at the helm. Photos by Lance Nitschke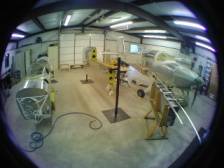 Fisheye view of Nelson's hangar! Cool PIX from Syd and Diann!
Syd and Diann Nelson: Good news on the crank, it hadn't been turned. Bad news, new cylinders, bummer. It was just a little more to get new ECI cylinders than repair ours that had already been repaired once. We bought the H pistons-8.9 to 1 compression, more power! The RV8 is getting very little attention. The forward panel is installed, baggage door completed, windscreen installed. Just found out Van's screwed up on King radios and will be another 6 weeks or more. Syd had a fit, so found some at Spruce, but they will have to be wired as Van's wires theirs. The RV7's empennage is complete and installed, the left wing is nearing completion, lacking the aileron and flap. The second wing will be even faster than the first as we took time building up all the spars and fluting all the ribs. All are dimpled, including the skins. I'm telling you guys, these things are easy! WAY easier than the "8". All the skins were drilled, matching holes in the ribs. The one thing that I thought was a little screwy was on a couple of the main ribs they were missing one hole? On the nose ribs they were missing one on top and one on bottom, close to the leading edge. Why, I don't have a clue. I know we saved a bunch of time with all the pre-punched holes, but, man! The holes are all undersized so they have to be drilled out so they can be dimpled.
Just got a report about a plane we had completed before the "7". It was a RV8 with a 540 , fuel injected, constant speed. At 23 squared, it flew 200 knots! Whew whoo!! That's hauling butt!! The owner is tickled as you can imagine. We're hoping our beefed up 180 RV8 will do that flat out, we'll see. We just got back our steel parts (crank, cam, rods, etc) from Aircraft Specialties out of Tulsa and wanted to recommend them. We'd used AEA out of TX before, but the parts have been coated, the tappets have been dipped and are a black color, the rocker arms have been dipped also. The crank and cam are sealed and wrapped in bags with some kind of coating that we have to rinse off before we install them. They aren't installed, but we've had trouble with the parts not fitting together from AEA and had to be returned. The case looks good too from Divco, we've used them before, but this time they dipped it in alodine.
The second wing for the RV7 is riveted and hopefully we'll complete the fuel tank tomorrow, that's an all day job. The flaps and ailerons will be built next and then hang the wings onto the fuselage, attach the ailerons, flaps and wing tips. It's not far from being complete now. It should be complete the first of this month, barring any problems. Also, found a cheap source for the oil filter adapter, it's used, but it's the kind that mounts up to the back of your engine. It's Williamson Aeromotive, 1-800-366-4746 and talk to Larry.
Ken Hollrah sends this article reprinted from Oklahoma Oil Reporter, 28 Mar 02: The house Energy and Utility Regulation Committee on Tuesday passed two bills dealing with ethanol. Senate Bill 878, by Senator Paul Muegge, D-Tonkawa, and Rep Dale Turner, D-Holdenville, creates a 15 member OK Ethanol Plant Feasibility Advisory Committee. It also requires the State Department of Agriculture to study the state's potential to attract firms interested in establishing an ethanol processing plant in OK. Senate Bill 879, by Muegge and Rep. M.C. Leist, D-Morris, provides that retailers selling motor fuel would NOT be required to post information regarding fuel additives! However, motor fuel sold at regional or smaller airports for fueling aircraft would be labeled with the percentage of alcohol, if any, it contains.
This is a big deal for those of us who use autogas in our airplanes! If the auto fuel has ethanol in it, it could be a significant problem for many aircraft fuel systems.
Ken and Dave discussed a potential letter-writing initiative at Mica's on the 21st. Here's how to contact your state senator and representative on this issue:
Senate District 19
Robert Milacek (R-Waukomis)
[H] 580-758-3762 [C] 405 521-5630
Senate District 20
Paul Muegge (D-Tonkawa)
[H] 580-628-3600 [C] 405-521-5628
State House of Representatives
House District 16
M.C. Leist (D-Morris)
[H] 918-733-4102 [C] 405-557-7373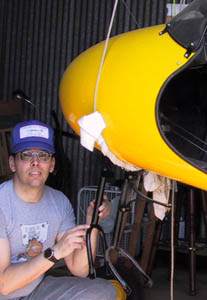 Lance Nitschke is busy replacing the Gyrocopter nose gear fork assembly that got bent in last year's off-field landing.
Marty Lochman: Since my fly-in breakfast at OUN (Westheimer), I landed at home to install the M20 air/oil seperator, (oil consumption 1qt/2-3hours flying time). To install it the way I wanted to involved removing the oil tank. When flushing the tank I found a gear tooth rattling around. Yes, I SAID GEAR TOOTH ....camshaft gear to be specific. Had to pull the engine to get the rear case off. Long story short, replaced cam and crank gears, starter gear, and pulled my cylinders. 3 cylinders had cracks in the heads beyond repair and thus 3 new cylinders and the fourth was overhauled. Standard steel, standard bore dimensions (not .010 over). At any rate, the engine is back together, test run in the chocks last night for 5 minutes. Good oil pressure, and intend to start flying today. Will try and fly 10 hours local before departing to Sun-N-Fun on the 5th of April. I've had my hands full. Will write more when I get a chance. By the way, for all engine needs, I recommend Gibson Aviation in El Reno. Great folks, great prices!
Image taken Friday, March 29, 2002, of the recovery of the Boeing 307 Stratoliner, the only of its kind in existence - which made a forced ditching in Elliott Bay, just west of downtown Seattle, WA on the previous day.
All four aboard escaped unharmed and undampened; the 307 didn't fair quite so well. Reports are that during a test flight, the 307 had taken off from a stop at Paine Field, north of Seattle and suffered a power surge in one engine. This abated, but as the 307 approached Boeing Field, it lost number 3 engine, then the others started losing power. The pilot realized he wasn't going to make BFI, and quickly assessing that 1) he had a very valuable bird in his care, and 2) there was not a square inch of undeveloped, unpopulated, or even flat ground within miles, expertly put the 307 down yards from shore. The cause of the engine failure has not yet been determined. Boeing folks, many of whom had spent six years doing a beautiful restoration job on this unique aircraft, are optimistic that she will fly again...
Like to do your own maintenance? Want to avoid a suspension or fine? Ken Hollrah reminds us to do the proper logbook entries after the work is completed. The penalty for failure to make owner maintenance entry is $550 and/or a 60 day suspension! Remember, the consequences, for even minor infractions, are far more serious than you might think! Other examples of suspensions and fines:
Class B incursion: 90 days
Altitude deviation: 90 days
Taxied without clearance: 90 days
Expired medical: 180 days
Landing at towered airport when visibility went below 3 miles: 180 days (remember, you can request a "special VFR clearance" in most cases)
Failure to comply with ADs: 180 days!
Let's be careful out there!
Edo-Aire 777 Transponder. Works great (from Mike Porter's C-172). Was coupled with Narco 850 encoder (includes wiring harness). Call Mike Porter with offer, 234-6008.
Your ad here! Please contact EAA Chapter 455 Newsletter Editor Dave Chael with your items wanted or for sale.
Late one night during bad weather, the following was heard over the radio at an airport control tower:
Helicopter Pilot: "Tower, I'm holding at 3000 feet over Heli-pad 1."
Second voice: "NO! You can't be doing that! I'm at 3000 over that pad!"
There was a brief moment of silence.
First voice again: "You idiot! You're my co-pilot!"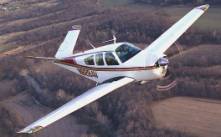 Great Bonanza PIX by Robb Gessert
On March 9, a Cessna T210 suffered a power loss, crashed and burned shortly after takeoff from Runway 16 at Teterboro, N.J. The 4,000-hour instrument-rated pilot, William L. Sonn of New York City, was fatally injured in the crash. According to a preliminary NTSB report, investigators found that the aircraft's Brackett induction air filter had been installed backwards. As a result, the wire-mesh screen designed to prevent the filter's foam element from being ingested by the engine was on the wrong side. The foam element was sucked into the turbocharger, blocking its compressor section and damaging two compressor blades. And this is not the first time. John Frank, executive director of the Cessna Pilots Association, told AVweb that reversed installation of Brackett air filters occurs with disturbing frequency, despite arrows on the filter frame and explicit instructions on the filter-element packaging. These filters are used in a very wide variety of piston-powered aircraft, including Aero Commander, Beech, Bellanca, Cessna, Grumman, Mooney, Piper, and many others. On some models, the filter is mounted where it can be seen and checked by the pilot during preflight; on other models (including the Cessna T210), the filter is only visible when the engine cowling is removed. If you fly an aircraft with one of these filters, make sure the screen is on the rear (exit) side of the filter. (…and you may wonder why I do a lot of my own maintenance… ed)
Q: What is "pivotal altitude"?
A: Pivotal altitude is used in performing the "eights on pylon" ground reference maneuver. It is the altitude at which the pylon may be held in a constant position and varies with the square of the groundspeed. Faster speed, such as when heading downwind, results in higher altitude; slower speed, such as heading into the wind, results in lower altitude. To estimate pivotal altitude, square the groundspeed and then divide by 11.3 if you use knots, or 15 if you prefer mph. That will provide a starting altitude.
Pivotal Altitude Explained - Teaching eights on pylons the easy way!
Eights on pylons is an advanced training maneuver required to earn commercial pilot and flight instructor certificates. The purpose of this maneuver is to further develop piloting skills and to provide a flight test maneuver worthy of advanced pilots.
To get started, the student must master basic training maneuvers. To learn quickly, the student must be proficient in straight-and-level flight and turns, as well as S-turns, turns around a point, eights along a road, slow flight, stalls, and other maneuvers that support the development of pilot skills.
Also required is skill in concentration and handling distractions-specifically holding altitude while making good turns and thinking about other traffic and the aircraft's position over the ground.
The maneuver involves flying around pylons at a specific pivotal altitude, going from one pylon to the other and adjusting altitude as speed changes require. It is similar to eights around pylons, but with a distinctly different objective. For eights around pylons, the pilot flies a circle around each pylon while maintaining a constant altitude and distance from the pylon. This involves making constant corrections for wind drift by varying the bank-shallow into the wind, steeper going downwind.
The objective of eights on pylons is to fly around each pylon at the exact pivotal altitude. Pivotal altitude depends on groundspeed. The faster the groundspeed, the higher the pivotal altitude. The altitude must be varied with changes in groundspeed. Faster speed, such as downwind, means higher altitude; slower speed, such as heading into the wind, means lower altitude. The steeper bank will be on the upwind side where the track is closer to the pylon. While circling the pylons, if the wing tip, or reference point, moves behind the pylon, that is an indication that you are flying higher than pivotal altitude and you must fly lower to reach pivotal altitude. If the wing tip moves ahead of the pylon, then you are flying below pivotal altitude and must climb to reach the correct altitude. The trick is to identify changes in speed and react quickly by adjusting altitude.
A good training device is to use a model airplane to show how to circle the pylon. It is useful to go to the parking lot and walk around pylons with the model, pointing the wings toward pylons, demonstrating how the student should correct altitude for changes in groundspeed.
As you take to the air to demonstrate the concept, forget pylon selection at first. Simply select a single point some distance away and dip the wing to capture the pylon. The bank should be shallow. It is easier that way. The objective at this stage is to establish the pilot's ability to determine pivotal altitude, to detect changes in speed, and to correct altitude. Show the student how to sense that a change is occurring.
Show the student how to select pylons, choosing a location with a suitable landing field nearby in the event that the engine fails during instruction or testing.
To estimate pivotal altitude, square the groundspeed and then divide by 15 if you use MPH, or 11.3 if you prefer Knots. (still with us here?) That will provide a starting altitude. For example, 100 mph times 100 equals 10,000, divided by 15 equals 666 feet approximate pivotal altitude. A groundspeed of 95 mph results in a pivotal altitude of 600 feet. Hence, traveling at 100 mph on the fast side, pivotal altitude is 666 feet. On the slower side-the side into the wind-95 mph results in a pivotal altitude that is 60 feet lower than the fast side. Finally, show your students how to fly straight ahead at a 45-degree angle downwind between the pylons. It is a good idea to pick pylons along a road or other straight line. This makes it easier to find the other pylon. Remember that your first teaching objective is to identify pivotal altitude and correct altitude for speed changes. That takes lots of practice. You and your students will be better pilots when you have mastered this maneuver. By Ken Medley (smarter than I am …ed)
... and is that a pen in your pocket or..?
Special procedures may take on new meaning at Orlando International now that it has been chosen as the test-base for the new Rapiscan Secure 1000 and other security devices. The machine uses low-energy X-rays to see through your clothes, leaving only your body's outline ... every last inch.
We're not entirely sure of the clarity of the image, but the Associated Press reports that officials have mandated that, among other things, the machine only be operated by an individual of the same sex as that of its subject. But there's more -- the Barringer Ionscan 400B is also on hand at Orlando to sniff passengers for traces of 40 types of explosives ... or 60 types of drug residue (screener's choice). Invasive or safe, at least you won't be asked to turn your head and cough ... yet.
FAA ISSUES NO-BRAINER: The FAA has issued a Special Airworthiness Information Bulletin (SAIB) to urge owners and operators of various Raytheon Beech propeller aircraft (twin-tailed, gas-guzzlin' doctor killers) to review preflight inspection procedures and "Before Takeoff" procedures so that they can avoid killing themselves. According to the FAA, "numerous" incidents and fatal accidents have resulted from the failure of pilots to remove the flight control gust lock prior to attempted takeoff. The FAA notes in the SAIB that "proper adherence to the required preflight inspection and preflight checks specified in the AFM would have prevented all of these accidents." (duh!)
Cessna 12345: Atlantic City approach, this is Cessna 12345 with you out of eight thousand seven hundred for seven thousand assigned. Tell me Atlantic City, why are we descending?
Atlantic City Approach: Well, it's just something you've got to do ... when you're going to land.
Basic Flying Rules:
1. Try to stay in the middle of the air.
2. Do not go near the edges of it.
3. The edges of the air can be recognized by the appearance of ground, buildings, sea, trees, and interstellar space. It is much more difficult to fly there
Thanks to our newsletter contributors this month: Bill Blunk, Lance Nitschke, Ken Hollrah, Syd and Diann Nelson, Marty Lochman, Robb Gessert, Mike Porter, Mica Doane …and Jerry Mathers, as the Beaver.
If your news isn't here, it's because we didn't know about it!
Airspeed, altitude or brains: two are always needed to successfully complete the flight.
See you at Meno - Fly Safe!
Dave