Experimental Aircraft Association

Chapter 455 Newsletter Enid, Oklahoma
| | | |
| --- | --- | --- |
| Vol. 03, No. 04 | The April Fly-in Chapter Meeting is in Meno, Oklahoma! | April, 2003 Edition |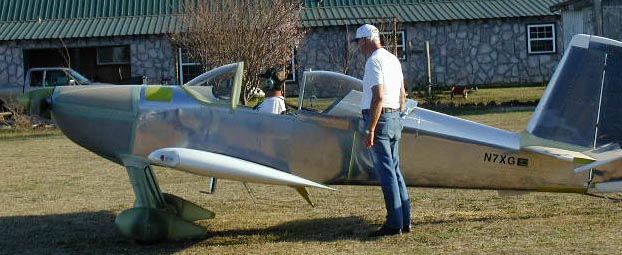 Syd and Diann Nelson's RV-7 "That 200 hp fuel injected engine is really impressive!"
April, 2003 EAA 455 Meeting Notice
Due to a conflict with Easter Sunday this year, the April meeting will be one week earlier on Sunday 13 April, and Mica and Brenda Doane are hosting the FLY-IN at Doane Field in Meno, Oklahoma! Everyone is encouraged to fly-in or drive out to Mica's for what is normally one of the best meetings of the year! Mica and Brenda will prepare chili, members are to bring side dishes and desserts - bring your specialty! (Maybe somebody will bring some lemon cake to go with it – inside joke). If the weather cooperates, feel free to start coming in at 1 p.m., either flying or driving, and we'll eat at 5 p.m. Bring lawn chairs, and your family and friends. Mica will have a few Young Eagles lined up so anybody who flies out a little early will get put to work. We're 2 miles south and 1 mile east of Meno. The best Lat-Lon coordinates I have are N 36 21.952', W 098 09.537. Call ahead at (580) 776-2561 for field condition reports or driving directions. Should be a great time, and an excellent opportunity to fly-in, or drive-in. Hey, even the Bonanza is off the jacks now – see you there! … ed
March, 2003 EAA 455 Meeting Minutes
Our March meeting was held at the Medford Airport. We had an excellent turnout with 27 people, 8 visitors and 11 planes! The following people were in attendance: Ron Decker (flew-in C-172, N2191Y), Dave Chael, Mark and Katrina Winter with son Haden (flew-in Bonanza, N4232D), Ron and Donnie Hazlett, and daughter Kathryn (flew-in C-182, N8455S), Dwayne Lee, Ken Sumpter (flew-in C-150, N6271G), Mike Porter (flew-in C-172, N8499L), Karl Siebert (flew-in C140 N4139N), Bruce "I'm-not-gay-anymore-tricycle-gear-guy" Crain, Gene Martin (flew-in N522RG), Allen Bird, Syd and Diann Nelson (flew-in RV-8, N832SD), Max McDermott (Alva), Bill Holland, Phil Hempfling, Charlie Calivas (flew-in RV-6 with sexy prop, N277BC), Merle Helt (Ponca City, flew-in Piper Cub, N6430H), Steve McGuire (flew-in N1448B), Jim Yates, Mike Kitterman (flew-in HummelBird, N56Q), Mike Newman, and Larry Hime. Great turnout! Three planes flew in from Ponca City, 2 people drove in from Alva, others came in from the area. All introduced themselves. Medford was gracious enough to sell fuel for $1.50, that was $.40 less than their cost. The Airport Manager and City Manager split the difference between themselves. They also furnished us with a hangar, tables and chairs, refreshments and cookies. Thank you Medford! It was a very enjoyable day. Bill Holland from Barnstormers R/C's came out with a large model of a F4U Corsair. Quality
workmanship. He also had brought a small turbine engine-approximately 4" diameter and 10" long. At full power it will turn 160,000 rpm. It has a limiter on it to keep it below 200 mph. He hopes to have it installed in a F15 R/C and flying for the Fairview Airshow.

Panoramic view of Medford Airport. Photo by Syd Nelson.
The May meeting will be at the Woodring Terminal on the 18th. Ken Sumpter has scheduled Richard Herbst from Control Vision to come and demonstrate their GPS unit and the electronic attitude indicator. See their web-page at: http://www.controlvision.com
Respectfully submitted:
Syd Nelson, EAA Chapter 455 Secretary/Treasurer
Roy Camp: Roy is very close to getting his medical certificate back! Word on the street is that his annual is complete on the Stearman, and he's more ready than ever to get back in the air!
Lonnie Gillespie: Lonnie continues his recovery from surgery at home and would love to hear from you! His e-mail is: lonelg@ionet.net
Charlie Calivas: I have been selected to participate in the EAA Air Venture Cup. That is the annual race from Kitty Hawk to OSH with a overnight stop in Dayton. My race number is 27. The race participants collect at Manteo, NC (MQI) which is 7 miles from the First Flight Airport (FFA) and on take off go to the FFA airport and fly through the clock trap to start the clock on your aircraft. At Dayton you fly through another trap to stop that leg time. Same thing happens the next day with the leg terminating in OSH. It begins on July 27 and racers arrive at OSH on opening day. This year the race opened a new class for RV's exclusively.
Marty Lochman: Editor's note: I received a very long e-mail from Marty Lochman who is as we speak, embedded in the desert with his air refueling unit from Tinker AFB. Marty is a true American hero. Period. Dot! God bless you wherever you are Marty, and return home safely! His letter reminds me of exactly how I felt and what I experienced 12 years ago during the first Gulf war. You'll want to read this in its entirety to see how our guys are doing in the sandbox.
"Eat till you're sleepy and sleep till your hungry. That's the way it is."
17 Mar 2003. Well, we've been airborne for an hour and forty minutes. I've got my paperwork in order and have reviewed the Foreign Clearance Guide to check Customs Procedures. Everyone is settled down in the jet and we have a good tailwind with groundspeeds at 552 knots. This should put us an hour ahead of schedule. John Cary, Trey Nessler and Frank Valley are catching their naps in the back. The lights are off in the cargo compartment and the chiefs are asleep as well. Marv Ashbaker is doing his Co-Pilot Duties and Dave Nelson is the Aircraft Commander. I am sitting here at Tucks airborne throne and enjoying the fact that I have this laptop with me. Quite a day, the 16th of March 2003. It was 0840AM and I just awakened Andrew after deciding to fly him to Dallas in the 140 to visit with his brother Eugene for Spring Break. The phone rang and it was Scott "Scooter" Wilson saying I needed to report for work at 0930. I thought that was odd but said OK and then thought I should call back. I asked if this was to be an "All Day Affair" and considering the sensitivity, I couldn't be given any details. He said "For you, I don't think so, but you will know sometime soon." In light of this, Sharon needed to get up and now drive Drew to Ardmore, OK and meet Eugene halfway. She needed to return home as early as possible to get Sara and Zac ready for their trip to South Texas to spend Spring Break with their dad. Their plane was scheduled to depart Will Rogers at 1610. So, I showered and got dressed and reported to work at 0930. At 1015 I was told I was leaving and would depart in 25 hours. At 1100 report to the Headquarters Bldg, top floor and start out-processing. Verify all my documents are in order, my dog tags, my personal data card, ID card, powers of attorney, last will and testament and furthermore, take my first of the Anthrax series of shots. And for good measure, we'll give you the small pox shot as well. So, about 1230 I departed the base and headed to Academy Sporting Goods to buy a bag big enough to carry my goods and have some wheels to make the task easier. At Academy, I bought a nice "BUM" equipment bag with wheels, mosquito net, tarp, rope, small chair (open air design), a metal flask to fit my flight suit, lip balm, sun screen and a padlock. I got out of there 140 dollars later and its 1340. I call Sharon and she has returned and is home getting the other two kids ready for their trip. I head home and briefly visit/explain circumstances and tell the kids to have a good time and be really good for mom when they get back. They are off and headed to the airport. Since, I don't know how long I will be gone, I don't want to leave the Cessna in the hangar with the fuel tanks empty. So, I head to the airport and fly over to DJ Perry and top off the tanks. Any other time, no one would be at the airport to visit but today is an exception. I do my airport rap for a bit and head off back home. Now with the tanks full except expansion space, I head back to the house. At home, the flasher is blinking on the answering machine and its my lovely wife Sharon telling me when I get the message to please call. I do so. "My car is broke down, won't start and my temp gage is pegged." I grab a 5 gallon gas can and fill it with water, grab a couple cans of oil and head to town. It is a quarter to 5pm. Find the car, service the radiator (no leaks) oil level is fine, start it up and all is OK. Lets eat. We head off to eat and after dinner decide to go to Wal-Mart to buy the other items I need. We spend another 260 bucks at Wal-Mart and head home. We are 11 miles from home and her car quits, smoking profusely and I ponder my next move. I convince her to let me TOW her home and we do it all along with her stepping on the brake giving me whiplash as I try to pull her to safety. She does not know how to drive a standard and now this is really making matters worse. We finally get home and upon investigation I decide
my problem is most likely a blown head gasket or a cracked head. I am the mechanic in the family and I don't have a mechanic in mind. I tell her to leave the car alone and I will fix it when I return. I finally have my stuff packed by 0130 and we hit the sack. We left the house at 0810 and headed for work. I needed to get a haircut before I left and I needed to take Sharon to the rent a car place. We decided to rent a car until she can go and buy one later in the week. We decided this was the least painful approach to the situation. So, I dropped her off and headed for work. My report time was 0900 and I needed to report to the maintenance complex to inventory my ground equipment (sleeping bag, flak vest, canteen, web belt, holster, M9 Tape, M8 paper (chem/bio detection stuff) decon kits, atropine injectors, J-suit chemical ensemble, overboots, glove liners, rubber gloves, protective hood, etc) All was there, except my web belt was a size medium, instead of a large. I tried to adjust it, but they got me another one the proper size. Then the load planners wanted to review the aircraft load plan, explain my cargo manifest and tell me what was getting off the jet at the first stop. All was in order and I accepted the paperwork. Now, it is time for more briefings from our Intel shop on the destination local area, all about the natives and their forms/rules of government as well as potential risks. None of this can be disclosed at this time. I arrive back at the squadron and get my holster with 9mm, 2-loaded 15 round clips and the guns/ammo for my pilot and co. The secrets are already loaded on the jet and another crew has done my preflight up to Start Engines/Taxi. I give Sharon a big hug and kiss and depart. Groundspeed is now 566.....good tailwind!!!!!!!! The trip was uneventful, with miscellaneous equipment loaded throughout the jet and other crew members are browsing magazines or catching Zs in a chair. Not a whole lot of conversation except for the HF radio barking positions of different airway traffic over the Atlantic. We find our island in the Azores, known as Lajes, a Portuguese Island in the middle of the Atlantic. I am always amazed at how GPS works and how we find these little islands in the middle of no where. It is about 50 degrees and raining when we land. Plan is to "Gas N Go" so we get our cargo offloaded and head to base ops. At base ops they put us on hold. We need clearances to proceed and we are delayed an hour or two before being told to go into crew rest for a departure 17 hours later. We migrate back to the jet to get our clothes and of course I have so much stuff, that I don't know where everything is. So I empty my helmet bag, grab some shorts and my tennis shoes along with my shaving kit and head to billeting. After checking in we realize we are double bunked and I share a room with Frank Valley the other boom operator. At least our room had two single beds versus the officers having a single bed and a cot. So the O's flip coins to see who gets the cot!!! Sometimes it is nice being enlisted. Frank and I talk ourselves to sleep and sleep pretty good. We get up via a phone call and find out we've been delayed another 48 hours. Jump in our flight suits and head to the jet to get the rest of our personal gear. Now that we have that taken care of, we decide to visit the Base Exchange to see if we can find a short wave radio. This of course to listen to what's going on when we get there via the BBC or Armed Forces Radio. This is something the guys already there have asked for. We get to the Electronics/Garden BX Annex and I decide to buy a portable tote on wheels to store my gear at Base X and lock it up. I have this laptop, DVD movies, Playstation 2 and other things I consider valuable. I don't know if this is to deter the locals or just safeguard our stuff. I also pick up 24 feet of Cape Cod white picket fence to decorate my new future home. These of course are the 3 foot sections, plastic and I think it will really bring a chuckle to my buddies already there!!! I also grabbed a wall hanging "Spring is a buzzin" with bees and flowers and spring like stuff to accent the new yard. Now I have to drag this thing back to my dorm and this island is not level. We have done more walking up and down hills here that my ankles are a little sore. The BX was out of multiband radios and we decide we might go downtown tomorrow and see if we can find one there. The clothing BX is another stop for Visine, Decongestants and other little items (mice traps) that we forgot from home. Frank and I return to our room and watch a DVD movie on the laptop. We have DSN telephone in our rooms and I decide to call Sharon and find out about the car. She told me she already bought one, a 99 Toyota Camry LE, 4 cylinder with all the bells and whistles except the sun roof. She likes it and bought it by herself. Sounds like a nice car, 50 thousand miles and still under warranty. I am so proud of her. It was a handful of a day the day prior and she adjusts so well. I felt so bad for leaving the way I did, but had no choice. When I returned to my room later in the day I called her again. She said "congratulations, you got promoted effective 1 April." So come 1 April, I am now a Senior Master Sergeant!!! Hoo Ray!!! I still can't believe I am here right now with my desert suit getting ready for war. We have watched TV and see what's going on. For now, I feel safe at this island. Right now, I don't feel scared. I am looking forward to joining the rest of my squadron. I hope this doesn't last a long time and honestly I don't think it will. I expect that since I am arriving late, I will be one of the last ones out.
23 March 2003 Well it is Sunday afternoon here at the oasis. We were tired when we got here last Thursday. The flight was long, 9.0 hours from the Azores and when you fly over this place it really does look like the surface of the moon, thus the name, "Moon Base Alpha." Lots of sand and a few Oasis type trees with lots of rock that looks like lava. We were greeted by our comrades who took our gear/personal effects and headed us to start those heinous in-briefs. So, after the heinous in-briefs of the JAG office, Finance, Security Police, Chaplain, Recreation Services, Wing Commander and First Sergeant, we again had to inventory our chem gear. Also, during this brief there were no breaks so as to expedite the process. I thought I was going to explode as it seems every half hour or so I am going to the bathroom. Everyone is experiencing the same thing. We just surmise that it is our body's way of retaliating for putting us here. This obviously makes it quite difficult to sleep. So much for day one and all the "welcome aboard" briefs!!! We have finally settled into our hooch and made the place livable. The crews that arrived first took it upon themselves to set up our tent with some shelf units. They are 4' x 4' with three shelves. At least this gives us something to put our stuff on. Our room sections are about 8 x 8 with a nice sloping roof from the outside to the center. Our tent is double layered so that it is very dark inside. We heard this was the ladies tent before we got here. All the other tents are single layer and let light penetrate from the sun during the day. Thank God we have a double layer as it is easier to sleep if you think it is dark. The first night we were here Frank and I decided to scrounge some lumber to make room dividers. We went to the west end of the camp where tent floors had been established but abandoned because they were too close to the concertina wire. Concertina is that coiled wire that surrounds the perimeter to keep the natives from accessing our area. It also establishes the "No Access beyond" point of the camp. On the other side of the wire is the Omani Air Force training facilities. We call our place, "Camp Justice." I guess all the camps in the region have a name and this is what they named ours. Anyway, since Frank and I were already awake, we decided to start removing these sheets of plywood attached to the tent floors before someone else came up with the same idea. It is dog eat dog when it comes to commodities and we were going to hold our own at scrounging our needs. The tents had not been erected and this was just the floor joist (2x4s with plywood decking) about 20 x 40 in size. We were trying to be quiet but as you know when you try that, things seem to amplify and echo. Lots of slow screeches as the nails would pull thru the wood. You know that sound when you use the claw of a hammer to remove a driven nail. Kind of like a scary movie when the door opens and the guy jumps out with a knife!!!! Doug Planer pops his head out and says "Hey, guys are trying to sleep, you can do that later." So we wandered around wondering what we got ourselves into and just how we were going to modify our quarters. There are 7 folks in our tent, two "Okie" crews and a boom operator from March. My crib is in the right rear quadrant in the tent. Our tent faces the west and our address is W37. I bought a roll around cart that I could lock and it sits neatly between my bed and shelf unit. A 6 x 8 blue tarp is my entry curtain. I scrounged a makeshift entertainment center and it houses my TV and Playstation 2. It has a nice exterior door, about 24 wide and 48 tall. It has legs about 20 inches tall and the top is above eye level. That is where I store my straw hat with a little wind sock from Oshkosh. I have decorated this door with some of my name patches, the picture of my airplane at Sun-N-Fun, my "Springs a buzzin'," thing and pictures that Zac drew for me when I went to Turkey for Northern Watch. I also had some cards from my sweetie pie and those decorate my shelves along with our picture from Vicksburg, MI. Frank is across the hall as well as Trey Nessler. Dave Nelson my pilot and Marv Ashbaker the co, is in here too. I used the maroon shower curtain with steel star hooks to separate my space from Capt Jon Cary whose crib is next to mine. He also hates crickets and I have one in my corner. He says "Dude, is that a cricket I hear?" I said yes and his reply was "I hate crickets, they keep me awake and the problem is I keep straining to hear it." "Dude, we've got to do something about that cricket!!" That's what normally happens when things annoy you! Steve Switzer bought Trey and I a nice oriental rug. One of those straw kinds with nice colors and it fits my crib just fine. It of course is of traditional Middle East design, but keeps my feet off the floor. A nice touch! We have a 24 inch cloth duct down the center of the tent ceiling and it has Velcro slotted registers to direct the air. We cut plastic water bottles and make flow directors so the air is where we want it. It gets really cold in here too. Some people are sleeping with 3 blankets to stay warm. I love it!!! The bathroom/shower trailers are just outside the tent. These are mobile, elevated trailers with a dozen or so showers, toilets, sinks and a trough. Very convenient for those twice per hour trips to the potty!! I wonder if it's the water. It's bottled!!! But everyone is doing the same thing. Potty travels and can't sleep are the biggies. Eat till you're sleepy and sleep till your hungry. That's the way it is. They have a real nice chow hall, a big air conditioned hangar with the natives doing the cooking. Of course, services personnel are here as well. Lots of fresh fruit, vegetables, hamburgers, hot dogs, salads, breads, milks, juices, sodas and of course WATER!! Don't get technical when ordering omelets. Don't say, "How bout a western!" It is easier to say, 4 egg omelets with everything.....and scramble it too! They have served lobster, fish, roast, chicken, steak, you name it, and they have probably served it. Also at the chow hall is two giant screen TVs. One is for the sports (March Madness) and the other is on CNN. We watch play by play the events in Iraq. I sit there and watch and it is a very emotional thing for me. It is best I go eat with friends as I fight my own emotions over the things that are going on. I guess I have this battle because I have those who love me and I wonder what is going on in the minds of our enemies. I try and justify why we do what we do and that what we are doing is for the good of all. I am proud to be an American and blessed with the lifestyle I have. This may not make sense, but I really don't know how to put it. We have a hummer to drive on occasion. What a cool vehicle. Daryle Humphrey says he has to have one, to put in granny gear and jump up in the gun turret to shoot coyotes in West Texas. It is really good to see him and Curt Stults. I haven't spent any money yet, everything is provided. I fly my first sortie tonight or in the morning. We are supporting operations in theater and our sorties are long. I'm anxious, yet nervous at what I will see and experience. I hear of seeing the white streaks of Tomahawk missiles, tracers and patriots. I hope this doesn't last a long time. We are rationed 4 beers a day with the swipe of our ID cards. Of course, I haven't had a beer yet on this trip. The weather is pleasant really. Not too hot, evenings are cool and sometimes it is a little humid. All in all it isn't that bad. Of course if we are still here in July, I probably won't say that. It is nice having the laptop. We've watched a few movies, plus it allows me to write and save to a disk to send via email. This way I don't feel rushed to write at the squadron when I am using the computer. As soon as I can, I will send some photos via email. I need to use Frank or Jon's camera, but I will send a few pictures so you can see my crib and our oasis on the island. I try and use my marty.lochnan@tinker.af.mil address as much as possible; however I do have an email here but haven't used it yet. marty.lochman@miab.aorcentaf.af.mil is my in-theater address and I welcome any mail I receive, but please do not send photos as they will fill my mailbox quickly. I also have a snail mail address as follows: SMSgt Marty Lochman Unit 73005 465 EARS APO AE 09345-3005 Sorry I can't give my phone number as I have no clue what that is!!!!! As for the time, I am ten hours ahead of you. If it is AM there, it is PM here minus two hours on your clock. For instance if it is 5AM in Oklahoma, it is 3 PM over here. I miss all of you, my kids, my spouse, my house, my truck, my plane, my yard and GREEN! I think of all of you daily but try my best not to let my spirits down. I don't mean it as "thinking of you" gets me down either!!!!!!!! Just the way it is written. Look for Masirah Island, that's the oasis. I will close for now and write again later
Dave Chael is finally flying again! After a restoration/Annual phase that took over 5 months, (began 12 October last year, and finished 24 March!), I'm very happy to say I'm in the air once again, and the Bonanza is flying better than ever! Special thanks to my mentor and teacher, Ron Decker, who ever so patiently and professionally guided and helped me through this mess I got myself into. We did a lot to the Banana this year, including emphasis on the V-Tail. Here is a sample of some of the edited logbook entries: Removed worn Airborne vacuum pump and replaced with new Sigma Tek, Inc. Vacuum/Pressure Pump, Installed Rapco vacuum pump cooling shroud/flange kit. Removed worn ignition harness and replaced with new Champion harness assembly. Replaced worn vernier mixture control cable and with new cable, replaced worn plastic control knob assemblies on with color-coded aluminum control knobs. Removed main landing gear actuator arms (left and right braze rod assemblies) and downlock tension springs. Bead blasted, painted, replaced mounting hardware, lubricated, and reinstalled. Replaced two main gear retract brace lower attach grip bushings. Removed left hand inner gear door. Stripped paint and removed all attachment hardware. Replaced all fabric door patches (thanks Ken), primed, repainted and reinstalled door with all new hardware. Removed left and right ailerons and all mounting hardware. Removed four worn aileron control cables, fabricated and installed new cable assemblies (thanks Mike). Removed ruddervators from aircraft. Chemically stripped paint from ruddervators and inspected for corrosion. Repaired small area of corrosion on trailing edge of both ruddervators (near trim tab) and applied magnesium patch. Prepared magnesium surface for repainting with chemical solution of chromium trioxide and Dow-19 per MIL Specification T.O 1-1-8. Replaced left and right magnesium elevator torque fitting (cracked) with new aluminum torque fittings. Applied Poly Fiber Aircraft Coatings EP-420 (good stuff) two-part epoxy primer, and color-matched PPG Concept acrylic urethane paint. Balanced ruddervators (very important). Replaced elevator hinge bushings and replaced four elevator bearings, replaced two elevator torque fitting bearings, replaced left and right main landing gear actuator seal. Replaced nose gear retract rod boot, replaced nose wheel steering rod boot, replaced left main landing gear up lock boot. Removed and replaced cowl-flap actuator arm and control assembly. Oil change and test flight. Flew hands off, even after changing cables, and elevator torque fittings. YeHaaaaa! Next year I promise to keep projects down to a few days or less!
Robb Gessert: Robb has had some of his aerial photographs published recently! He's featured on the cover of Cessna Owner magazine, and has a lot of photos in Midwest Flyer magazine, as well as FOUR photos in the 2003 Trade-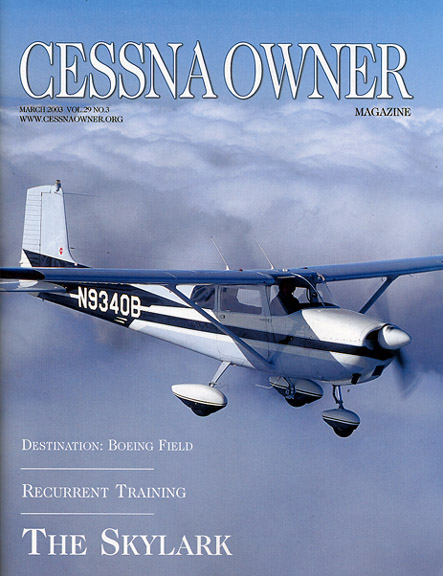 Another great photo by Robb Gessert!
A-Plane 2003 calendar! Congrats Robb!!! Robb hopes to shoot a bunch of bi-planes this season, and if you're interested in getting yours shot (photographed) from the air, let me know and we'll put you in touch with Robb (Roy? Scott?). His next project is to mount a 35mm camera on the strut of some old planes and get some shots, triggering with an infrared and using very wide angle lenses. One of his friends has a clipped-wing Cub, which will provide some really neat attitudes for picture taking!
None! Call me with your items for sale or wanted! ed
Happy spring! It has been a rugged winter in much of the country, but warmer weather is on the way. Flying activity picks up at this time of year; indeed, a 20-degree increase in temperature over winter norms can make a big difference in comfort. Twenty degrees of temperature increase has another effect on an air mass–it roughly doubles its capacity to hold moisture.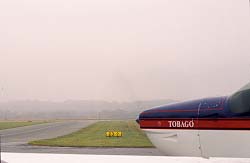 Stated differently, as an air mass cools down by 20 degrees, it can hold only half as much moisture as before. To know how close an air mass is to its moisture condensation point, pilots must be aware of the temperature/dew point spread. You will find the temperature and dew point in METARs, or "meteorological aerodrome reports" and hear them in recorded terminal information broadcasts. "When temperature reaches the dew point, water vapor can no longer remain invisible, but is forced to condense, becoming visible on the ground as dew or frost; appearing in the air as fog or clouds; or falling to the earth as rain, snow or hail," says the discussion of the temperature/dew point relationship in Chapter 5 of the Pilot's Handbook of Aeronautical Knowledge. This process also extracts moisture from air inside a less-than-full fuel tank, so be sure to check your fuel for the presence of water before flying. "As we move into the warmer months of the year, keep an eye on dew points. Dew points above, say, 60 degrees F (15.5 degrees C) mean that not much cooling is needed to create fog or clouds," advises AOPA Pilot Editor at Large Thomas A. Horne in his March article "Dew Point Review." One obvious time to monitor the temperature/dew point spread is in the late afternoon when the air begins to cool. Ensure that you can land before fog forms–which can happen with surprising abruptness. Frontal passage can reduce the temperature/dew point spread to zero. Stay updated on current conditions and be skeptical of forecasts.
Let's careful out there! … ed
Owner Performed Maintenance Issues
Question: Where do the federal aviation regulations specify what maintenance work I'm allowed to do on my own airplane?
Answer: The section, 14 CFR 43.3(g), states, "The holder of a pilot certificate issued under Part 61 may perform preventive maintenance on any aircraft owned or operated by that pilot which is not used under part 121, 129, or 135." Appendix A to Part 43, paragraph C, lists the 32 items that are considered preventive maintenance.
AOPA has also written a Pilot's Guide to Preventive Maintenance to provide further guidance; it's available on AOPA Online.
Know what you're doing, and keep the aircraft paperwork RIGHT! … ed
ASF studies have proven numerous times that VFR flight into instrument meteorological conditions (IMC) continues to be one of the deadliest accident causes. On March 8, 2001 a recently certified (November, 2000) Canadian ATP with more than 30,000 hours, flying a Cessna U206G Canadian registration C-GISV, proved it once again. On the day of the accident, IMC prevailed. The pilot had contacted Seattle Flight Service on three different occasions, and was advised each time that VFR flight was not recommended. During the third call, the pilot filed a VFR flight plan for his flight from Renton, WA to Spokane, WA. The route the pilot chose to fly would take him south from Renton to the Columbia River, then east along the river to The Dalles, and then northeast to Spokane.
The pilot departed Renton at 11:06 am, and was informed that his transponder was not functioning. At 12:37 pm, he contacted Seattle flight watch and was advised of continued mountain obscuration and icing along his route.
At 1:52 pm, the pilot contacted the tower at Spokane (GEG), stated he was 15 south and requested current weather. The controller responded that Spokane visibility was 5 miles with light rain and mist, a few clouds at 700 and a ceiling of 1,100 overcast. The pilot replied, "We have a lower ceiling where we are at this altitude" and asked for radar vectors for landing at GEG. He was then asked to switch to Spokane approach. At 1:57 pm, he was given a transponder code by Spokane Approach, and then informed controllers of his transponder troubles. The pilot said he was 12 south of the airport at 2,700 feet, But the controller said, "I won't be able to pick you up at that altitude so therefore I can't give you radar vectors to any type of approach or to the airport." The pilot then asked about Coeur d'Alene (COE), Idaho, where reported weather was 7 miles visibility, a few clouds at 100 feet and a ceiling of 2,000 feet overcast. The pilot then told ATC he was going to try and make his way to COE or head back south and try to pick up a small airport.
A witness in the area reported seeing a Cessna between 2:00 pm and 2:15 pm, estimating it to be about 300 feet above the highway. He said it was under the fog line, and then disappeared into the fog heading towards Mica Peak. At 2:20 pm, ATC reported a brief ELT transmission. The wreckage was located on the west side of Mica Peak in up sloping, heavily wooded terrain. Impact was approximately 4,760 feet MSL. The pilot was killed, and the airplane destroyed. The NTSB determined the cause of this accident to be the pilot's continued flight into IMC. Contributing factors were the fog, drizzle/mist, low ceilings, rising terrain, and the malfunctioning transponder. According to the 2002 ASF Nall Report, 84% of VFR into IMC accidents in 2001 were fatal, odds so stacked against a pilot it begs the question: why did the pilot choose not to use his instrument rating, instead filing a VFR flight plan?
According to Defense Secretary Donald Rumsfeld: "Going to war without the French is like going deer hunting without your accordion."
At one time in my life, I thought I had a handle on the meaning of the word " service. "The act of doing things for other people." Then I heard the terms: Internal Revenue Service, Postal Service, Civil Service, Service Stations, Customer Service, City/County Public Service, and I became confused about the word "service." This is not what I thought "service" meant. Then one day, I overheard two farmers talking, and one of them mentioned that he was having a bull "service" a few of his cows. SHAZAM!! It all came into perspective. Now I understand what all those "service" agencies are doing to us...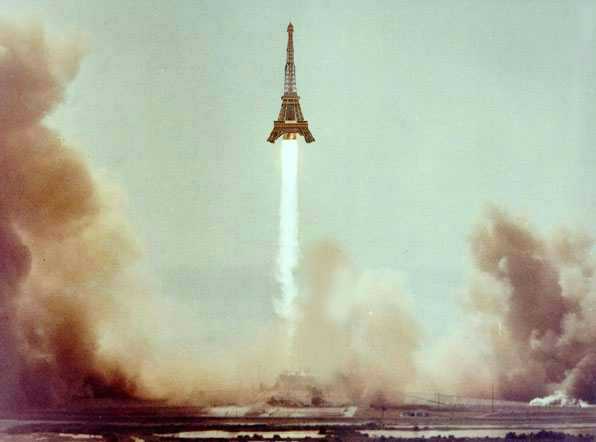 The French finally join the war effort!
Fly Safe – see you in Meno on the 13th! Dave Chael, EAA 455 Newsletter Editor